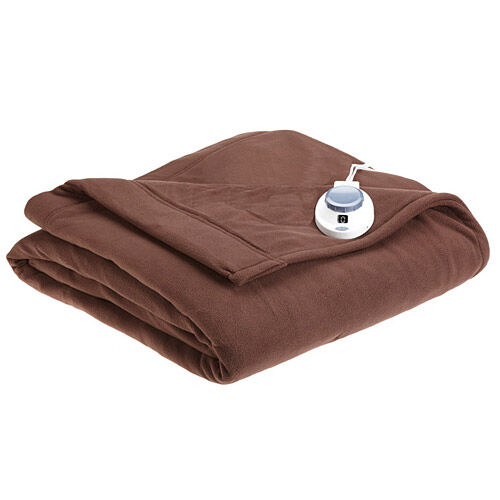 Cold weather puts a strain on the furnace. Keep energy costs down at night by using an electric blanket on the bed. Whether the customer wants an electric blanket on top, or an electric mattress pad underneath, this heating technology is sure to keep anyone comfortable even on the coldest nights. There are many electric blankets on the market and they are often sold in department stores or bedding shops. However, online websites like eBay usually have a superior selection when compared to brick and mortar stores.
All electric blankets are not made equally, and customers need to shop for one depending on their needs. When evaluating electric blankets, a buyer should focus on if he or she wants an over or under blanket, how easily the blanket is controlled, and how much energy is used. Special features such as automatic timers, adjustable heat settings, and temperature sensors should also factor into a final decision.
How Electric Blankets Work
Electric Blankets supply heat by using electricity. Whether the buyer selects a blanket or a mattress pad, the technology is essentially the same. Electrical wires are sewn between sheets, and when the wires are plugged in they start generating heat. Do be fooled into thinking that more cords equals higher heat, especially since each wire needs space around it to work safely. Typically, the wires follow a back and forth pattern where they extend up one side of the blanket and down the other, until all of the areas are covered. Wires should also not cross each other, as this could start a fire.
Electric Blankets and Safety
Because they do use electricity, a malfunctioning electric blanket can subsequently start a fire. Every year a small number of people are killed by using them, so safety is a paramount concern. Always buy an electric blanket that has been inspected for safety, and bears the BEAB or Kema Keur safety label. These blankets have passed a rigorous safety inspection and should be safe to use as long as they are in good condition.
Warning Signs to Watch Out For
Electric blankets are quite durable and most last from five to ten years, but after this time they will typically need to be replaced. Always replace an electric blanket, regardless of age, if it shows any signs of the following: scorch marks, exposed wiring, broken wiring, frayed blanket edges, or inability to heat up.All of these are signs of a potential fault within the wiring system. Stop using the blanket and purchase another one. Otherwise, the blanket could start a fire.
Who Should Avoid Using an Electric Blanket
On the subject of safety, electric blankets are not recommended for everyone. Adults and older children who know how to adjust the heating levels on a blanket, can turn it on and off when they get too hot or too cold. Younger children, however, do not understand how to control an electric blanket and this could lead to problems. Never put an electric blanket in a baby's crib, and only use a blanket for a child's bed once he or she understands how to adjust the controls. Diabetics who are diagnosed with neuropathy, a medical condition that results in loss of nerve feelings, should not use an electric blanket either. Finally, for obvious reasons, electric blankets should not be used on a waterbed, or ever be exposed to any water once the blanket is turned on or plugged in.
Evaluating Over and Under Electric Blankets
There are two main types of electric blankets. The first is the traditional electric blanket, when can either be used directly on top of a person, or placed above a thick down comforter where the heat slowly trickles down. The second type is called the under electric blanket, or more commonly an electric mattress topper. Mattress toppers are usually fitted so that they can lay flat against the mattress just like bed sheets, so customers need to make sure they are buying the correct size for their mattress. Choosing either type is truly a case of personal preference. People who dislike having heavy sheets on top of them all night long would prefer an electric mattress topper, while those who would dislike sleeping on rigid wires would prefer the topside electric blanket. eBay sells both types of electric blankets.
Evaluating Controls
The best way to judge how easy using an electric blanket will be is to examine the control mechanism. Almost all electric blankets come with a control, and the very large sizes meant for king or queen beds may include two controls. These dual-wiring systems each works for separate parts of the blanket, allowing both sleepers to adjust the blanket to a comfortable temperature without affecting their partner. Ideally, the control should be large and easy to use in the night. Either it should have a small light or it should glow in the dark since no one wants to turn on the lights in the middle of the night just to adjust the electric blanket.
Temperature Settings
While some electric blankets only have one heat setting, most people prefer adjustable settings. This allows the user to raise or lower the heat settings for the blanket. The user simply turns a knob or presses a button for a heat setting, and then temperature sensors throughout the blanket ensure that the heat levels remain at the preset amount. Some models will turn off once they reach a certain temperature and then turn themselves back on once the temperature falls below a certain degree. This is also a great way to conserve energy, since the blanket can turn itself on and off during the night as need be, instead of just wasting energy by running constantly.
Electric Blanket Care
Always purchase an electric blanket that can be machine washed, since this makes caring for the blanket extremely easy. Only dry the blanket on a low setting in a tumble dryer. High settings can cause damage to the internal cords, leading to a potentially hazardous situation. Also, homeowners need to make sure the blanket is completely dry before using it again. It is never acceptable to use a slightly damp electric blanket since this can lead to a nasty shock.
New vs. Used Electric Blankets
eBay is known around the world as a wonderful place to get great deals on used merchandise. While there are many things in the world that can be purchased in a pre-owned condition, electric blankets are not one of them. Experts recommend only buying new electric blankets because it is almost impossible to tell the age and history of a used one. This is for safety's sake, and while it may be tempting to purchase a used blanket on eBay, it is better to be safe than sorry. There are plenty of great deals to be found on a new electric blanket, and customers can sleep soundly knowing their electric blanket is safe.
Buying Electric Blankets on eBay
eBay has a wide selection of the same name brands of electric blankets commonly found in stores, including Dreamland, Morphy Richards, and Silentnight. There are plenty of reasons to purchase these brands online instead of visiting a local store. Convenience is the biggest reason, especially when purchasing from home, is as simple as sitting down at a computer. Price comparisons, however, are the real reason why most buyers continue to shop on eBay. Products sold in brick and mortar stores come with a high overhead cost that is passed along to the consumer. eBay takes overhead costs out of the equation entirely, so that sellers can offer their products at extremely low prices.
Finding Electric Blankets on eBay
When shopping for electric blankets on eBay, start by determining which type is right for you. If you want a blanket that you sleep under at night, then search for "electric blanket". If you want an electric under blanket, then search for "electric mattress pad". You can also limit your search by size, which is particularly important for mattress toppers, as well as features. For example, if you want a king sized electrical blanket, then search for "electric blanket king", to find highly specific results. Buyers who get the best deals on auctions know how to work with the search engine to find items for sale that they want.
Conclusion
Electric blankets are a great way to stay warm during the coldest months, while saving money on heating bills. Customers who buy on eBay can also save money on purchasing their electric blanket. There are several behaviours customers need to consider before purchasing a blanket, starting with safety requirements. Only purchased blankets that were evaluated based on safety tests, and never use an electric blanket for a small child. Select a type of electric blanket based on sleeping preferences; either an electric blanket above or below a mattress pad below.
Choose which special features are the most helpful, including temperature controls and automatic on and off settings. Remember to only purchase new blankets, never used ones that could be potentially hazardous due to their unknown history. Finally, by taking proper care of an electric blanket by regular washing and drying, a customer can enjoy their purchase for many years to come.