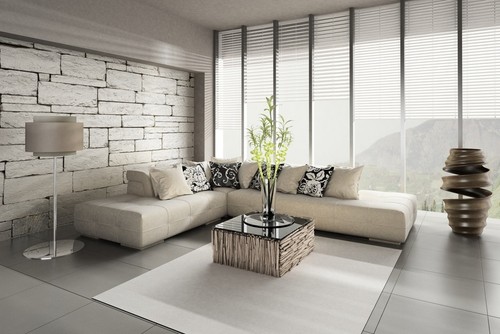 When purchasing the furniture for the living room, careful consideration is required, as it may well be one of the most expensive purchases for a home. A living room set is a matching range of furniture, usually made up of a combination of sofas and chairs, with additional options like pouffes and footstools. Before buying, it is important to consider what kind of look is hoped to be achieved. Living room sets come in modern and traditional styles and in a huge variety of colours and coverings. Lifestyle should also be a factor. Fabrics such as leather can be a very practical option, as it is wipeable and hardwearing. The coverings of the furniture can also be fitted or loose, with loose ones being able to be removed and washed with ease. A practical approach to buying a living room set can result in a sound, long-term investment for the home.
About an Affordable Living Room Set
When buying a living room set, the size of the room is paramount. With so many different combinations of furniture available, space and budget are the only limiting factors. Sofas, sofa beds, chaises longues, corner sofas and loveseats are the principle pieces within the living room set, and are complimented by armchairs, reclining chairs, footstools and ottomans. A traditional combination of furniture within a living room set is the three-piece suite. This is made up of a sofa and two armchairs. Depending on the arrangement within the living room, different combinations can also work very well together and maximise space and seating. Two sofas divided by a footstool can create a cosy look, a corner suite contemporary, and a sofa with reclining chairs relaxed. When looking for an affordable living room set, it is still possible to find the desired look without exceeding the budget. The coverings of the furniture can have an impact on the price. Leather is generally more expensive than a fabric covering, but there are less expensive versions available. Similarly fabrics such as velvet may cost more than cotton. The construction of the furniture's frame can also play a part in cost. Oak framed furniture will be more expensive than pine, and pine will generally be more expensive than metal, although style and brand also have to be taken into consideration. There is a huge variety available, and it is worthwhile taking time to consider all of the possibilities. Living room sets can be purchased at bricks and mortar stores, as well as purchased online. eBay has a massive range of affordable living room sets on offer, from antique and vintage, to modern used and brand new.
Combinations for an Affordable Living Room Set
A living room set is a versatile combination of furniture, and any arrangement can be chosen to suit the needs and space. These are some of the combination possibilities.
| | |
| --- | --- |
| Three-piece suite | The traditional three-piece suite combines a sofa and two separate armchairs. The sofa can be either two or three-seater, depending on space. |
| Corner suite | A contemporary option is the corner suite.. Although a large piece of furniture, its singular configuration actually makes it a good option for smaller spaces. |
| Sofas & footstool | The addition of a footstool or ottoman to the living room set has many advantages. An ottoman can provide additional storage, whilst its movability means that it can be moved out of the way when necessary, or used as occasional seating. |
| Chaises longues | This traditional French lounger, a chaise longue can work well in both traditional and contemporary settings, and can add a glamorous touch. They are available in a variety of materials and colours to suit any home. |
| Loveseat | Loveseats are essentially small sofas that can seat two people, but are smaller than a traditional two-seater sofa. They are a good option if space is tight, and for creating the illusion of more space. |
| Recliner suite/chair | Reclining sofas and chairs are a popular option if comfort is the driving force of the purchase. They can be reclined either by exerting pressure whilst seated, or by remote control. Generally, a three-seater reclining sofa will have two seats that recline, whereas a two-seater sofa will have just one. |
| Sofa bed | Sofa beds are a practical option when having guests to stay. There are many different mechanisms available, but the sofa bed has all the looks of a sofa, but can then easily be converted into a double bed. A mattress is normally concealed within the sofa bed. |
Caring for a Living Room Set
The care of a living room set will depend upon its materials. Some materials, such as leather and suede, require specialist cleaning products to keep them in the best condition. Furniture with loose covers can have the covers removed and washed. Furniture with fitted covers can be spot cleaned with specific products. Many new fabric-covered suites will either have been, or have the option to be, treated with Scotchgard or similar stain repellent treatments. This treatment does not remove existing stains, but acts as a barrier to new stains. Below are suggestions on how to keep a living room set in good condition.
| | |
| --- | --- |
| Clean and vacuum | If the suite has removable cushions, lift them regularly and vacuum the base of the suite to prevent a build-up of dust. Leather suites should be wiped regularly with a dry cloth. |
| Avoid excessive water & detergent use | If a stain occurs on a fabric suite, use a damp cloth and a suitable detergent to carefully remove the stain. Take care not to over wet the fabric or use too much detergent as this could damage the fabric. Do not use detergents on leather or suede as they may stain. A damp cloth may by used. |
| Treat with stain repellent | Most fabric suites can be treated with specialist stain repellents, such as Scotchguard. These treatments have to be reapplied after a certain period to ensure continued protection, and they do not remove existing stains. |
| Use specialist cleaning products | There are a variety of specialist cleaning products on the market to suit most suites. Leather and suede suites require specialist products that will not cause damage whilst restoring the condition of the leather or suede. Specialist spot treatments are available for treating stains on fabric sofas. |
| Rotate cushions | If the suite has removable cushions, rotate them regularly so that there is even wear. |
| Avoid sun damage | Over time, if exposed to direct sunlight, leather and fabric living room sets can be damaged by the sun. Avoid fading by minimising direct sunlight or rotating the furniture around the room. |
Conclusion
By taking the time to consider the different options available within the category of affordable living room set, it is possible to find the ideal furniture combination for any style, space, colourway, and budget. There are a huge variety of items available, so it is sensible to take all aspects of the purchase into consideration before committing to buy. A well-thought out purchase is a valuable investment and asset to any home, which can provide long-term comfort and satisfaction.