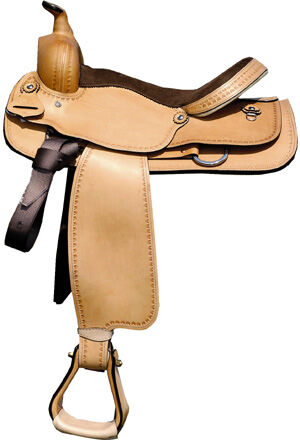 A saddle is an important investment for any rider, and the right saddle is crucial to ensure safety and comfort for both rider and horse. When shopping for a saddle on eBay, you will need to balance a range of factors – including size, material, weight and riding style – to find the perfect saddle for your needs.
On eBay, saddles are listed within the horse wear & equipment category. Use the check boxes on the left-hand side of the page to select Saddles.
Buying a saddle on eBay is a good way to obtain an affordable saddle, particularly since sellers list many second-hand. Often a used saddle that has been well looked after can be a very good investment and will show little wear and tear. Shoppers on a budget can also source very affordable, brand new saddles on eBay.
Types of Saddles
The most important thing to consider when buying an affordable saddle is your style of riding. While attractive saddles look great on the horse, they will be useless if badly made and will need to be replaced far sooner. Your saddle should fit the rider and the horse well while corresponding with your budget.
The two main types are listed in the table below.
English Saddles

English saddles are suitable for jumping and competitions since they sit flush against the horse's spine and offer good versatility. There are different types of English saddle for different riding styles:

· Dressage saddles hold the rider upright and place the legs closer to the horse's body, allowing for more precise control of the horse's movements.

· Jumping saddles have wider flaps to protect the rider's legs in a jump.

· Hunting saddles are designed for large, steep jumps.

English saddles have a relatively modest amount of padding in the seat and are smaller than Western saddles. They are buckled underneath the horse's torso.

Western Saddles

Western saddles incorporate a horn, originally used by cowboys to pull livestock. These saddles are designed to distribute weight evenly across the horse's back over longer rides. They are often used along with saddle blankets.

Leather Western Saddles are heavy, but Western Saddles can also be made from lighter synthetic materials (see below). These saddles are cinched around the hose.
On eBay, you may find saddles listed with the following names:
| | |
| --- | --- |
| Australian Saddles | Riders who spend a lot of time on their horse often buy Australian saddles or Poleys; these were originally made for use on Australian farms and ranges. Like Western saddles, Australian saddles provide better support on longer rides. |
| General Purpose Saddles | Novice and recreational riders generally choose general purpose saddles (sometimes listed on eBay as 'all-purpose saddles'). These are English saddles suitable for a mixture of activities, including jumps and dressage. |
| Children's Saddles | Children's saddles are made for smaller horses and support the child properly while riding. A child's saddle may need to be regularly replaced to ensure a good fit for rider and horse. |
If you wish to purchase just one saddle on eBay, a general purpose saddle is the most affordable and practical choice. These saddles are commonly used for riding classes since they suit a wide range of riders and abilities. More advanced riders may require multiple saddles.
Features of Affordable Saddles
Apart from the shape, saddles are made in a variety of sizes, materials and with various fittings.
| | |
| --- | --- |
| Sizing | When choosing a saddle on eBay, pay attention to the gullet width. An incorrectly sized gullet could cause the horse unnecessary discomfort or force the rider to be incorrectly positioned. The pommel and cantle should allow the saddle to sit perfectly level on the horse's back and should hold the rider steady. |
| Synthetic Saddles | Synthetic saddles are easy to handle and clean, and they also come in a range of colours in both English and Western shapes. These saddles are commonly made from neoprene or PU leather, a synthetic leather substitute. Although coloured synthetic saddles can be appealing, they are not always suitable for shows, but they have the advantage of being very lightweight (often weighing less than 2kg). |
| Leather Saddles | Not all leather is produced in the same way. Fine grain leather saddles are suppler and cost more than cheaper saddles; on the flipside, they last longer. Cheap leather will be noticeably thinner and more prone to losing its shape over time. Pay attention to the quality of your leather saddle and ensure the leather is stitched and finished properly. |
| Filling | Saddles are stuffed with various materials including wool and/or foam. Check the condition of the filling. If the saddle has a tree, it should flex without revealing an obvious break. |
| Decoration and Fittings | Premium saddles often have silver detailing and fittings. Less costly saddles will have softer metal decorations made from nickel or brass. Depending on your budget, you may not need to spend a lot of money on silver detailing. However, it's crucial that the billets on your saddle are strong enough to keep the saddle attached to the horse. |
How To Buy Used Saddles on eBay
All equestrian saddles are listed within the horse wear & equipment category on eBay. You can use the Saddles checkbox to filter your results, then select new or used saddles and other criteria.
Don't discount used saddles. Used saddles are very affordable and have the added advantage of being broken in before you use them. Many are offered with their original storage bag or barrel. Many riders start off with a general purpose saddle and upgrade later, so there are plenty of bargains to be found on eBay. Used children's saddles are readily available in good, used condition because children grow out of their saddle relatively quickly.
As with all purchases, proper inspection will ensure a trouble-free transaction:
Inspect the auction pictures carefully for signs of weakness or damage. Ask the seller to send you photographs of the underside of the saddle if they have not been posted on the auction listing.
Examine auction photos to ensure the saddle tree is intact and unbroken (if one is present) and any fittings are in good condition.
When shopping for a used leather saddle, ensure the material has not begun to split and the stitches and pad are intact. Repairing the leather or having the pad replaced may not be cost-effective.
If you choose a saddle with older billets and cinches, put aside some money in case they need to be replaced. Some riders choose to replace these because they have a preference regarding the type and material. Others replace their billets and cinches to ensure the saddle is safe.
Panels on used saddles can be re-stuffed if necessary; this is slightly easier with wool filled saddles.
If you ride more than one horse, you may need to purchase multiple saddles to ensure each horse is comfortable. Look for a seller that will combine saddles in one parcel for postage savings.
If you have any questions about your saddle, contact the seller through eBay prior to making a bid. Remember to factor in the cost of postage since saddles weigh anything from a 2-10kg.
Saddle Accessories
When you first start horse riding, you may opt to purchase a saddle package which normally includes the bridle and girth. There are some other accessories you will need to maintain your saddle and keep it in good condition.
| | |
| --- | --- |
| Saddle Conditioners and Soaps | Saddle conditioner or balsam is used to clean and coat the surface of a leather saddle to keep it in good condition; a good conditioner can also revive a neglected used saddle that is otherwise in good condition. Regularly conditioning your saddle will ensure it can be re-sold on eBay without losing much of its value if you wish to upgrade later. Saddle soap is made from glycerine and is an essential accessory for cleaning leather saddles; it can be purchased on eBay as liquid or in a hard block. |
| Leather Guards | Leather guard contains UV-resistant ingredients. It protects leather saddles from fading and cracking, and it can help to prevent stains and makes the leather waterproof. |
| Cruppers | The crupper fits into the gullet of the saddle. Cruppers are often made from discarded leather and one size generally fits all saddles. |
| Stirrups, Bridles and Reins | Replacement stirrups, bridles and reins are readily available from eBay sellers. Use the drop-down lists at the top of the eBay listing to choose your preferred colour and size. Stirrups with numbered holes offer added convenience. |
| Saddle Pads, Cloths and Blankets | When buying a new or used Western saddle, you will need a saddle blanket and pressure relief pad to act as a cushion between the saddle and the horse's back. A saddle pad or cloth can be used with both leather and synthetic saddles; eBay offer these in a range of sizes, patterns and colours. |
| Saddle Adjusters | Saddle adjusters can be purchased on eBay to gently and economically alter the width of a saddle. Many sellers offer adjusters and templates as a kit. Ask your seller for full instructions when you buy your adjuster. |
Ask your eBay seller if they have any saddle accessories that they can offer as a bundle to make your purchase more affordable.
Conclusion
eBay is the perfect place to buy an affordable saddle. From synthetic to leather, brand new to used, the sheer range of saddles means there's a saddle for every horse and horse rider. Weigh up the pros and cons of different materials and features and make sure you have the right accessories to go with your saddle. Your future treks and shows will be comfortable, safe and fun for both rider and horse.