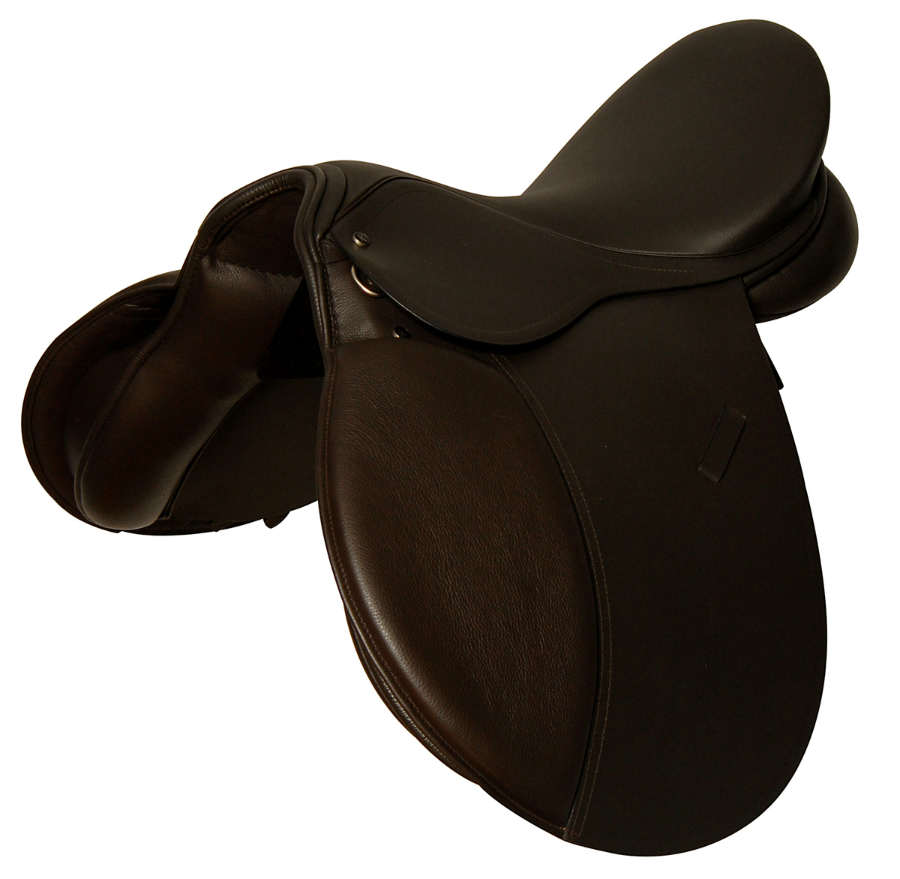 All-purpose
saddles
are a popular choice for beginner and intermediate horse riders. They are suitable for a range of riding styles, from light jumping through to trail rides.
All-purpose saddles are sometimes called general purpose saddles or eventing saddles. By placing the rider's knee forward in relation to the saddle, they make riding safer. All-purpose saddles are therefore more versatile and do not need to be changed. They are commonly used in riding schools and in Olympic events.
If you already own a saddle, you may need to replace it as your horse gets older, gains or loses weight, or gains or loses muscle.
Whether you are buying your first all-purpose saddle or purchasing a new saddle, you will find a range of all-purpose saddles on eBay. In the "Equestrian" category, select Horse Wear & Equipment from the check box list on the left hand side of the page. Then, select the Saddles category.
Features of All-Purpose Saddles
All-purpose saddles are essentially English saddles. Each saddle has a pommel, twist, seat, cantle and skirt. These saddles are designed to offer beginners good support while providing the versatility to learn different skills; they also allow the horse more room to move freely.
Many saddles have a tree that runs down the centre. The panels are attached to the tree. The pommel and cantle are set low, and unlike Western saddles, there is no horn.
Pommel and Cantle

The pommel is situated at the front of the saddle and the cantle is situated at the rear. The pommel and cantle on an all-purpose saddle help to hold the rider in position and protect the horse from injuries; the cantle is also more rounded than on other types of saddles.

The pommel should be roughly three fingers' distance from the horse's wither – the point where the horse's neck meets its torso. Additionally, the pommel should sit lower than the cantle.

An all-purpose saddle has padded flaps; one some saddles, the flaps can be moved backwards and forwards. The flaps support the rider's legs during jumps.

Materials

All-purpose saddles are made from synthetic materials, such as PU or neoprene, as well as leather. Synthetic saddles come in a range of patterns and colours. The cantles and pommels in leather saddles are made from steel.

Tree and Treeless

Both tree and treeless (or 'tree-free') all-purpose saddles are available on eBay. Saddle trees are made from wood, fibreglass or steel and are listed as narrow, medium or wide, with narrow measuring around 29cm and wide measuring around 32cm.

Some riders find a treeless saddle provides better comfort for horse and rider. If buying a used saddle with a tree, it should be thoroughly examined to ensure the tree has not broken. A twisted or snapped tree can dig in to the horse's back. If buying a treeless saddle, ensure that the saddle is the correct size so as to avoid injuring the horse.
Variations in All-Purpose Saddles
An all-purpose saddle should be carefully chosen for the individual horse and rider. Should your horse show signs of discomfort, such as kicking or teeth grinding, it may be time to re-measure your saddle and replace it.
| | |
| --- | --- |
| Seat Depth and Shape | All-purpose saddles have deep seats which are set forward in relation to the stirrups. A saddle with a deeper seat provides more support for beginners and children. When correctly positioned on a horse, the saddle is parallel to the ground. |
| Tree Size | The tree size, or gullet size, is determined by the width of the horse's back. The gullet should be sufficiently large to completely clear the horse's spine or it could cause injury. Consult your eBay seller for advice if you are not sure which size your horse requires. Some eBay sellers offer saddles with interchangeable gullets which can be used on different horses or altered when your horse grows or loses weight. |
| Seat Size | All-purpose saddles for adults generally measure 14 inches up to 22 inches. Children's saddles are considerably shorter. The seat size is measured for the rider – not the horse. To find your seat size, measure your upper leg while seated. If you fall between two sizes, opting for the bigger size will be more comfortable for your horse. |
| Flap Length | The flaps on an all-purpose saddle are positioned further forward than English saddles. This design, along with light padding, supports occasional jumps over small fences and logs. The flaps also prevent dirt from accumulating against the horse's skin. Saddle flaps come in different lengths and should sit roughly one-third of the way down the rider's calf. |
| Stirrup Length | Dressage competitors who work mainly on flat ground prefer longer stirrups, but when riding with an all-purpose saddle, you will use shorter stirrups so that the legs are not completely straight. When the feet are in the stirrups, the knees should not stick out beyond the front of the flap. |
| Padding | The most affordable all-purpose saddles are stuffed with foam or some other synthetic material. If you have a larger budget, you may choose a saddle stuffed with wool. Re-stuffing a saddle is called re-flocking and is generally an inexpensive process that can bring an old saddle back to life. |
| Weight | Synthetic all-purpose saddles weigh considerably less than equivalent leather saddles. |
Buying All-Purpose Saddle Accessories
Brand new and used saddles sometimes come as a bundle with various accessories such as stirrups or a saddle pad. You will need to review any included accessories and purchase any other items from eBay.
Consider purchasing your saddle and accessories from the same seller to economise on postage costs.
Remember that personalised items are normally non-refundable and cannot be returned to the seller unless they are faulty.
| | |
| --- | --- |
| Saddle Blankets and Cloths | The saddle blanket is an essential item that stops the saddle rubbing against the horse's skin and causing discomfort. Choose a blanket with a pommel roll to stop the pommel area from chafing the horse's skin. eBay sellers list saddle cloths that can be personalised and embroidered with the horse's name. |
| Saddle Pads | Saddle pads come in square and shaped designs and fit most all-purpose saddles. They can be purchased on eBay in a range of thicknesses, colours and designs. Choose a saddle pad made from a porous material that will allow the horse's skin to cool. Quilted, fleece and therapeutic saddle pads are available from eBay sellers. |
| Gel Pads | Saddle pads can be used with saddle blankets to provide more comfort to horse and rider. These pads are designed to minimise impact and are placed on pressure points under the saddle itself. Properly positioned gel pads can alleviate discomfort to the horse caused by sweat build-up, but they should not be used to correct a saddle that does not fit the horse. |
| Conditioners and Soaps | Invest in a quality balsam or leather conditioner to keep your leather saddle supple and free from fading and stains. A well-maintained saddle will last for many years and hold its value, making it easier to re-sell your used saddle on eBay if you decide to upgrade or purchase a different size in the future. |
How to Buy an Affordable All-Purpose Saddle on eBay
eBay sellers list used and new all-purpose saddles from various manufacturers, including Wintec, Falcon and Jeffries.
Used saddles are very affordable, and a good quality used saddle is a better option than a low-quality saddle that is brand new. A used saddle should already be broken in, allowing for a more comfortable ride from day one.
If you prefer to buy a brand new all-purpose saddle, look for older types that are discontinued and saddles which were returned to the seller because they did not fit. These saddles will often be listed at significant discounts.
You will find a complete list in the eBay "Saddles" category within the "Equestrian" section of the site. Under Item Sub-Type, select "All-Purpose Saddles."
Inspect the auction photographs for signs of frayed stitching and visible, substantial cracks in the leather.
Don't be put off by broken billets as these are easy to replace; many experienced riders replace the billets as a matter of course.
Re-stuffing a used saddle with new flocking is also quite affordable.
When buying a saddle, check the top of the auction listing for customisation options. Business sellers often provide different options in drop-down lists at the top of the auction page. Select your required size, colour width and design before bidding or selecting Buy it Now.
Saddles vary greatly in weight and are bulky. Look for an eBay seller that offers free postage or lock pick-up.
When you receive your saddle, be sure to test the fitting on your horse to ensure that the saddle does not make contact with the horse's spine. Check the eBay listing to see if your eBay seller offers returns, exchanges or refunds in case your saddle does not fit.
Buying a saddle is an investment. Buy using PayPal and benefit from complete buyer protection. Ensure your seller obtains a tracking number and adequate cover to protect against accidental loss or damage in transit.
Ask your seller if they offer a warranty for the saddle in case of any faults.
Conclusion
The all-purpose saddle is a staple item for any equestrian. From young beginner riders to experienced riders, the all-purpose saddle is essential tack that allows a very varied set of activities. Choose a saddle that fits both rider and horse correctly, and ask your eBay seller if you have any questions about buying your saddle in an auction. Once you have selected the perfect saddle, it will serve you well and hold its value for years to come.