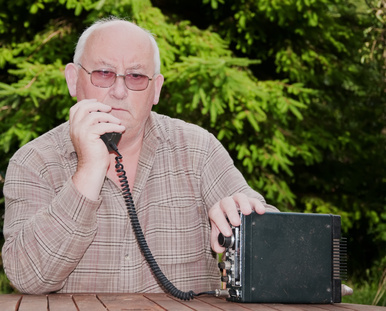 Amateur radio,, also referred to as "ham radio", is a radio frequency system designed specifically for interpersonal, non-commercial use. In the UK, the Radio Society of Great Britain (RSGB) offers memberships to people who wish to take part in the amateur radio hobby. The RSGB is designed to connect and educate ham radio enthusiasts. Members receive many benefits, including a subscription to RadCom, a world renowned magazine devoted to ham radio.
Amateur radio has been a beloved craft for decades. The RSGB was first introduced in 1913, and the craft dates back even earlier. Today ham radio enthusiasts are a closely knit group who remaining abreast of all advancements in home radio equipment. They also have access to eBay, where a global community of enthusiasts buy and sell the latest and greatest amateur radio equipment from the comfort of their own home or office. eBay sellers offer many versions of the most important piece of ham radio equipment, the amateur radio transceiver.. Those interested in buying a ham radio transceiver on eBay should understand how the equipment works, first. That way they have enough information to make wise buying decisions and choose a transceiver that meets their needs, in terms of both price and function.
Choosing the Right Amateur Radio Transceiver
Amateur or ham radio is one of the most interesting and exciting of all science-based hobbies, and has been a hit with enthusiasts for more than 100 years. Though the term "amateur" implies that participants are inexperienced, some radio enthusiasts have been transmitting over the airwaves for decades. Enthusiasts in the UK, as well as in most other countries, are required to pass a short exam and obtain an official operator's licence before they can legally begin transmitting messages over the radio. Once the licence is granted, users often start shopping. They can select from several types of amateur radio transceivers, some of which are far more suited to the beginner than others. Personal preference remains the most important factor in the decision, of course. Therefore, buyers new to the hobby should learn about a variety of types and models, to decide which type of ham radio they want to buy before they begin scouring eBay for a setup.
Handheld FM Transceivers
Handheld or portable FM transceivers are a good choice for people just starting to dabble in the world of amateur radio. Handheld FM transceivers are relatively inexpensive, and are easy to operate. For the most part, operating a handheld is as simple as flipping a switch. However, handheld transceivers are very limited. They tend to be short range devices with low power levels, which are fine for local and emergency events, but not useful for much else. They are also not interesting to those who feel that customising, tinkering, adding on, or just generally fiddling around with their transceiver is an important part of this highly technical hobby. Tinkerers can maybe add a solar charger or a better antenna to the setup, but it is not open to much sophisticated customisation.
Mobile FM Transceivers
Mobile or in-vehicle FM transceivers are typically used in conjunction with a motor vehicle, though this is not always true. They are mobile and easy to carry, though not as portable as the handheld model. They offer more flexibility in terms of customisation than a handheld, but they require more complicated installation, including antenna and power feed.
Base Station Transceivers
Base station transceivers are designed to remain in a permanent location. They are larger and more expensive than either mobile or handheld transceivers, but they offer better performance, larger displays, and a higher level of accessibility. Base station transceivers are generally considered the best choice for amateur radio operators who intend to operate only from their home, office, or some other permanent location.
Frequency Band Options
Amateur radios offer a variety of options for frequency profiles. These frequencies determine how and where the radio can be used. Certain frequencies are better suited for certain needs. It helps to know the uses of each frequency and on which frequencies a transceiver operates before buying.
| Frequency Band | Range |
| --- | --- |
| VHF/UHF | Nearby |
| VHF/UHF (via repeaters) and HF (direct contact) | Regional |
| HF | In Country |
| HF (direct contact), VHF/UHF (Internet links) | Global |
Buyers new to ham radio often start off by seeking regional or local enthusiasts to communicate with. Those who intend to use the amateur radio system to provide emergency information only may need simple local capabilities, or they may wish to have global reach, just in case. The band should be selected based on the maximum distance over which one intends to communicate. Antennas may be added to increase a radio's reach, though this is not always the case. It is a good idea for users to know the desired range of communication before buying.
Licence Types
There are three levels of ham radio operator licence in the UK: foundation, intermediate, and full amateur. Each licence requires a different set of skills and opens the operator up to different levels of access when it comes to communicating over the radio waves.
Foundation Licence
The foundation licence is available to all ages, with minimal skill requirements. To obtain this licence, one only needs complete a short, multiple-choice exam following a 10 to 12 hour course. Users who successfully pass the exam and acquire a foundation licence are allowed unsupervised access to most amateur radio bands, but are limited to a maximum power output of 10 watts.
Intermediate Licence
After amateur radio operators gain more than entry level experience, they can graduate from a foundation licence to an intermediate licence. The intermediate licence, like the foundation licence, requires the radio enthusiast to pass an exam. The intermediate exam is more complex than the foundation exam. It requires considerable preparation. After successfully passing the exam, one must seek approval from UK communications regulator Ofcom. When approval is granted, participants are eligible for an intermediate licence, which permits them to transmit using up to 50 watts of power.
Full Amateur Licence
After successfully passing the intermediate licence, ham enthusiasts who wish to gain the highest level of civilian radio access can seek a full amateur licence. Obtaining a full amateur licence requires passing a complicated exam, following a detailed course. However, full licensure comes with a number of benefits. For one, individuals with a full licence can operate at up to 400 watts of power. Additionally, they have permission to operate from nearly any country in the world.
Tips for Purchasing an Amateur Radio Transceiver on eBay
Amateur radio transceivers can be found on eBay in both new and used condition. Prior to purchasing a transceiver on eBay, buyers should make certain to verify the condition of the device. Most of the time, this information is provided in the listing description. If it is not, you may need to email the seller to confirm.
It is also important to review the owner's manual before attempting to use the transceiver for the first time. Ask if the seller is also offering the instructional manual as part of the sale. If they do not have this paperwork, then it may be possible to find a copy online or order one from the radio manufacturer. It is a good idea to be certain you can find the operating instructions before committing to a purchase.
Finding the Right Amateur Radio Transceiver on eBay
Once you have narrowed your options to a select few, finding the ideal amateur radio transceiver on eBay is a simple matter of inputting related key terms into the search bar located atop every eBay page. Broad, terms like "amateur radio transceiver&" are certain to return a lot of results; but adding details to the search, such as, "amateur radio transceiver mobile&" returns more relevant results.
Getting to Know the eBay Seller
Before committing to a purchase on eBay, buyers have an opportunity to learn more about the person with whom they plan to do business. They can take advantages of this by simply visiting the seller's eBay feedback profile. From there, buyers can read reviews left by previous patrons, contact the seller, and find out what other items the eBay seller is currently offering.
Conclusion
Amateur radio has been a hobby enjoyed by many for more than a century. Designed for non-commercial use, these handheld home radio systems began connecting people all over the world long before the Internet. Now the Internet provides enthusiasts with a new way to connect, including the ability to buy and sell amateur radio transceivers and other equipment on eBay.
On eBay, ham radio enthusiasts are not only likely to find a wide selection of transceivers, but also a variety of other pieces of radio equipment, as well as books, magazines, and instructional guides related to the hobby. With a bit of know-how, eBay can provide a brilliant outlet for receiving a top-notch amateur radio setup at an affordable price. The wide availability of ham radios on eBay helps to open the beloved pastime up to a whole new generation of fans.