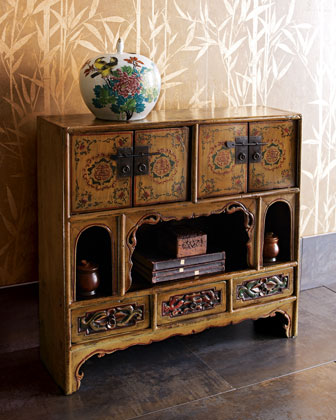 Antique cabinets are a beautiful way to add historical charm and style to a home. Antique furniture is often highly collectable, and finding the right piece can be a daunting experience. From styles, materials, condition and authenticity – there are many factors that should be considered before buying any piece of antique furniture. This guide offers consumers information about antique cabinets that will allow them to make an informed purchase when selecting a piece that suits their home and needs.
History of Antique Cabinets
Throughout history, fine handcrafted furniture was a luxury enjoyed predominantly by the wealthy. The art of cabinet making requires a great deal of woodworking skill and attention-to-detail, and this was often reflected in the price. However, with the onset of the industrial revolution in the mid-eighteenth century came the advent of steam-powered tools, enabling cabinet-makers to easily mass produce fine furniture, which in turn made such items more accessible to the middle classes. Until this time, finely made furniture was exceptionally rare, and home furnishings served a more functional – rather than decorative – purpose. With the rise in popularity of steam-powered tools, the industry experienced an unprecedented surge in demand for such items, which explains why today there are a variety of antiques that originate from the Georgian, Edwardian and Victorian eras.
Discover Antique Cabinets
Antique furnishings are a popular investment choice for homeowners and in contrast to modern mass-produced items, which are viewed as consumable goods, they are considered an asset. By and large, antiques are likely to hold and increase in value over time and are generally unaffected by market fluctuations in comparison to other investments. Financial gains aside, antiques also bring warmth and character to a home that other more modern furnishings simply cannot match. Each and every piece boasts its own unique and sometimes colourful history, and often its story can serve as a great conversation starter.
Materials of Antique Cabinets
The material predominantly used to create antique cabinets is wood. The table below list some of the woods commonly found in antique furniture and cabinets.
| Part | Description |
| --- | --- |
| Mahogany | Colour variation ranges from a deep brown to a reddish tone, and sometimes has a mottled effect. |
| Beech | Beech tends to be an attractive pale brown in colour with a dappled grain. |
| Oak | Muted in colour, oak tends to darken with age to a rich brown. |
| Rosewood | Distinctive for its unique grain, this dark brown wood's popularity grew in the early 1800's. |
| Elm | Pale brown wood with a distinguishing dark grain. |
| Kingswood | A dark brown wood speckled with black often used for parquetry. |
| Yew | Reddish-brown in colour, yew was commonly used from the 1500's and onwards. |
| Maple | Maple is typically light and freckled with distinctive markings. Bird's-Eye Maple is also popular. |
| Walnut | Walnut is typically golden brown and very hard, often with a unique grain. |
| Sycamore | Often used in antiques from the late seventeenth century onwards, sycamore is a pale colour with a subtle grain. |
| Satinwood | Satinwood is a light wood often with a yellow tinge. |
Types of Antique Cabinets
There are a number of different cabinets on the market, and so when choosing one, it is important for the buyer to consider which style is right for their home and needs.
Type

Description

Advantages

Considerations

Drinks Cabinet

Antique drinks cabinets are used to store wines and spirits, as well as glasses such as wine glasses, brandy glasses, champagne flutes etc.

· Often contain shelves for storage.

· Limited use.

Corner Cabinet

Designed to tuck in to the corner of a room and showcase decorative ornaments.

· Corner cabinets can be good space-savers.

· Often smaller and narrower than other types of cabinet.

Hanging Wall Cabinet

Hanging wall cabinets are fixed to a wall to allow storage. They also serve as a decorative feature.

· Useful in rooms where space is limited.

· Needs to be fixed to a wall.

Traditional Cabinet

A cabinet usually found with glass-fronted, mirrored or solid doors, boasting shelves and drawers inside for storage.

· Attractive and also useful for storage purposes.

· Often have marble tops for use as a decorative surface or table.

· Often larger than other styles of cabinet.
Factors to Consider When Buying an Antique Cabinet
Condition – Perhaps one of the most important factors to consider when purchasing a piece of antique furniture is its condition. Before buying, survey the cabinet for any signs of damage, such as chips, scratches, dents, missing handles or loose drawers. Most products listed on eBay will detail the item's condition in-depth and include images of any areas of damage or restoration. However, it is important to note that general wear and tear may not necessarily decrease an items value.
Aesthetics – Taste is subjective, and some people favour a more uniform look to their furniture whilst others prefer their homes to be more eclectic. Those who prefer their antiques to match may want to ensure that the item is from the same style as the rest of their furniture (a Victorian drinks cabinet may look out-of-place alongside a Baroque-style piece) and composed of a similar type of wood. It is worthwhile to conduct research prior to purchasing so that buyers are aware of the variations in style and material to ensure the item will be consistent with others in their home.
Authenticity – Before buying antique furniture, it is important to be certain of the item's authenticity. A trained-eye will be able to spot an inauthentic item, but for those who are not so familiar, it is necessary to take other precautions to identify whether a piece is genuine or not. Always ensure that the cabinet is viewed in good light, and where possible, try to take it outside to survey it further. Check for any signs of repair, remodelling and changes, which may suggest that the item is inauthentic. Perhaps most important, is to look for a signature or the initials of the cabinet maker. These signatures will give a good indication as to when the piece was made.
How to Care for Antique Cabinets
'Patina' is a film or tarnish that develops on woodwork over time and is commonly found on antique furniture. Oxidation on the surface of the woodwork occurs as it dries and ages, and this in turn creates the patina. This effect is almost impossible to replicate and is the result of many years of care and nurture. But, unbeknownst to some owners, the use of household cleaning products can destroy the patina and strip the timber of its natural oils. To best preserve the lustre of antique furniture, owners should dust frequently with a soft cotton cloth, and in addition, once or twice per year, polish the item using good quality beeswax and leave overnight, rubbing down thoroughly the following day. Exposure to direct sunlight is also known to fade the rich patina of antiques, so try to avoid placing furniture in front of windows or French doors to maintain the deep hues that the furniture has developed over time.
Popular Antique Cabinet Manufacturers
Thomas Sheraton
George Hepplewhite
Thomas Hope
Parker & Perry
Edwards & Roberts
Thomas Chippendale
William Kent
Howard & Sons
John McLean
Gillows of Lancaster & London
Useful Accessories for Antique Cabinets
When cleaning antique furniture it is important not to use household furniture sprays to polish as they can cause damage to the woodwork. Instead, use beeswax or lemon oil. It is also useful to have the following items handy when caring for antique furniture:
Beeswax
Lemon Oil
Gloves
Soft cloth (such as cheesecloth or cotton)
Dehumidifier
Finding Antique Cabinets on eBay
Once you determine the type of antique cabinet you want to purchase, visit the Antiques portal on eBay, click on Antique Furniture' then 'Cabinets' and start searching item listings. The Categories list on the left-hand side of the eBay page helps to narrow the search.
Searching for Antique Cabinets on eBay
Search eBay listing titles for specific words when shopping for antique cabinets. For example, to find an Arts and Crafts Oak Hanging Wall Cabinet, type 'Arts and Crafts Antique Hanging Wall Cabinet' into the search box, and then click the Advanced button to customise the results. Also visit eBay's Search Tipspage for more advice on searching for antique cabinets with keywords. If you can't find the exact antique cabinets you want, try shopping eBay Stores.
Conclusion
With the help of this guide you should be in an informed position to make your antique cabinet purchase. Equipped with the knowledge of antique cabinets and their history, how to tell a genuine from a fake and how to care for antique furniture, buyers will be well prepared to make the right decision when browsing the extensive selection of antique furniture on offer.
However, it is always important to ensure that buyers don't rush when considering making a purchase, and instead make educated decisions by conducting thorough research prior to placing a bid. First and foremost, the most important consideration is for shoppers to ensure that the piece is authentic. They should then be certain of its condition and determine the items provenance. Once you have collected this information, you can buy an antique cabinet safely and securely on eBay.