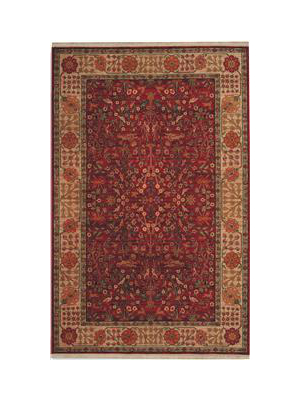 Carpets date back to the Neolithic Age, 7000 BC. The earliest versions were woven in a variety of ways. Buying an antique carpet for the home can add personality to a space. It can be difficult to know what to look for when buying such an antique; there are certain characteristics in an antique carpet that set it apart from a conventional carpet. It is important to choose a carpet that is in good shape and is also affordable. This guide aims to provide the buyer with the expert knowledge and confidence that they need to find an antique carpet on eBay, or through an antiques dealer. It will describe the history of antique carpets, the materials that are used to make carpets, the factors to consider and what to look for when buying an antique carpet, and how to care for it once it is in the home.
History of Antique Carpets
Rugs differ from carpets; a rug, generally, does not cover an entire room, unlike a carpet. Persian rugs have been in existence for over 2,500 years. They have been known to be extremely sought after and in certain periods have only been found in the homes of the very wealthy. Their exquisite detailing and motifs make them desirable antiques. Originally, Persian rugs were woven with cotton or wool because these were the materials that were widely available. However, very wealthy members of Persian society paid for carpets to be made of silk. Generally, a carpet or rug with a higher knot count is of a higher quality and its value will reflect this. There is one carpet dating back to the fifth century BC still in existence today, known as the Pazyryk carpet. Any carpet that was woven prior to 1920 is classified as an antique. Prior to the 18th century, carpets were not common in households; however when the trade routes of Persia and Western Europe opened, the demand for carpets increased.
Discover Antique Carpets
Modern carpets come in a variety of patterns and textures, but they do not usually display the quality of design and craftsmanship that went into making an antique carpet or rug. If the carpet is well cared for it is likely to hold its value and it may even, in some cases, increase in value. An antique carpet or rug details a part of history. It showcases a variety of cultures and traditions and can add personality to a home. The enchanting motifs and patterns on antique carpets is an indication of the dedication and quality craftsmanship that went into their weaving. First and foremost, buying an antique carpet is a good investment. This goes for any antique. If an antique carpet is in mint condition it is likely to worth more than a carpet is less favourable condition.
Fibres and Yarns of Carpet
Persian rugs and carpets were woven with cotton, wool or silk. Modern carpets can be made with nylon, polyester or polypropylene. The chart below will help you discover more about the material that is used to make a carpet.
| Part | Description |
| --- | --- |
| Nylon | The most common material used in the manufacturing of carpet. It absorbs dye, takes print easily, and is a durable material. However, it can stain easily. |
| Polypropylene | This material is used in carpets because it is less expensive. It is commonly used to make Berber carpets, but it can be difficult to dye. Polypropylene carpets have good stain resistant agents, but if the stain has been left to set, it may prove difficult to clean. |
| Wool and wool blends | Wool is a warm, durable material, which is used in carpet construction. It takes well to dye, and when crafted with nylon, its robustness increases. Modern carpets are made with blended wool yarns, mainly twenty percent synthetic fibre to eighty percent wool. The material is inexpensive but only covers a small part of the carpet market. |
| Polyester | PET, also known as polyethylene terephthalate, is used in both filament and spun manufacturing. In the early 2000s, as the price of raw materials rose, polyester became more popular in carpet manufacturing. It has good stain resistance, but it can be crushed easily. |
| Acrylic | This synthetic material was first created in 1941 by the DuPont corporation. Since its introduction, it has undergone numerous changes. Although it is hard to dye, it is washable and a suitable rug fabric. |
| Silk | Silk is an expensive material that was used to manufacture early Persian rugs. Crafting a silk rug is a timely process and can cost hundreds of thousands of pounds. |
Types of Motifs on Antique Carpets
Antique carpets can have very intricate designs. Learn more about the Mina Khani, Boteh and Rosette designs.
| Type | Description | Advantages | Considerations |
| --- | --- | --- | --- |
| Rosette | Has a circular display of colourful motifs signalling rose petals. | · The decorative design is often detailed around the borders. | · This carpet design is used in Nain rugs. |
| Mina Khani | This detailed pattern is found in Persian carpets and rugs. | · The repeated daisy design interconnects by circular lines or diamonds. | · Used as an all over pattern in carpets and rugs. |
| Boteh | The palm leaf motif is used as an all over pattern in arty weaves. | · Other style designs include flames and pine cones. | · The design was famously used in the Paisley shawls. |
Factors to Consider When Buying an Antique Carpet
There are several factors that must be taken into consideration when buying an antique carpet.
· Measurements – The buyer should measure the space that they have planned for the carpet to make sure that the rug will fit in. Having the exact dimensions of the carpet is also important because it means that there will be no confusion when the carpet is delivered. Do not rely solely on photos as they often do not give the true reflection of the size of a carpet.
· Imperfections – It is unlikely that an antique carpet will be in perfect condition. It is important, however, that a buyer checks to ensure that the carpet's borders and edges are intact.
· Colours – Natural dyes were used in antique carpets. The use of any bold or vibrant colours may suggest that the carpet is not a genuine antique.
· Availability – A carpet that is considered to be rare will be of higher value. One such type of carpet, Topkapi, was made in the 1920s and is extremely sought after.
Typical Features of an Antique Carpet
1. The type of weaving
The age of an antique carpet can be determined by its size. Generally, homes in the 19th century were quite small so this is reflected in the size of the carpet.
2. Motifs and decorations
The buyer should look to see if the carpet has any unusual decorations or motifs. These can help to indicate who manufactured the carpet and when it was made.
3. Borders and colours
The decorative design on the border of the carpet can indicate the period of time in which the carpet was made.
How to Care for an Antique Carpet
If an antique carpet is in a poor state its condition is likely to deteriorate if it is spread on the floor. A rug pad should be placed underneath the carpet to help to preserve it. Always use furniture slides to move furniture as this will help to prevent any damage from happening to the carpet. A manual carpet cleaner will remove dust and it advised that this is used rather than a powerful electric vacuum cleaner.
Accessories and Add-ons for Antique Carpets
Caring for an antique carpet does require some thought. Here is a brief list of some of the accessories that a buyer should consider getting.
Manual carpet cleaner
Furniture slides
Rug pads
Finding an Antique Carpet on eBay
Once you determine the type of antique carpet you want to purchase, visit the Antiques portal on eBay, and click on 'Carpets / Rugs', then 'Pre-1900' and you can start searching item listings The Categories list on the left-hand side of the eBay page helps to narrow the search.
Searching for Antique Carpets on eBay
Search eBay listing titles for specific words when shopping for antique carpets. For example, to find a large Chinese Aubusson rug in 100% wool, type 'Antique Carpets' into the search box, and then click the Advanced button to customise the results. Also visit eBay's Search Tipspage for more advice on searching for antique carpets with keywords. If you can't find the exact antique carpet you want, try shopping eBay Stores.
Conclusion
There are a wide variety of intricately designed antique carpets for sale on eBay. An antique carpet can add style and sophistication to any home. Use this guide to help you to make an informed choice on choosing the best antique carpet for your home. If the seller is offering little in the way of information on the antique carpet, ask further questions. Do not buy until you feel fully confident. Having all of the relevant information will help to make the process informative and fun.
Once you have collected this information, you can buy an antique carpet safely and securely on eBay.