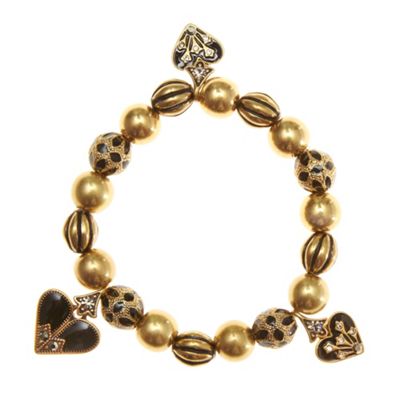 Antique jewellery is distinguished from vintage jewellery by age, and things considered 'antique' are typically at least 100 years old. As one might imagine, verifying that a charm bracelet is an antique can be a complicated process, and most verifiably antique charm bracelets are likely to be relatively expensive. However, a shopper may have luck discovering inexpensive antique charm bracelets on websites like eBay.
One should follow these few simple shopping tips whether looking for an already-assembled charm bracelet or the individual components of a charm bracelet, and make sure to look for quality both in the charm and the chain bracelet. A shopper looking for an antique charm bracelet should also become familiar with the proper care of this antique piece. One should look for a set of charms which match in size and finish, keeping vigilant against counterfeit vintage items, while also finding a charm bracelet chain of the ideal size, weight, and construction for his or her needs.
Buying Antique Charms
Antique charms come in a host of varieties, and sorting the true antiques from reproductions can be difficult for the uninitiated. When buying antique charms, there are a few simple tips which help smooth the process and help a shopper come out with a prize.
Matching Charm Types
An easy way to ensure all of one's charms have the look or feel of a set is to simply purchase charms of the same metal finish. An individual just beginning a charm bracelet benefits greatly from narrowing the search down to a particular finish, as it lends focus to the search and produces a finished charm bracelet which appears more well matched than those of contrasting finishes.
Buying Gold Charms
Gold and gold-plated antique charms are relatively common, but are generally more expensive than other charm varieties. Price varies depending on the carat weight of the gold; however, charms with high carat weight retail most, if not all, of their original value. For the one who enjoys the appearance of gold but wishes to avoid the high cost associated with it, gold-plated charms are a good option.
Buying Silver Charms
Silver is less expensive than gold and is less prone to denting or scuffing. However, silver tends to tarnish with age, and silver bracelet charms require more frequent and thorough care than gold or other metals.
Buying Pewter Charms
Pewter is a common metal used for inexpensive charms which has a silvery colour, yet is far less lustrous than silver itself. Though pewter charms are far less expensive than either gold or silver, pewter charms are generally much heavier, meaning one may be able to comfortably fit fewer charms on a bracelet.
Buying Plastic Charms
Plastic antique charms are also referred to as 'gumball charms', because they were common prizes awarded through gumball machines. These charms are colourful and light, and commonly display franchise icons such as Mickey Mouse or Betty Boop.
Identifying Counterfeit Charms
With the rise in popularity of antique-looking charms and charm bracelets, there has been a corresponding rise in counterfeiters for this jewellery type. There are two key areas which one should examine when determining if a charm is a counterfeit.
Examining the Metal Mark
Most charms have a small mark or impression which displays the charms' metal content. Generally, this is the notation of the element, such as Au for gold. Pure silver or gold charms only have those letters which correspond to the elements, while charms which are manufactured using several different metals feature the letters of each of the metals used. Cheaper charms, such as those which are plated or which are fashioned from non-valuable metals, may not have a metal mark at all. One may require the use of a magnifying glass to thoroughly check charms.
Examining the Manufacturer Mark
If one is shopping for charms produced by a particular manufacturer, understanding how to correctly identify the manufacturers' marks reduces the likelihood of purchasing counterfeit items. A maker's mark is usually a symbol or series of letters stamped near the metal mark. If someone is unsure what the mark of a particular manufacturer looks like, he or she should consult that manufacturer's website.
Buying an Antique Bracelet for Charms
Antique bracelets suited for charms are usually chain bracelets with links wide enough through which charm connectors easily fit. A buyer looking to purchase an antique bracelet on which to place charms or to match an existing set should try to find a bracelet which is lightweight but strong; with easy-to-attach clasps and in a finish which complements the charms.
Sizing an Antique Charm Bracelet
Before shopping for an antique charm bracelet or a chain bracelet on which to place charms, a shopper should measure the wrist which the bracelet is to be worn. This is done using a tape measure and simply winding it about the circumference of the wrist. After marking the number of centimetres it takes to comfortably circumnavigate the wrist, one should add 2 or 3 centimetres to this measurement. This gives the number of centimetres in length which should be comfortable for a wearer without being too loose.
Antique Charm Bracelet Link Size
When looking at antique charm bracelets, one should pay close attention to the link sizes. The link sizes determine how many charms one can fit to a bracelet. Larger, thicker links accommodate fewer charms, but are generally stronger and may therefore be a better option for the one who tends to be rough on jewellery.
Caring for an Antique Charm Bracelet
Many owners of antique charm bracelets allow the bracelets and charms to acquire a patina to enhance the vintage look of the pieces. However, regular care and cleaning ensures that one's charm bracelet stays beautiful and stands up to the test of time.
Cleaning an Antique Charm Bracelet
To avoid removing the aged patina from an antique charm bracelet, to preserve the colours on a charms, and to keep small parts like gems from loosening, a gentle cleaning regimen is recommended. One should first remove charms with inset stones or paper inserts (such as bible charms) before beginning to clean a charm bracelet. One should use a jewellery cleaning agent bought with the metal finish of their bracelet in mind; specific varieties are made for gold or silver. One should follow the instructions on the cleaning agent precisely. Stronger, jewellery-cleaning dips should only be used as a last resort, as they sometimes damage small moving pieces on the charms, and strip away the antique patina, leaving the bracelet and charms looking shiny and new.
Storing an Antique Charm Bracelet
Properly storing an antique charm bracelet in a fabric-lined jewellery box protects the chain and charms from rubbing, scratching, or denting against other pieces of jewellery. For a silver or a sterling silver antique charm bracelet, an anti-tarnish jewellery box helps extend the lifespan of the piece and reduces the number of times one must clean it over the course of a year.
Buying an Antique Charm Bracelet on eBay
Even those who have never used eBay before should find using it to buy an antique charm bracelet quick and easy. First, go to the eBay homepage or any of eBay's internal pages. Find the search bar, click it, and type in the words or phrases which describe the type of antique charm bracelet you would like to purchase. A good example is "antique victorian charm bracelet&". Press enter when you are finished typing to see a list of all the items on eBay which match your search description. You can organise this list based on several qualities, including price, period, and location.
In some cases, an item's listing page may not communicate all the details you need to know to make an informed purchasing decision. In this case, you should look for the "Ask a question&" link on the item's listing page. Clicking it guides you through the process of communicating directly with an item's seller.
Conclusion
Whether shopping for an antique charm bracelet on eBay or elsewhere, following a few simple steps ensures that the buyer finds a quality item. When one considers purchasing charms or a completed charm bracelet, they should carefully go over the pieces to look for the metal stamp to determine whether the metal type and quality matches the seller's description. They should also look for any manufacturer's marks. The presence of manufacturer's marks helps a shopper tell genuine vintage items apart from counterfeits.
A shopper should also ensure that the bracelet chain is correctly sized and weighted to his or her needs. Measuring one's wrist before shopping helps make the buying process quicker and easier, and helps a buyer avoid purchasing a bracelet either too large or too small. One should also consider the chain bracelet link size; larger links support larger charms, but fits less of them than smaller links. Proper storage of an antique charm bracelet, once bought, helps reduce the likelihood of damaging the bracelet while also reducing the amount of times the bracelet should be cleaned.