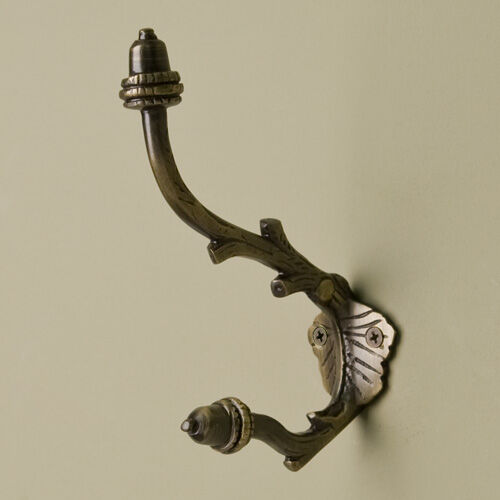 Antique coat hooks add character to a property. In addition to providing a convenient location to hang personal belongings and other household items, antique coat hooks deliver a rustic, traditional, or heritage look and feel to a space. They are often decorative and can feature a range of designs and styles. Like any coat hook, antique coat hooks are also ideal for organising a space and keeping a room tidy and neat.
About Antique Coat Hooks
Antique coat hooks serve a dual purpose. In addition to being decorative pieces that evoke a bygone or historical period, antique coat hooks are used to organise a room or space. They are found in entryways and doorways, as well as hallways and closets. Antique coat hooks are typically used to hang outerwear, such as a coat or jacket. They are also used to hang other accessories, such as hats and caps, purses and bags, scarves, wraps, and household items, such as a dog leash or keys. Hooks are mounted to a wall or other flat surface, such as a door, panel, or rail. They are generally secured to a surface using one or more screws. An antique coat rack can be found alone or with other identical hooks in a row to provide for additional storage.
Choosing the Right Antique Coat Hook on eBay
A range of antique coat hooks are found on eBay, from new reproduction antique hooks to vintage antique hooks. When researching antique hooks on eBay, a range of factors should be considered. In addition to the price of the hook and its condition, if purchasing a used hook, the style and design of the antique coat hook are significant considerations. An antique coat hook should complement a room or space. Matching door knobs, railings, and other design accessories can be used to create a heritage, rustic, or antique look to a space. Since the hook should also meet the needs of each household or user, an antique coat hook should have sufficient prongs to meet storage needs. Other factors that should be considered when purchasing an antique coat hook include the material and finish of the piece. If purchasing a used antique coat hook,, consider also the condition of the hook. Hooks that are cracked or bent from overuse can be structurally unsound, which may compromise the effectiveness of the hook to support an item that is hung from it. Verify that the mounting mechanism is not damaged or worn, including checking to see that the screw thread is not worn. Screws should also match the style and colour of the hook, and buyers should verify that all screws are included with the hook before purchasing the item.
Antique Coat Hook Types
There are two types of antique coat hooks. New antique coat hooks are available with design elements found on genuine antique hooks. These imitation or reproduction antique coat hooks have similar matte or satin finishes as genuine antique coat hooks, and reproduction antique coat hooks are often hand finished; that is, hand polished, buffed, and lacquer coated. Used antique coat hooks are also available for purchase. These genuine coat hooks serve as the inspiration for modern reproduction or imitation antique coat hooks, and were typically made centuries ago. Many genuine antique coat hooks are hand-made, and are often sought after as rare and collectible pieces.
Antique Coat Hook Designs
Antique coat hooks are available is a variety of designs. The following table provides a summary of some of the most common designs.
| | |
| --- | --- |
| Single | Single antique coat hooks have a single prong and are used to hang one item. |
| Double | Double antique coat hooks have two prongs that are used to hang two items. Prongs are arranged horizontally (side-by-side) or vertically with typically a longer prong positioned above a shorter prong. Longer prongs are generally used for larger or heavier items, while lighter or smaller articles are hung from shorter prongs. |
| Triple | Triple hooks feature three prongs. Prongs are generally found in a triangular position, with the top prong being longer than the two remaining prongs. Similar to double hooks, longer prongs are used for larger or heavier articles. |
| Swivel | Victorian-style antique coat hooks feature a swivel mechanism that allows multiple swing-arm hooks to be repositioned from side-to-side. Swivel hooks feature two or three hooks. |
Antique Coat Hook Styles
Antique coat hooks feature a variety of styles that enhance the aesthetic beauty of the hook. Antique coat hooks often feature ornate scrolls and decorative rosebuds, and they may also incorporate contemporary design trends. The table below provides some details on antique coat hook styles.
| | |
| --- | --- |
| Curved Tip | Coat hooks with a curved tip have a noticeable and often decorative curving at the end of the hook. Curved-tips can feature tight or wide scrolling or curving. |
| Straight Tip | These hooks have very little or no curvature at the tip of the prong. Depending on the angle of the unit, straight hooks can be less effective at holding an item in place when compared to a curved hook. |
| Ball Tip | Antique coat hooks with a ball tip have a distinct sphere or shape at the end of the hook. The sphere is often a ball that is rounded or elongated, and it is typically blended seamlessly into the body of the hook. |
Materials Used for Antique Coat Hooks
Antique coat hooks are generally made from metal and metal alloys. Common metals and metal alloys used include steel, stainless steel, iron, cast iron, aluminum, and zinc die cast metal. Older antique coat hooks are typically made from cast iron, while newer reproduction antique coat hooks are generally made from aluminum and zinc die cast metal. If purchasing a used antique coat hook, a buyer should ensure that the metal is not bent or cracked. Deformed or cracked hooks may buckle under the weight of a heavy item.
Common Finishes for Antique Coat Hooks
One of the main features of antique coat hooks that distinguish them from other hooks is their finish. Antique finishes can be added to base metals of any type, such as steel, iron, and aluminium. Common antique finishes include nickel, brass, and bronze, as well as iron and cast iron. Unlike some modern or traditional hooks, antique hooks are generally not shiny and feature low sheen. Antique finishes typically range from black, chocolate brown, and golden, as well as green and red tones. The table below provides a summary of common finishes used for antique coat hooks.
| | |
| --- | --- |
| Brushed Metal | Brushed metal provides a smooth yet textured surface. Antique coat hooks with a brushed surface have a matte or satin look, and typically have a nickel or steel finish. Brushed finishes may also be known as antique finishes. |
| Oil-rubbed | Oil-rubbed hooks have a dark finish, providing a sophisticated and refined look. Coat hooks are sealed with a lacquer coat that enhances the colour of the base metal. Brass and bronze are common oil-rubbed finishes. |
| Paint | Paint is added to antique coat hooks to enhance the texture and appearance of the piece. Common paint tones found on antique coat hooks include white, grey and black, although additional colours such as red and green are also used. |
Conclusion
Antique coat hooks evoke memories of the past. They provide unique and stunning additions to any space. Antique coat hooks also deliver storage solutions to keep rooms organised and tidy. When researching antique coat hooks, buyers should consider whether they wish to purchase a reproduction or used antique coat hook. If purchasing a used hook, the condition of the mounting mechanism and the hook should be thoroughly investigated. Whether purchasing a new reproduction antique hook or a used hook, the ability of the hook to meet individual storage needs, the material and finish of the hook, and the style and design of the piece should also be considered in order to ensure the hook is a right fit for the space where it will be mounted.