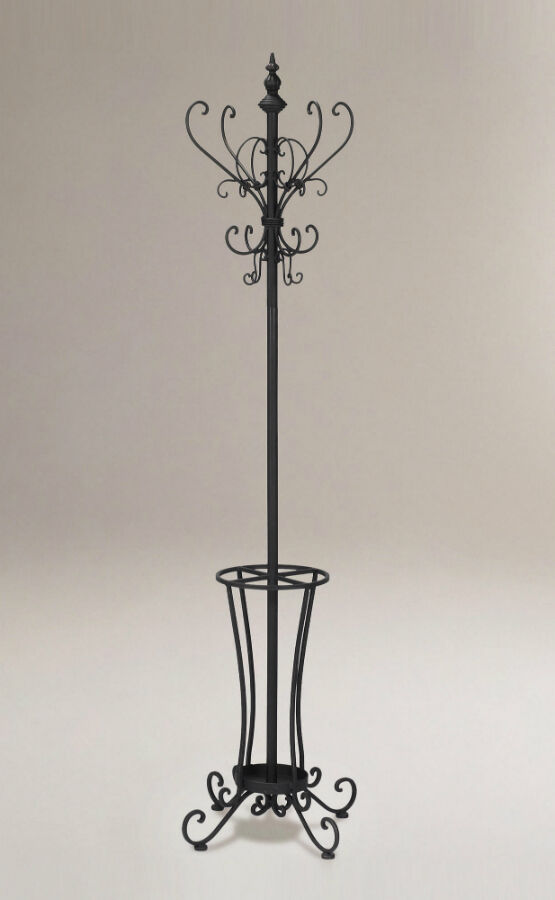 The purpose of a coat stand is to store outer wear such as coats, jackets, hats, umbrellas, and scarves without them getting creased or crumpled. Antique coat stands are the ideal addition to any office or home. Available in wrought iron, solid oak, bamboo, mahogany, and various other materials, there are antique coat stands available to suit a wide range of interior designs. Search brokers, websites and antique dealers to find a high-quality coat stand to suit the needs of any home.
About Coat Stands
Coat stands can also be referred to as coat racks, hat stands, or hall stands. Often found in a more traditional home or office, coat stands provide a convenient means to store outer wear close to the entrance and exit of a premises. They also add an air of sophistication to the hallway area. Produced in a variety of styles from a range of eras, it is important to understand the type of coat stand needed. For example, a tree stand is usually a tall coat stand on three or four legs with a long single-stem structure and various branches at the top for hanging garments. A hall stand is a larger coat stand, usually placed against a wall. It has a panelled back, often with a mirror, and usually features several hooks and one or two drawers. With homes becoming increasingly smaller, the tree stand is the more common design, but there are many antique hall stands available on the market.
Choosing a Coat Stand
Searching for a coat stand is a matter of personal choice and the space available. However, there are several factors that can be used to assist in the choice making.
Coat Stand Material
As mentioned above, coat stands are available in a variety of materials. This article covers the most common variations.
| | |
| --- | --- |
| Wrought iron | This is a more versatile material and is often available in various colours. Metal designs are often more intricate than wooden coat stands and the material means these stands are hard-wearing. However, wrought iron designs can be cold, and are not suitable for rooms that require furniture to provide warmth to the design. |
| Solid oak | One of the more popular materials for antique coat stands, oak offers a warm and authentic feel to traditional homes. Due to its commonality, there are many coat stands on the market that are made from oak. Wooden stands are available in a wide variety of varnishes and finishes and can be customised to suit the individual design of a home or office. As a less malleable material, oak stands are usually less intricate with simpler designs. |
| Bamboo | Coat stands made from bamboo are more unusual and are suited to individual and alternative-style homes. Bamboo stands are usually of the tree style and provide a cheaper alternative to oak or mahogany. |
| Mahogany | A common material used for coat stands, mahogany provides a more sophisticated alternative to oak. As a darker wood, the use of mahogany must be carefully considered when designing a room but, when used correctly, it brings an elegant touch to an entrance hall. Due to the large number of mahogany and other wooden coat stands on the market, they can often be purchased for a reasonable price. |
Style of Coat Stand
As mentioned above, there are two main styles of coat stand: tree stand and hall stand.
| | |
| --- | --- |
| Tree stand | The more common style of coat stand, the tree stand has several legs, a long stem, and branches on which to hang garments. Tree stands are suited to smaller rooms and can be comfortably placed adjacent to the entrance to an office or home without dominating the decor of the hallway. Tree stands can usually hold several coats, hats, scarves, or umbrellas, but are not suitable for storing large numbers of garments. Tree stands are available in all of the above materials, but are most commonly available in wrought iron and mahogany. |
| Hall stand | The hall stand is a large piece of furniture, designed to hold many items. As a more imposing item, a hall stand should only be placed in larger entrance halls or one where the stand will be the dominating feature. Hall stands usually have additional features such as mirrors and drawers, adding to their overall utility. Hall stands are most often available in oak and mahogany, but can occasionally be found in bamboo. |
Coat Stand Age
When buying an antique coat stand, it is important to consider the age and design most suited to the interior design project or room.
| | |
| --- | --- |
| Victorian | Most commonly available in solid oak, Victorian coat stands range from the wildly intricate to more simpistic designs. Victorian coat stands are also available in both the tree stand and hall stand styles. Usually produced with dark finishes and in larger sizes, Victorian coat stands tend to be dominating items of furniture and are best suited to more traditional homes. |
| Edwardian | Most commonly produced in mahogany and solid oak, Edwardian coat stands are usually of a traditional and very grand design. Hall stands from this era usually feature large mirrors and several drawers, hooks, and shelves, while Edwardian tree stands are usually examples of the bentwood technique with very intricate designs. Like the coat stands from the Victorian era, Edwardian stands are dominating items of furniture that would suit a more traditional decor. |
| Late 20th Century | Although most antique coat stands available on the market are either Victorian or Edwardian, there are several interesting items available from the second half of the 20th Century. The more traditional styles of coat stand continued to be produced, but modern influences meant an increased use of metals to produce these items of furniture. Often these designs are less imposing and can be used as a more subtle addition to an entrance hall |
Conclusion
An antique coat stand can provide either the finishing touch or the central feature of an elegant entrance hall. It is also a very useful feature that can offer an efficient storage solution in both a home or office. Selecting the right antique coat stand can be a difficult decision, especially with the wide variety of materials, ages and styles on the market. Research sellers, dealers, and individual items to ensure confidence in getting the best deal and perfect style for the room.