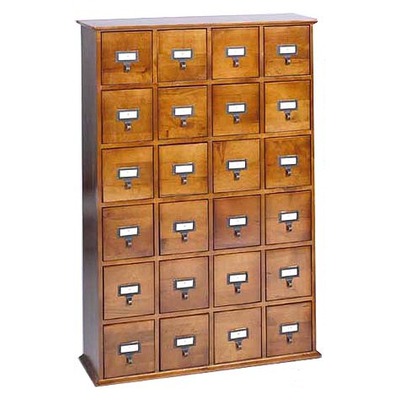 Filing cabinets serve a very important purpose in many homes as they are where the most valuable documents are often kept. However, not only do they serve the practical purpose of storing files, but they can also be aesthetically pleasing to look at, bringing warmth to a room. This guide details the history of antique filing cabinets, what to look for in a good specimen and how to care for a cabinet once it has been purchased.
History of Antique Filing Cabinets
The word 'cabinet' is generally understood to be a piece of furniture – usually medium to large in size – which is dedicated to storage and typically accessed by doors and drawers, some of which may contain shelving. The earliest cabinets were chiefly designed to store papers, documents and valuables. They were also often used for writing, which eventually led to the production of specific styles of filing cabinets often referred to as 'secretaries' or 'bureaus'. Early filing cabinets were usually mounted on a stand and were accessed by the front via a chest-style opening, while later examples stood on legs or feet, and were accessed from the front and featured drawers or doors – and sometimes both. Other popular styles of antique cabinets include; display cabinets, china cabinets, tool cabinets and jewellery cabinets. These different styles of cabinets have some common designs features. There are those that are fixed to a wall (wall cabinets), pieces that sit in the corner of a room (corner cabinets) and breakfront, which are bookcase style cabinets.
Discover Antique Filing Cabinets
Often prospective buyers are drawn to antique furnishings by their inherent charm and character. Antiques are frequently handed down through generations as heirlooms, which means that each and every piece has its own unique story to tell. The history of antique furniture is heavily linked to the history of architecture; whether buyers are looking at pieces from the Georgian, Edwardian or Regency eras, it is certain that the materials and craftsmanship of the piece will reflect the architecture and style of that time period. Antique furnishings can also make a good investment, as with correct care they are almost guaranteed to retain their value, and can often appreciate in value over time.
Materials of Antique Filing Cabinets
The material predominantly used in the manufacturing of antique filing cabinets is wood. Below is a list of some of the types that are commonly used:
| Part | Description |
| --- | --- |
| Beech | A pale brown wood with a speckled grain. |
| Elm | Usually light brown in colour with a distinctive dark grain. |
| Oak | A robust wood that tends to get darker with age and polishing. |
| Maple | Tends to be light and with a subtle grain. |
| Rosewood | Usually deep brown in colour, it is known for its warmth and unique grain. |
| Yew | A distinctive reddish-brown wood with some burr effects. |
| Walnut | A very tough golden brown wood with an attractive wavy grain. |
| Sycamore | A subtle shade of golden brown with a fine grain. |
| Mahogany | Colour varies from dark brown to red, and sometimes has a spotted effect. |
Types of Antique Filing Cabinets
There are a number of different antique filing cabinets to be found in the marketplace, so it is important to consider which style is right for each individual. Below is a list of popular styles available to buyers:
| Type | Description | Advantages | Considerations |
| --- | --- | --- | --- |
| Georgian Filing Cabinet | Georgian furniture dates from between 1714 – 1790 and reflects the British interpretation of Palladianism, Rococo and Neo-classicism. | · Rarer than furnishings of other eras, so pieces often command higher prices. | · Due to their age, good examples can be hard to find. |
| Regency Filing Cabinet | A style dating back to 1812 – 1830, known for its neo-classical style and grandiose features. | · Elaborate designs which make fantastic focal pieces. | · May not blend well with other furniture styles in the home. |
| Victorian Filing Cabinet | The Victorian era lasted from 1837 – 1901 and was the age in which furniture began to be mass-produced. | · Widely available. | · Mass-produced items may not be worth as much as hand-crafted pieces. |
| Arts and Crafts Filing Cabinet | The Arts and Crafts movement lasted from 1860 – 1940 and was a reaction to industrialism. Furniture from this period tends to be rustic-looking and handmade. | · Arts and Crafts antiques are relatively easy to find, and due to their age, are often in good condition. | · Items from the latter part of the movement are, in terms of antiques, still fairly 'new'. |
Factors to Consider When Buying an Antique Filing Cabinet
Before purchasing any antique cabinet, it can be worthwhile to learn about the product and what makes a good specimen. There are a number of factors that should be considered prior to buying an antique filing cabinet; including condition, rarity and age.
Age – Often the older the antique, the more it is worth. Older pieces are generally rarer and so their value increases accordingly.
Markings – Look for furniture that bears the markings of its manufacturer. These markings are useful when ascertaining the item's craftsman and which time period it comes from.
Original materials– Prior to purchasing, check the piece for any signs of repair or refinishing as this may affect its value. Minor scuffs and scratches, however, aren't usually of concern to collectors, and in spite of signs of wear-and-tear they can still fetch high prices.
Hand-carvings – Items that feature hand-carving or intricate details can be of particular value, especially when compared to items which have been mass-produced.
The buyer should also consider the size of the cabinet, as they can require a large amount of space, and will need to be able to fit into the desired location.
How to Care for Antique Filing Cabinets
The way in which owners of antiques care for their furniture differs from those who own modern pieces. The methods of care for historical furnishings differ as the items are no longer considered functional, and their look and preservation are key. They are coveted items and should not be cleaned and repaired in the same manner other pieces would be. The use of adhesives, polishes, finishes and fasteners can dramatically affect the value of an antique, and so other methods of care must be used to ensure the item's lustre is preserved.
When caring for antique furniture, it is generally recommended that owners:
Dust regularly with a lint-free cloth
Clean up any spills immediately
Place items away from heat sources such as fireplaces or stoves
Avoid placing antiques near air-conditioning units or radiators
Position furniture out of the path of direct sunlight.
It is also recommended that owners avoid using household furniture sprays, as whilst these may be useful for modern furnishings, they can greatly damage the patina of antiques. Instead, polish the item using a thin coat of furniture paste wax every so often. This protects furniture against moisture and dust.
In addition, it is generally considered that whilst owners should avoid refinishing or restoring antique furnishings, although in some cases, a quality restoration can in fact add value to a piece. If buyers are considering refinishing an antique, it is recommended that they consult a professional beforehand.
Popular Antique Filing Cabinet Manufacturers
George Hepplewhite
George Seddon
Samuel Bennett
John Cobb
William Moore
Gillow's of Lancaster and London
Thomas Chippendale
William Kent
Thomas Sheraton
Edwards and Roberts
William Kent
John McLean
Useful Accessories for Antique Filing Cabinets
Antique furniture makes a unique addition to any home and can act as a fantastic focal piece in a room. Antique filing cabinets are no exception, and can bring an old-world charm to a study that newer items cannot. For buyers considering purchasing an antique, it is worthwhile considering the accessories that may be useful to have to hand when caring for their furniture. Antique pieces are often cherished by their owners, and so it comes as no surprise that they would want to keep their items in good condition. To ensure that antiques retain their sheen and stay in optimal condition, it is recommended that owners have a few products available in their household.
Dehumidifier, if atmosphere is moist
Wax
Beeswax
Gloves
Cotton cloth
Finding Antique Filing Cabinets on eBay
Once you determine the type of antique cabinet you want to purchase, visit the Antiques portal on eBay, click on 'Antique Furniture' then 'Cabinets' and start searching item listings. The Categories list on the left-hand side of the eBay page helps to narrow the search.
Searching for Antique Filing Cabinets on eBay
Search eBay listing titles for specific words when shopping for antique cabinets. For example, to find an Edwardian Serpentine Filing Cabinet, type 'Edwardian Filing Cabinet' into the search box, and then click the Advanced button to customise the results. Also visit eBay's Search Tips page for more advice on searching for antique filing cabinets with keywords. If you can't find the exact antique filing cabinet you want, try shopping eBay Stores.
Conclusion
Antique filing cabinets have great appeal, and can in many cases be considered quite valuable. Before purchasing any item of antique furniture, however, it is important to determine the item's age, condition and provenance. Markings and materials are both ways of authenticating the quality of antique furniture. Once you have collected this information, you can buy antique filing cabinets safely and securely on eBay.