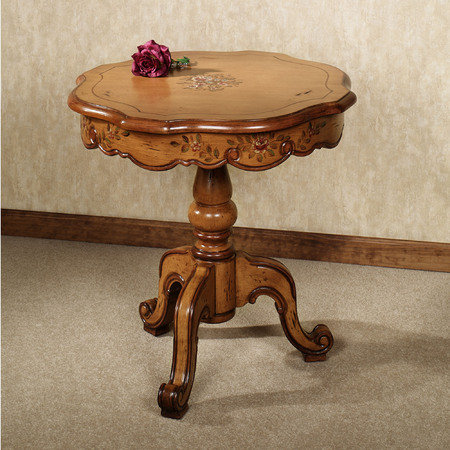 Antiques are pieces of evidence that indicate how our ancestors used to go about their daily lives – how they lived, worked and interacted with each other. Antiques show us how we have developed over the centuries.
The table is a piece of furniture that is used in homes all across the world. It is impossible to imagine a world without tables. It has been produced in various styles and forms by different cultures and it's these differences that give us a unique insight into cultures across the world.
Oak is a material that has been used to make furniture for hundreds of years. It is a wood that is associated with high-quality products. Oak is hard and durable, even against moisture, which is a desirable quality for furniture. Across the Western world, oak is seen as a symbol of strength. In addition, oak is heavy, which makes it feel and look expensive, also a desirable quality for collectors. Furthermore, oak's open grain makes it beautiful to look at.
As such, antique oak tables are in demand. As pieces of furniture, they are useful and long-lasting. As an investment, aged oak is likely to increase in value over time, if well taken care of.
History of Antique Oak Tables
The history of the table is one that goes all the way back to the ancient Egyptians, although the tables that they created were nothing like the ones we know today. They were not tall enough for people to sit around them. The table was further developed by the Greeks and Romans into the form that we recognise today.
Oak is a tree in the Quercus family and it grows in the northern hemisphere. It is such a strong wood that it is believed that the oldest group of oak trees are over 480 years old and can be found in Poland. As long ago as the ninth and tenth centuries, oak was being used to make ships by the Vikings. Since those early days, oak has been used to make furniture. As pieces of antiques, they are easy to upkeep because oak is strong and immune to fungus due to its high tannin content.
Discover Antique Oak Tables
The table is an essential piece of furniture in any home. For a buyer, an antique oak table is a piece of luxury. Because oak can last for so long, owning one of these tables allows the buyer to reflect on what it would have like to have lived in earlier cultures, to experience meal times or social life in the way that people from the past did.
An antique oak table is not only a piece of quality furniture for the home but it can also be a sensible financial investment, the sturdiness of oak furniture means that it lasts well if treated correctly. Antique oak tables have a look that is timeless, a look that many manufacturers attempt to replicate using cheaper materials, but never quite manage.
Parts of an Antique Oak Table
There are not many parts to an antique oak table. Its beauty is in its simplicity and functionality.
| Part | Description |
| --- | --- |
| Legs | Need to be strong to support the top surface, especially given that oak is a heavy wood. It is imperative that the legs are secured properly to the top surface. |
| Top surface | Usually flat, smooth and firm. The top surface would show off oak's open grains. |
Types of Antique Oak Tables
There are many types of antique table and oak has been used in the production of most of these. Due to it is durability and aesthetic effect; oak has always been a popular choice among table makers.
| Type | Description | Advantages | Considerations |
| --- | --- | --- | --- |
| Pembroke table | Rectangular or oval top with two sides that can extend out or be tucked in. | Used as small dining table or candle stand. | Very popular in the eighteenth and nineteenth centuries. |
| Work table | Small with a rectangular top. | Useful for sewing or doing other manual work. | Again, very popular in the eighteenth and nineteenth centuries. |
| Dining table | Usually has a flat rectangular top with chairs along each side. Used for formal dining or family meals. | Able to fit a good number of people to sit around. | Very popular throughout the ages and even in modern times. |
| Coffee table | Low table, used usually in a living room for drinks, books and magazines. | May have storage for day-to-day items. | A timeless piece. Popular in cultures throughout the world. |
Factors to Consider When Buying an Antique Oak Table
There are some important considerations that a buyer is advised to make before purchasing an antique oak table. Here are some guidelines.
Measurements - Always ask for the exact dimensions of the antique oak table. This will prevent any confusion when the table is delivered because, photos can sometimes be misleading. This also gives the buyer the opportunity to measure the space that they have planned for the antique oak table to make sure that it will fit.
Ask questions - The buyer should ask as many pertinent questions to the seller as possible. Sellers are used to this and expect to be asked questions. Sometimes only being given the initial description and photograph is not enough information for the buyer.
Condition - Condition of the antique oak table is very important. If the table is being bought for investment purposes, any blemish or mark will significantly decrease the value of the piece. At the same time, any piece of antique is unlikely to be in a pristine condition. Signs of age can be good but not to the extent that the piece shows actual irreparable damage.
Knowledge and research - It is advised that the buyer get to know the type of product as well as possible. This will give the buyer an idea of what to expect when they do decide to start looking for antique oak tables. Research can be done with reference books in libraries or on the internet.
How to Care for an Antique Oak Table
Like all antiques, oak tables should be taken care of, given their value. Also, if properly maintained, oak tables can last generations.
It is advised that placemats and coasters should be used for food and drinks. While oak is durable, wet and hot things may leave undesirable marks on the table.
An antique oak table should be dusted and cleaned regularly with a soft cloth and polished twice a year with an appropriate substance.
Accessories for an Antique Oak Table
Chairs – Oak chairs or benches can complement an antique oak table.
Lamps/ Candle holders – These can soften the look of an oak table, which can be a dark and heavy presence in a room.
Placemats and coasters – These will ensure that the table does not pick up any stains from wet cups or plates.
Soft cloths – These would be useful for cleaning oak tables with.
Beeswax – This should be sprayed on and then wiped off twelve hours later. Polishing should be done twice a year.
Finding an Antique Oak Table on eBay
Once you determine the type of an antique oak table you want to purchase, visit the Antiques portal on eBay and start searching item listings. The Categories list on the left-hand side of the eBay page helps to narrow the search.
Searching for an Antique Oak Tableon eBay
Search eBay listing titles for specific words when shopping for an antique oaRk table. For example, to find an eighteenth century oak table, type 'eighteenth century oak table' into the search box, and then click the Advanced button to customise the results. Also visit eBay's Search Tips page for more advice on searching for an antique oak table with keywords. If you can't find the antique oak table you want, try shopping eBay Stores.
Conclusion
Such an iconic piece of furniture as an antique oak table can add character to any home. The classic styles coupled with the enduring quality and durability make an antique oak table a timeless piece of furniture. Once you have collected all the information that you need, you can buy an antique oak table safely and securely on eBay.