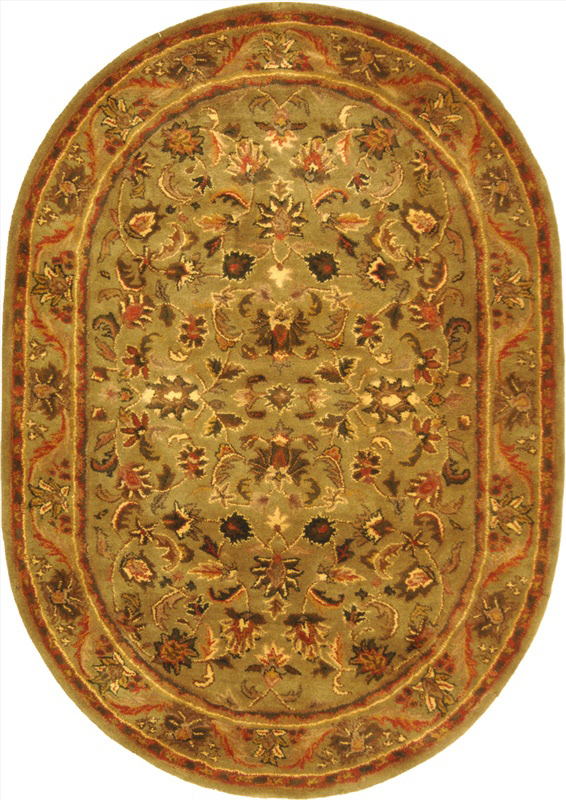 Buying antique rugs requires a little sound knowledge in order to make an informed decision. With so many traditions, decorative motifs and sizes of rug, the purchasing experience can be improved greatly with access to clear, concise information. This buying guide endeavours to provide it. The following topics will be discussed: a history of antique rugs, discovering antique oval rugs for contemporary use, commonly used motifs on antique rugs, the different types of antique rugs, factors to consider when purchasing an antique oval rug, and best practices to ensure safe purchases are made on eBay. With this knowledge, consumers can make an informed choice while enjoying the shopping experience on eBay.
History of Antique Rugs
Traditionally two cultures were at the forefront of antique rug production – the Persians and the Turks. The first evidence of antique rugs being used as a decorative item occurred during the Achaemenid Empire in Persia (550-330 BCE). Lavish rugs were excavated by archaeologists from the tomb of one of the Achaemenid Empire's leaders ─ Cyrus the Great.
Middle Eastern rug creation depended historically upon the existence of a dominant culture to unite workers. When such a culture existed, otherwise disparate tribes united and the division of labour became more complex. The first major example of this, post Achaemenid Empire, was during the Selijuk dynasty in 11th century Turkey. During that period there was an interchange of weaving techniques between Persia and Turkey that greatly expanded the creation capacity for both nations.
The Seljuk Dynasty had two lasting effects on rug creation. First, the technical and artistic traditions would be passed on to the Ottoman Empire in Turkey. From the early fourteenth century onward Ottoman era carpets, using their empire's vast trading networks, would find their way into European castles and cathedrals. Secondly, many of the flat weaving and rug weaving techniques would be assimilated with techniques occurring in Persia. The end result would be what scholars have called "the Golden Era" of rug creation during the Safavid Dynasty (1492-1722). With a central authority in Iran, this dynasty would unite the Persian and Turkish traditions to create rugs still renowned the world over.
During and after the Safavid dynasty, carpets became coveted items by European nobility and aristocracy. With the rise of the Industrial Revolution, and the corresponding growth of the European and American middle classes, rugs became affordable items enjoyed by a wider range of people and more readily available.
Discover Antique Oval Rugs
Antique rugs were predominantly rectangular in shape. However, other shapes such as oval were produced and are now often coveted for their rare shape. While they may be harder to find, with some additional searching and patience, an oval rug can be found on eBay.
Parts of Antique Rugs
The following list describes the components of an antique rug.
| Part | Description |
| --- | --- |
| Main Border | The widest decorative design on the outer edges of the rug. |
| Guard Border | The narrower decorative design that separates the main border and the field of the rug. |
| Field | The largest decorative space on the rug inside the guard border. |
| Medallion | The round, oval, or polygonal design element that often occupies the very centre of the field. |
| Fringe | A decorative border of knotted threads that often finishes the ends of antique rugs. |
Types of Antique Rugs
Though antique rug listings include mostly Persian and Turkish rugs, the following list contains a few other rug producing nations:
Type

Description

Considerations

Turkish

A vast array of styles, motifs, and sizes.

One of the most well-known and established handmade crafts. Turkish rugs are famous for first using the double Turkish knot.
Afghan
Have rich colours and often use an octagonal elephant's foot (Bukhara) print. Often have a red background.
In modern times many of these rugs are woven by Afghan refugees displaced by war.
Arabian
Mainly made from wool though silk was often used in the fields of larger carpets.
Aladdin's magic carpet is a popular cultural reference from Arabia.
Chinese
Used a wide range of different styles that were categorized by the region where the rug was produced.
Rugs were created for internal consumption and not exported to the West until the 19th century.
Tibetan
Created geometric motifs, and more traditional Oriental (Persian/Chinese) influenced rugs.
Interest remains for tiger rugs, used for tantric mediation.
Wangden rugs that had a lower knot count and a shaggy fringe.
Indian
Known for attention to detail and presentation of realistic attributes. Often hand knotted with high knot density.
Citipore rugs ( a small Indian town) are now often purchased for wide sale by Ikea and Agocha.

Persian

See common motifs above.

The world's pre-eminent producer of rugs.
Common Motifs Found on Antique Rugs
Antique rugs were decorated with a number of motifs. The following list details a few of the most common ones:
Type

Description

Uses

Mina-Khani

Repeated daisies with interlinked circular lines and diamonds.

A design that traditionally only certain weaving guilds were allowed to create.

Shah Abbassi

A grouping of palmettes

in medallion designs.

Used in the centre of designs, and also as a border.

Guli Henna

A diamond shaped bouquet medallion with plant-like motifs, flowers and leaves around the diamond.

Guli Henna refers to the Henna Flower.

Herati

Repeated design of flowers within a diamond, surrounded by curved leaves parallel to each other.

Various forms based on this motif are available that are either geometric or curvilinear.

Gul

Repeated octagonal patterns often with a flower theme.

Common in carpets originating from Turkman, Gorgan, and Khal.

Zil-I-Sultan

A continuous motif that resembles a vase of roses.

Most often woven in Qum and Abadeh in Iran.

Rosette

A circular design radiating from the centre medallion that resembles a petal of roses.

Used often in military award decoration.
Factors to Consider when Buying an Antique Oval Rug
Oval or another shape? - When looking specifically for oval shaped antique rugs consumers may notice that the selection on eBay is not vast. As previously mentioned the vast majority of antique rugs are rectangular in shape. If the selection seems limited, perhaps considering a rectangular or square rug instead.
The knots per square inch count - Doing a knots-per-square-inch test (KPSI) is a good way to determine the quality of a rug. This test is done by flipping a rug over and measuring out one inch (2.5 cm) with a tape measure. Next, count the number of knots within that inch. As a rule, the higher the number counted the better quality of the rug. A good handmade rug should have a KPSI range between 150 and 250.
Rug Colour - Assess the colour of the rug. Historically there were only vegetable dyes. These dyes produced pure shades that mellowed beautifully with age. The authentic colours produced from vegetable dyes raise the value of antique rugs. Learn the difference imparted by vegetable dye as opposed to synthetic dyes in order to quickly assess an antique.
Buying Antique Oval Rugs on eBay
Buying antique rugsonline can be a complex process but with some information and research you can find and buy an antique oval rug online with confidence. This section will address making the process easier and alleviating any fears customers may have of completing online transactions. eBay aspires to create a safe and secure experience for their customers while shopping. Below are a few tips on how to buy an antique table on eBay.
1. Research the seller
If a gorgeous antique rug is being listed at half the price of other sellers, perhaps it is indeed 'too good to be true'? A good method to ensure that sellers are going to deliver exactly what they have promised is to research that seller. Click on seller's hyperlink, this will bring up a variety of information available about them.
A few possible questions to consider are:
What is the seller's feedback rating? How many transactions have they done? Ideally, the feedback rating should be over 95%. And it might be a bad sign if a seller doesn't have very many completed transactions.
The buyer's comments? Are they positive?
Does the seller offer a return policy? A money-back guarantee?
2. Always pay with Paypal
When making payments online, Paypal is the most secure and eBay advises that you use it over all other forms of payment, as it offers superior protection against unauthorized. Try to avoid sellers that claim their Paypal is not working, as well as less secure online forms of payments such as Western Union or moneygram.
3. Ebay Safety centre
If there is an issue with a seller, or you as a buyers wants to collect all available information in order to best make a safe and secure purchase check the following link. There is a variety of information for protecting yourself in online transactions available at eBay's safety centre.
Popular Origins of Antique Rugs
Afghanistan
Caucasus
China
East Turkestan
France
Israel
India
Morocco
Persia
Spain
Turkey
Uzbekistan
Ukraine
Finding Antique Oval Rugs on eBay
Once you determine the type of antique oval rug you want to purchase, visit the Antiques portal on eBay, click on 'Carpets / Rugs' then 'Oval Rugs' and start searching item listings The Categories list on the left-hand side of the eBay page helps to narrow the search.
Searching for antique oval rug on eBay
Search eBay listing titles for specific words when shopping for antique oval rugs, to find antique Turkish oval rugs, type antique Turkish oval rugs into the search box, and then click the Advanced search button to customise the results. Also visit eBay's Search Tips page for more advice on searching for antique square rugs with keywords. If you can't find the exact antique rug you want, try shopping eBay Stores.
Conclusion
An antique rug is not only a beautiful addition to a space; it can also be considered an investment. With that in mind, it is a good idea to be diligent in your research prior to committing to a rug. Determine which style, age, and size will suit you needs, your taste, and your budget.
Once you have all the information in hand, the process of purchasing becomes much easier and consumers should be ready to buy an antique oval rug safely and securely on eBay.