An antique pine table brings a touch of rustic charm to any indoor living space. Available in a range of styles, sizes, and types, antique pine tables are versatile, functional, and attractive. With proper maintenance, an antique pine table lasts for many years. Knowing how to buy an antique pine table ensures you get value for your money and a strong, sturdy, attractive table.
Antique Pine Table Types

The choice of antique pine tables is extensive, ranging from coffee tables and bedside tables to dining tables. A coffee table is low and usually slim, for use in the lounge, in front of the sofa or television. There is usually some kind of storage beneath for magazines and newspapers and it makes a handy place for drinks and the remote control. A gate-leg table is perfect for a small room or where space is at a premium. For occasional use, the gate-leg table features one or two dropping leaves that you can raise when you need a larger surface, supported from beneath by legs that swing open like a gate. A bedside table is small and compact and usually offers storage in the form of drawers or cupboards. This is ideal for an alarm clock and personal items. An antique pine kang table is very ornate, with a long, rectangular shape, originally used as a sleeping surface, and in the modern era, is popular as a coffee table. A refectory table is a large, long dining table, used to seat a lot of guests, originally used in conjunction with bench seating. A tea table is small and rectangular, and usually kept as a hallway table.
Antique Pine Table Condition
Condition is an important consideration when choosing an antique pine table. While pine is very robust, and often has a charming, rustic appearance, with a long history of regular use, it is important to check for excessive damage. Some light surface damage scratches are acceptable, as these are easily repairable, but avoid tables with gouges, dents, chips, and deep scratches. Check the leg joints to ensure they are solid and flush with minimal signs of previous repair. If the table has leaves, check the joins and the hinges to ensure they are solid. Examine the whole table closely to make sure it is free of current or past signs of insect infestation, as furniture beetles and woodworms are very destructive and weaken the wood.
Antique Pine Table Size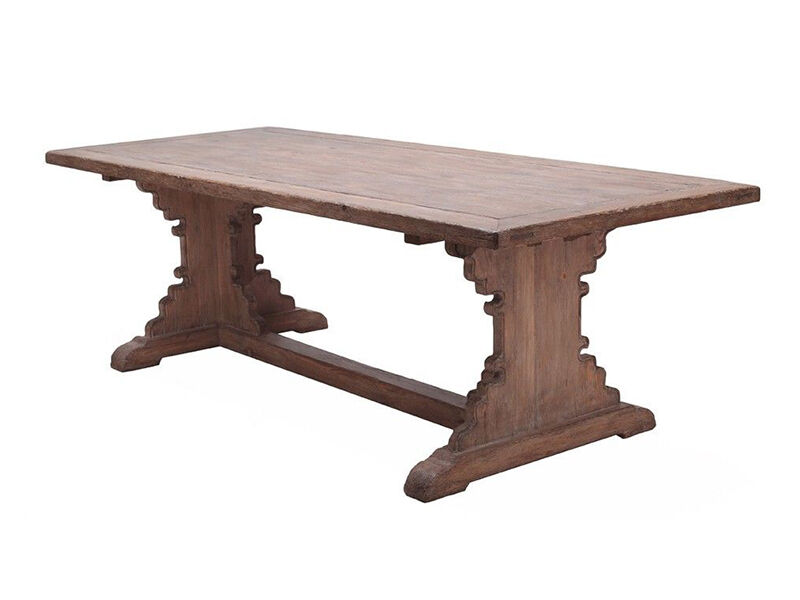 Consider how much available floor space you have for your antique pine table. When measuring, make sure you account for any need to walk around the table, or to sit at the table. Choose a table that compliments the size and shape of your room. Avoid choosing an excessively large table for a small room, as the table is too dominant.