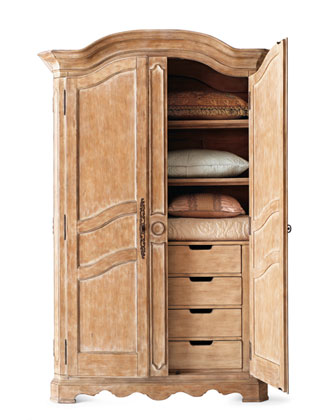 Bedroom furnishings have traditionally consisted of a wardrobe, whether single, double, or triple, a bed and bedside tables, as well as a dressing table. Dressers or chests of drawers usually round out the entire suite of furniture. One can buy antique pine wardrobes at estate sales and consignment stores, although shopping online for antique furniture on sites such as eBay is an excellent alternative.
When looking for an antique pine wardrobe, there are several things one should look for. How well was the piece made? Is it truly an antique, or a replica antique wardrobe? An antique pine wardrobe is one that is over 100 years old, while one younger than that is either considered vintage, retro, or replica. Antique pine wardrobes were built using a variety of pine woods and they are available today in various colours. They were decorated using traditional methods like veneers, overlays, wood burning and engravings. Shoppers will also find stained antique pine wardrobes and painted wardrobes. For an extensive range of antique pine wardrobes, search eBay to find the perfect item to round out your bedroom's decor.
What Is a Wardrobe?
A pine wardrobe is a free standing closet principally used for storing clothing. Wardrobes generally have drawers or sliding trays to keep clothing tidy, and often have hooks for hanging clothes, as well. Generally, wardrobes have doors and are made from wood, although there are also metal antique wardrobes. Historically, pine has been a popular wood for wardrobes because of the ease with which pine can be cut and crafted into fine furniture. Antique pine wardrobes are extremely popular in the UK, due to the variety of styles, colours, and finishes that are available.
Why Choose an Antique Pine Wardrobe
When choosing a wardrobe for a bedroom suite, an antique pine wardrobe is an ideal choice. Any home seems warmer and more inviting when graced with exquisite antique furnishings. Master carpenters and cabinet builders from long ago created each pine wardrobe with meticulous care and attention to detail, creating furnishings that would last a lifetime, and beyond.
Antique pine wardrobes often appear with ornamentation like gilding, marquetry, and parquetry. Some are painted. Due to the tendency of wood to build a beautiful patina over time, an antique pine wardrobe will often have a mellow and beautiful finish that cannot be reproduced by modern cabinetry methods.
Types of Pine Used for Antique Wardrobes
Many different types of wood have been used in the manufacture of antiques furniture. Often it can be hard to tell what type of wood has been used if the furniture has been stained or painted. Many times wood of lesser value was stained to make it resemble a more expensive wood. Historically, woods such as mahogany, oak, walnut, rosewood, elm, and maple, as well as pine have been used to make custom pieces of bedroom furniture.
Pine is a softwood. It is easily engraved and amenable to wood burning, creating beautiful patterns on wooden doors or drawers. Pine is a very popular wood for furniture making. It is available locally in many areas and lends itself well to the crafting of various types of wardrobes.
There are different types of pine wood, including white pine, deal pine, and southern yellow pine. Each type of pine wood has a distinctive colour, some lighter than others, and each with different grains. Pine generally has a more open, or coarse grain as well as some knots. This does not usually pose a problem when staining pine unless a base shellac was not applied to the wood to seal the grain. This could result in a darker than desired look to the pine furniture.
White Pine
White pine is very pale in colour and clean in appearance. The grain is very fine textured and smooth, making it popular for table tops, cabinet fronts, and wardrobe doors. Another version of white pine is the sugar pine which is used often for building parts of boats, silos, piano keys, as well as home furnishings.
Deal Pine
Deal pine wood is the product of deal pine trees in Europe. The wood from this tree is generally yellow or red, and is largely imported from a few Eastern European countries, as well as Norway and Sweden. This wood has darker streaks and many knots and is generally used for wooden doors or wall panelling.
Southern Yellow Pine
Southern yellow pine is a good choice for heavily used surfaces like tables. This type of pine is among the most abundant and least expensive woods available, as well as being highly versatile. Yellow pine wood has a white to light yellow hue and the heartwood can be found in colours that range from brown to red, although some strains of this pine have orange or yellow heartwood. A disadvantage of yellow pine is that it is susceptible to shrinkage and decay.
Valuable Wood vs. Low Value Wood
Wood has traditionally been classified into value categories, depending upon several factors. Whether a wood is hard or soft, how rare it is, or how difficult it is to obtain, as well as the cost of the wood or importing fees, all play a part in how valuable a wood is deemed to be. Generally, a hardwood is considered more valuable than a softwood because it is denser and lasts longer than a softwood and maintain its finish for longer, too. For an easy and immediate method of determining whether a wood is hard or soft, simply press a nail into the wood, in an out of the way spot on the antique wardrobe. If the nail leaves an indentation, it is soft wood, and if it does not, it is hardwood.
Many antique pieces of furniture cost more if made from valuable hardwoods that had to be imported. Valuable woods are generally hard woods such as mahogany, rosewood, burl walnut, fireside walnut, and Circassian walnut, while those types considered less valuable are generally softwoods such as elm, pine, oak, maple, and spruce. With proper care an antique pine wardrobe can be handed down from generation to generation, regardless of the fact that it is a softer wood with a coarser grain.
How to Care for an Antique Pine Wardrobe
Because pine wood is soft and breathable, it can be adversely affected by high humidity and temperature changes. The grain can be coarse and have knots, and shakes, or small cracks, as well. Rather than detracting from the appeal of pine, these small defects seem to have added to the overwhelming appeal of the beautiful and durable furniture crafted from pine wood.
To properly care for an antique pine wardrobe, never place this furniture near heat sources such as radiators, heating vents, or even in direct sunlight. Keep furniture away from excessive moisture. Because of its natural qualities, pine will shrink when subjected to heat and expand when subjected to excess moisture. It recommended that one place an antique pine wardrobe in a room where an even temperature can be maintained.
Never lean wet items like a wet umbrella against a pine wardrobe, or put wet shoes inside the wardrobe, as the finish will be marred by turning milky white. To clean pine furniture, use a damp cloth, or one that is nearly dry, and wipe the wardrobe down. There is no need for soap and water or any kind of detergents when wiping down an antique pine wardrobe.
How to Find an Antique Pine Wardrobe on eBay
To start your search for an antique pine wardrobe on eBay, enter specific keywords describing the type of wardrobe you are looking for into the search bar at the top of any page on eBay. For example, if you input the search phrase "antique pine wardrobe" the search engine will return a results page with listings for all the wardrobes currently listed for sale that match that description. With the addition of an antique pine wardrobe you can create a genteel and welcoming look to any bedroom. You might also consider buying a nice antique pine headboard and nightstand to complement your wardrobe perfectly.
Once you have decided upon an antique pine wardrobe for your bedroom, you should read the item listing carefully. If you have any questions for the seller, such as what condition the wardrobe is in, simply go into the seller's profile page and click on the contact link. While in their member profile, you should review the seller's feedback score to see how they have been rated by other buyers.
If you have concerns about how much it will cost to ship such a large item across the country, you do have the option of sorting the listing to only show those listings posted by sellers in your local area. To search for listing in your local area, simply enter your postcode in the field under 'Distance' on the results page. You then specify a search radius.
Conclusion
Choosing an antique pine wardrobe for your bedroom is easy if you search on eBay. Furniture made with pine is very popular. Because pine is a softwood, care needs to be take with the furniture to keep it looking beautiful for years to come. If a light-coloured wardrobe would complement your bedroom decor, an antique white pine wardrobe is an excellent choice. Antique furnishings are well made and durable, and having lasted for over one hundred years, there is a good probability that an antique pine wardrobe will continue to last for decades to come. Antique pine furnishings develop a deep, mellow finish over time, adding a timeless quality to the atmosphere of a bedroom.
When one is looking for a style that is unique yet reminiscent of the past, an antique pine wardrobe can be the perfect addition to a bedroom. When looking for an item that is eminently useful yet beautiful, choose an antique pine wardrobe from amongst the large selection of antiques to be found on eBay.