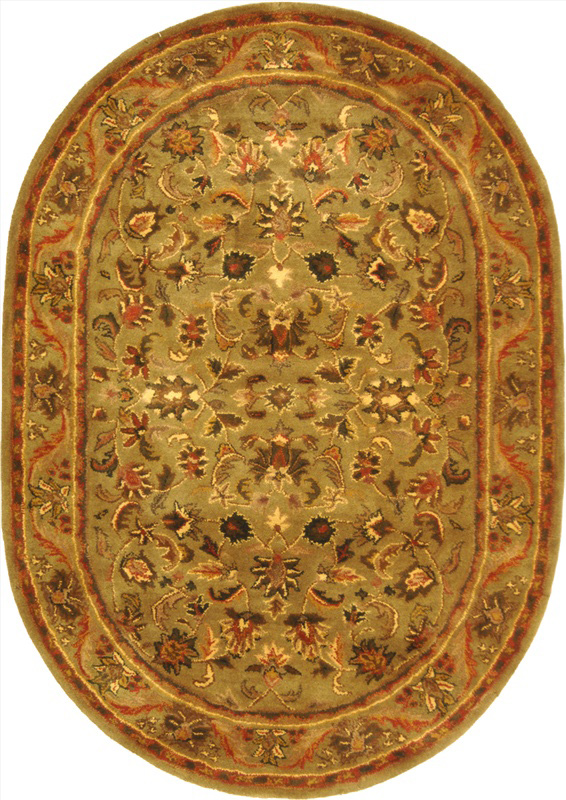 An antique rug can be a pleasant feature in the home. It can be walked upon and placed under furniture, but it can also be preserved and placed upon a wall. This choice is obviously dependent on the condition of the antique rug. The hand-knotted weaving of antique rugs lends it a certain durability, which means that it is less likely to wear down quickly. But it is important to note that antique rugs must be properly maintained to preserve their value. This guide outlines some of the history of antique rugs, the different styles of antique rugs that can be found, several features that should be considered before buying an antique rug, and how to care for it after purchase. There is a large selection of antique rugs for sale on eBay, and learning more about these unique antique items can help make the purchasing process a rewarding experience.
History of Antique Rugs
The antique rug dates back to 7000 BC, when Neolithic groups hand knotted durable, antique rugs. One such piece that is still in existence today is the exquisite Pzazyryk rug, dating back to 500 BC. This piece is held at the Hermitage Museum in St Petersburg. Antique rugs were hand crafted using the fleece from goats and sheep. Persian rugs make up part of the Persian arts and crafts culture. In Persia, carpet weaving originated in the Bronze Age and the earliest Persian rug still in survival today came from the Safavid dynasty in the 16th century. Antique rugs have personality and colourful craftsmanship. The common motifs found in antique rugs include centre motifs and overlapping geometrical sections. The early method used to make rugs was the warp and weft construction. This method is used to make Kilims and Dhurries today, although another technique involved weaving wool onto a warp and weft base to produce a broad pile. To this day, rugs are made using the technique of hand knotting.
Discover Antique Rugs
There are many advantages to buying an antique rug, especially if it is in good condition. Any rug that was made more than 50 years ago will be considered an antique, and semi-antiques are those classified as 30 or more years old. A Persian rug can be a good investment, although it is useful to know what to look for when buying an antique rug. Synthetic dyes were not available until 1920, so the colours were added with vegetable dyes. In addition, an antique rug can be less expensive than a modern rug, but there are several factors that must be verified before determining the value of a rug. Nevertheless, buying an antique rug is a good investment and it should be treated as such. If the rug is a little worn, why not place it on the wall as a centrepiece; this will help to preserve the rug's condition and value.
Materials of Antique Rugs
Antique rugs were hand crafted with natural durable materials, including cotton, silk and wool.
| Part | Description |
| --- | --- |
| Sheep's wool | 95 percent of the material used in antique rugs is sheep's wool, while the remaining 5 percent is silk or camel/goat's wool. |
| Cotton | Cotton was used to craft the warp and waft base, although Nomadic groups also included wool for warp. |
| Silk | The silk used in an antique rug added elegance and value. Silk is still an extremely valuable material in the modern day. Hand crafting silk rugs was a timely process, which is why an antique rug made from silk can command a high price. |
Types of Antique Rugs
Rugs and carpets are colourful and unique. Learn more about some popular antique rug designs below.
| Type | Description | Advantages | Considerations |
| --- | --- | --- | --- |
| Antique Kazak Chelaberd Rug | A thick pile with classic design. | · Pleasant colours: soft blues and greens. | · Dated late 19th century. |
| Antique Persian Bakhtiari Village Rug | Dating back to the early decades of the twentieth century, this rug is colourful with a thick durable pile. | · Would make for a decorative wall piece. | · Central motif design. |
| Antique Yomut Turkmen Main Carpet | The main border features a curled leaf design. | · Features animals and people in the top left hand corner of the rug. | · Dates back to 1880. |
| Antique South West Persian Tribal Carpet | Mid-nineteenth century South West Persian rug with decorative flowers, animals, birds and tribal motifs. | · Eye catching piece. | · Features a centre motif. |
Factors to Consider When Buying an Antique Rug
Although an antique rug can be a worthwhile investment, it is imperative to check the rug for certain indicators that will confirm whether or not it is a genuine antique.
Rarity – The rarest antique rugs are Bokhara, Baluch, Hamadan, Mongolian, Tibetan, and Kilims. Each of these rugs is small in size, which can mean that the price of the rug may not be too high.
Cracking or rotting – if the rug is aged, it is worthwhile to check for any signs of rotting or cracking. Lay the rug down and check for any light patches on the rug. To check for cracking, twist the rug gently and listen for any foundation threads splitting. If the material of the rug is still in good condition it will feel smooth, rather than brittle and hard.
Check knots – An antique rug will often show signs of age when it is turned onto its back. If the pile threads look a yellow-grey, this is an indication that the rug is aged.
Typical Features of an Antique Rug
1. Colour
Synthetic colours were not available until 1920 so any wild, fluorescent colours on a rug are an indication that the rug is not an antique.
2. Rug style
One style of rug that is no longer made is the Moutesan Kashan. Red, weft threads can be a good indication that the rug is a genuine antique.
3. Durable materials
Wool, cotton and silk were used in the hand crafting of antique rugs because they contain no chemicals and are durable.
How to Care for an Antique Rug
All types of antiques require maintenance and rugs are no exception. Sun can fade the colour in antique rugs, so buy curtains or blinds to protect this from happening. Rotate the rug frequently so that the colour remains even. If the rug is placed under furniture it may wear down significantly, especially if the furniture is not moved frequently. Straighten the fringe of a rug by walking one end of the carpet to the other end. Avoid using soap or bleach on an antique rug, but do absorb any spills with a paper towel.
Popular Symbols and Motifs on Antique Rugs
Parrot
Peony
Peacock
Dog
Tree of life
Lily
Paradise Bird
Iris
Lotus
Pomegranate
Boteh
Amulet
Comb
Hyacinth
Ewer, jug
Diamond
Cross
Hand
Star
Mihrab
Herati
Numbers
Accessories and Add-ons for Antique Rugs
Sunlight can fade the colour from an antique rug, so turn the rug over each season to ensure that it remains uniform in colour. Curtains or blinds are a useful way to protect a rug from ultraviolet light.
Should there be a spill on the rug, dab it gently with a damp piece of linen. If the rug is places under furniture use special cup when moving any furniture; this will prevent the rug from being dented. Some useful accessories are listed below.
Curtains or blinds
Carpet sweeper
Linen
Furniture cups
Finding Antique Rugs on eBay
Once you determine the type of antique rug you want to purchase, visit the Antiques portal on eBay, click on 'Carpets/ Rugs', then 'Pre-1900' and start searching item listings. The Categories list on the left-hand side of the eBay page helps to narrow the search.
Searching for Antique Rugs on eBay
Search eBay listing titles for specific words when shopping for an antique rug. For example, to find an old, handmade Persian Kashaan Mashhaad oriental carpet, type 'Persian Oriental Carpet' into the search box, and then click the Advanced button to customise the results. Also visit eBay's Search Tips page for more advice on searching for antique rugs with keywords. If you can't find the exact antique rug you want, try shopping eBay Stores.
Conclusion
It is important to learn more about antiques before buying one. Some styles of antique rug are collectable and the oldest antique rug, the Pzazyryk rug, dating back to 500 BC is currently on show at St Petersburg's Hermitage Museum. The hand crafting of rugs using durable materials, including wool, silk and cotton, made them long lasting. In addition, the wonderful colours add depth and personality and there were all types of patterns used in antique rugs, including diamonds, crosses and stars. When considering purchasing an antique rug, take your time and remember that neon colours may indicate that you are looking at a modern rug, rather than an antique. It is important to understand the different styles, types, and patterns of rugs to help make finding an antique rug that will complement existing décor an easy and rewarding process. Once you have collected this information, you can buy an antique rug safely and securely on eBay.