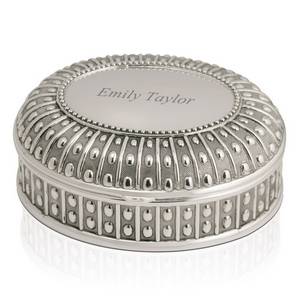 Antique solid silver boxes are beautiful collectors' items that are often sought out for their intricate designs and old-world style. They are displayed as lovely accent pieces, or used as an elegant way to store personal items. Before purchasing antique solid silver boxes, it is important to understand the different types of available and their unique history, as well as what makes them valuable and collectable. This guide helps potential buyers determine the type and design of antique solid silver boxes that will suit their particular taste and styles, as well as offer up important tips in how to care for these pieces to ensure they retain their value over time.
History of Antique Solid Silver Boxes
Antique solid silver boxes are a product of the early 14th century 'sterling' standard. This standard was enforced by English Assay Offices in order to regulate and manage the production of silver items, ensuring that any piece produced included 925 parts silver for every 1000 parts. This is the standard that all crafted solid silver pieces must adhere to in order to be considered sterling. This regulation helped prevent forgeries and cheaper materials from polluting English silver. Silver first became popular in England during colonial era of the late 16th, which is mostly due to the vast silver mines that were discovered in both the New World and Asia. The direct result of this was a vast expansion of the silver smithing industry and an increased popularisation of solid silver products amongst the nobility. These pieces have become valuable antiques and collectors' items that are still popular today. One of the products created during this time were solid silver boxes. These boxes served a variety of purposes, as elegant ways to store everyday materials and more.
Discover Antique Solid Silver Boxes
Since the 16th century, solid silver boxes have been used for a variety of purposes. Larger antique silver boxes were most often used as containers for important valuables, such as jewellery and even stored currency. As the use of silver came more and more into vogue, even portable containers of tobacco and tobacco accessories began to be produced in solid silver. These were thought to help preserve the tobacco as well as serving as an almost unbreakable shell. Silver boxes were particularly popular due to their ability to act as a symbol of wealth and status for the elite, replacing old wooden boxes. Silver also has a very durable nature that lends itself well to a portable container. Dropped cases rarely break and even a dented case can be easily fixed. Antique solid silver boxes are those that were crafted over 100 years ago, whilst vintage solid silver boxes are those created 50 to 100 years ago. Antiques solid silver boxes can have a variety of modern uses that can be completely unrelated to their historical use and this versatility has helped keep solid silver boxes as an important and highly sought item.
Types of Antique Solid Silver Boxes
Antique solid silver boxes came in a variety of designs that served a myriad of purposes. These boxes often served as storage for valuables or offered protection for tobacco products. Some of the most popular types of antique solid silver boxes include:
| Type | Description | Advantages | Considerations |
| --- | --- | --- | --- |
| Jewellery Box | This large box is often used to store jewellery, but in the past also stored important documents. | · Large enough to hold most important items with a soft lining meant for precious jewels. | · Some may come with a lock and key while others are adorned with gold and ivory. |
| Snuff Box | A decorative meant for holding snuff tobacco, it is small enough to fit in a jacket pocket. | · Useful for transporting tobacco and even small fragile items. | · Usually very ornate with a variety of styles and designs. |
| Strong Box | A large, solid box that predates the modern safe. | · Usually comes with an extremely complex lock for important items. | · Not as secure as modern safes. |
| Bible Box | A simple box used to protect valuable family bibles. | · Can easily protect other books and important items. | · Would often be decorated in religious imagery. |
| Cigarette Case | A small case used for storing cigarettes that first appeared in the late 19th century. | · Slender and easily put into a jacket or coat pocket. | · Can come engraved with unique symbols. |
| Vesta Case | A protective case for matches that appeared along with cigarette cases. | · Air-tight and able to protect matches from water. | · Smaller than a snuffbox, but slightly more secure. |
| Music Box | These small musical boxes could sometimes be found in solid silver. | · A rare and beautiful item for any home. | · Extremely rare and valuable. |
Factors to Consider When Buying Antique Solid Silver Boxes on eBay
When searching for an antique solid silver box on eBay, there are a few factors to consider before making a purchase. These factors can go a long way in determining the value of any box. The most important factors to keep in mind are:
The Hallmark – The hallmark is the unique symbol printed into the silver by its manufacturer and also identifies its purity.
The Condition– Heavily damaged boxes may not open correctly, or could appear overly tarnished. Avoid these pieces, but be mindful that minor damage will occur and should not scare one away from a purchase, as some repairs can be simple.
Level of Silver – Real solid silver is 925 parts silver out of 1000. This is identified either through a hallmark stamped on the item, or the engraved numbers 925. Be aware that an item may also have been silver-plated or constructed out of stainless steel.
Typical Features of Antique Solid Silver Boxes
Each antique solid silver box has a few key features that set them apart from other cases. These unique features can make any piece almost indispensable. Some important features to note are:
1. Hallmark
A unique hallmark can often be worth more than the piece it is printed on. Truly rare hallmarks are valuable collectors' items that are eagerly sought after by antique hunters.
2. Interior
The interior of certain boxes may contain a unique padding to protect valuables and other items. This is typically found in jewellery boxes and can often be considered rather valuable.
3. Locking mechanism
The unique locking methods on antique jewellery boxes and strongboxes are often no longer produced and help offer a collectable nature to their box.
How to Care for Antique Solid Silver Boxes
Taking care of a solid silver box is a simple task. For smaller pieces, washing them in warm water with unscented and non-citrus dish soap can keep them looking their best. For larger pieces, a simple polishing every week should be enough to avoid tarnishing. If tarnishing does occur, simple application of a small amount of silver polish will remove the tarnish. For any dents or larger damage it is best to consult a metal professional as attempted repairs may cause further damage.
Popular Antique Solid Silver Box Manufacturers
A rare manufacturer can increase the value an antique solid silver box, and can be identified by its hallmark. Some popular manufactures include:
Alfred Clark
Asprey and Co.
William Edward Hurcomb
Edward Bernard and Sons Ltd.
Berthold Muller
George Nangle
George Stockwell
Thomas Daniel
William Chawner II
Thomas Death
William Eaton
Alice and George Burrows
Accessories and Add-ons for Antique Solid Silver Boxes
After acquiring an antique solid silver box on eBay there are a few additional accessories that can help maintain any antique piece. A few of these add-ons include:
Silver polish
Polishing cloth
Protective case
Replacement lining
Finding Antique Solid Silver Boxes on eBay
Once you determine the type of antique solid silver box you want to purchase, visit the Antiques portal on eBay, click on 'Silver' then sub-category 'Solid Silver' and start searching item listings. The Categories list on the left-hand side of the eBay page helps to narrow the search.
Searching Antique Solid Silver Boxeson eBay
Search eBay listing titles for specific words when shopping for an antique solid silver box. For example, to find antique silver snuffbox, type 'Antique Silver Snuffbox' into the search box, and then click the Advanced button to customise the results. Also visit eBay's Search Tips page for more advice on searching for antique solid silver boxes with keywords. If you can't find the exact antique solid silver box you want, try shopping eBay Stores.
Conclusion
Antique solid silver boxes are highly sought out for their historical charm and elegant design. This guide provides information to help make purchasing an antique solid silver box on eBay a much easier task. Through knowledge of the history and benefits of antique solid silver boxes, buyers can develop an appreciation and deeper understanding of what makes the items so unique. Understanding how to care for these treasured items will also help purchasers ensure their investment stays looking its best. Once you have collected this information, you can buy an antique solid silver box safely and securely on eBay.