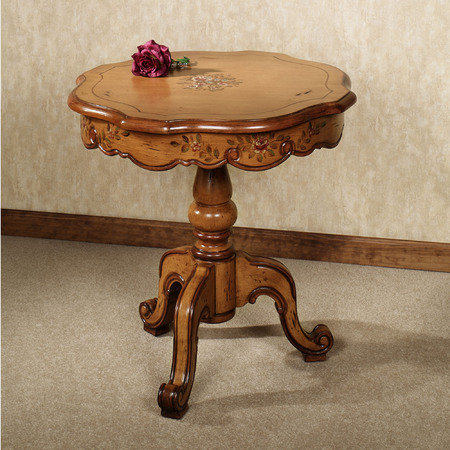 An antique table can lend beauty to a dining room, living room, games room or other areas of a home. The designs and accents of an earlier era can mesh wonderfully with modern decor, or anchor a room stocked with other period pieces. There are many styles available, and a few simple guidelines can help with the identification and purchase process. Discerning typical antique features is important, and knowing what makes a table an antique is crucial. Finally, learning the kind of care an antique table requires will make a prospective buyer better prepared to make the right choice from eBay's selection.
The History of Antique Tables
The four-legged table dates back to ancient Egyptian times. Later, the slab-sided tables from Greek and Roman cultures mirrored the sacred altars of worship. Tables from this period were commonly low to ground, as eating was done from a seated position, either cross-legged on the floor or from a low couch. The advent of four-legged chairs saw the heights of tables rise. The earliest Western tables were created simply by placing a board across two trestles, and were dismantled after use. The contemporary 'trestle table' has its origins here, with the trestles now of single fixed standards as opposed to the collapsible medieval types.
Longer and narrower 'refectory' tables from the medieval era were used for monastic dining. Another common medieval table had the legs connected at their feet by cross-members. Known as 'joined tables', these were large edifices, often furnished with draw-leaves for greater seating capacity. The legs of these tables became massive and bulbous during Tudor times, eventually morphing into the single and double-pedestal table. Later, changes from the renaissance era up to the Great Depression would see an explosion of styles and innovations.
Discover Antique Tables
Many antique tables are 200 years old or more. This speaks volumes about the craftsmanship and durability of such items. If it's still around today, one can be pretty sure it was well-made originally. In fact, many antique tables were passed on in families from generation to generation. Oak was the main kind of wood used in Elizabethan times. It was heavy and serviceable, and some of the massive tables from the period reflect the nature of this material. Later, tastes moved towards the ornate and extravagant, with gilded mounts, detailed carvings and fine trims and mouldings. This was a result of French and Dutch influences. Eventually finer woods were also employed. Cherry and red-brown mahogany became popular, as did the dark streaking of rosewood and the whorled patterns of walnut.
Parts of Antique Tables
There are almost innumerable variations of antique table types and styles, but the majority adhere to basic form with similar constituent parts.
| Part | Description |
| --- | --- |
| Top | The surface is usually square, round or rectangular |
| Legs | Main supports which raise the top off of the floor |
| Apron | Also called a skirt or frieze, is the under-frame connecting the top to the legs |
| Knee | Upper part of the leg |
| Ankle | Area of the leg just above the foot |
| Foot | Lower part of the leg (if distinct from rest of leg) |
| Drop Leaf | An extension of the top over the apron which is hinged and can be put down |
| Stretcher | Cross-members which connect the legs at the bottom for more strength and stability |
Types of Antique Tables
Tables can be used for any number of purposes, but they all share common features. They are typically flat and horizontal surfaces. Beyond this, there are likely more types of tables than there are types of any other furniture.
| Type | Description | Advantages | Considerations |
| --- | --- | --- | --- |
| Console table | Made with brackets rather than back legs | · Takes up less space and ideal for placement against a wall in hallways and reception areas | · Not suitable for other purposes |
| Pier table | Designed for placement against wall between two windows | · Utilizes space and also functional | · Can be placed against most walls with pleasing effect |
| Butler's table | Tray top and folding stand | · Very versatile and lightweight | · Top tray is sometimes removable |
| Butterfly table | Gate-leg table with two drop leaves supported by wing-shaped braces | · Splayed legs enhance the sense of movement | · Developed in New England during 1800s |
| Demi-lune | Half-moon shape or with a drop leaf to achieve same effect | · Very elegant style | · French style developed in 1750s |
| Gate-leg table | Drop leaf style where the side are attached to legs that are hinged beneath the table top | · Legs are often beautifully turned or sculpted | · Usually oak, walnut or maple |
| Pembroke table | Small table with two hinged leaves and drawers at either end | · Prime example of Georgian, Neoclassical and Federal styles | · An x-stretcher connection at bottom lends strength |
| Side table | Long and thin or half-round | · Multi-functional and space-saving | · Will work in almost any room in the home |
| Hall table | Long and thin or half-round | · Multi-functional and space saving | · Many old English homes had a hall table in the main reception area |
| Artist or drafting table | Sloping and adjustable top | · Ideal for home projects like puzzles, painting, crafts etc. | · Very unique, so placement and room choice is crucial |
| Tavern table | Small and sturdy, with a top that overhangs the base | · Can feature cabriole legs and drawers | · Lightweight and portable |
| Card table | Usually round to accommodate multiple players | · Lends ambience to home games | · Often folds down for storage |
| Dressing table | Mirror attached for use in bedroom | · Dressing tables are useful and can act as storage | · Need extra care in handling |
| Tea table | Also called a tea poy, small round or square top supported by tripod pedestal | · Ideal for sharing drinks or food as it is small and thus, gives a feeling of intimacy when sitting around it | · Often finely made requiring care in handling |
| Kang table | Chinese style, low to the ground and positioned in front of couch | · Ideal as a coffee table | · Must be treated with care if it is genuine antique |
Factors to Consider When Buying an Antique Table
Shopping for an antique table can be exciting and interesting. A little research and knowledge will greatly assist in making an informed choice.
Wood colour – Wood changes colour over time, so a true antique table will have variations in colour unless it has been refinished.
Nails – Any nails used before 1880 will be square-ish in shape. After 1880, they will have round shanks and heads. Also take note of old, rusty nails in rust-free holes, which could be a sign of fakery.
Machine tool marks – If a table was made after 1830, machine tool marks may be present. Before this, tables were made by hand.
Tabletops and sides – A very old table top will be wavy when examined in good light. Side extensions should be difficult to move due to shrinkage.
Faked aging - Wear and tear that appears too uniform may have been deliberately weathered to make an item look older.
Typical Features of an Antique Table
1. Cabriole
A curved table leg where the knee faces out and the ankle faces inward. The foot is often ornate, common to Queen Ann and Chippendale styles.
2. Ball foot
An early type of simple, spherical foot at the end of a straight table leg.
3. Bun foot
A flatter, squatter version of the ball foot.
4. Spider leg
A group of thin, curved legs (three or four) that extend below a round tabletop.
How to Care for an Antique Table
Antique tables are fragile and require careful attention. Direct sunlight can easily damage the wood, as can moisture if the table is kept in a basement or attic. Cleaning and polishing is fine, but take care not to overwork the wood with cloths, polishes or oils. The original wood finish of an antique table can affect value. Consult a guide or expert for advice first.
Popular Antique Table Manufacturers
Thomas Chippendale (1718-1779)
John Linnell (1729-1796)
William Kent (1686-1748)
Thomas Sheraton (1751-1806)
George Hepplewhite (1727-1789)
Accessories and Add-ons for Antique Tables
Antique tables require special care, including products that can be useful for maintenance.
Refinisher
Antique furniture wax
Mild soaps or cleansers
Soft cloths or brushes
Finding Antique Tables on eBay
Once you determine the type of antique table you want to purchase, visit the Antiques portal on eBay, click on 'Antiques', then 'Table&' and start searching item listings. The Categories list on the left-hand side of the eBay page helps to narrow the search.
Searching for Antique Tables on eBay
Search eBay listing titles for specific words when shopping for an antique table. For example, to find a mahogany Chippendale dining table, type 'Mahogany Chippendale Dining Chair' into the search box, and then click on the Advanced button to customise the results. Also visit eBay's Search Tips page for more advice on searching for antique tables with keywords. If you can't find the exact table you want, try shopping eBay Stores..
Conclusion
Finding the right antique table begins with knowing what style you want. The information oneBay can help you find the right antique table or even full antique dining room sets. Once you have collected this information, you can buy an antique table with your preferred style safely and securely on eBay..