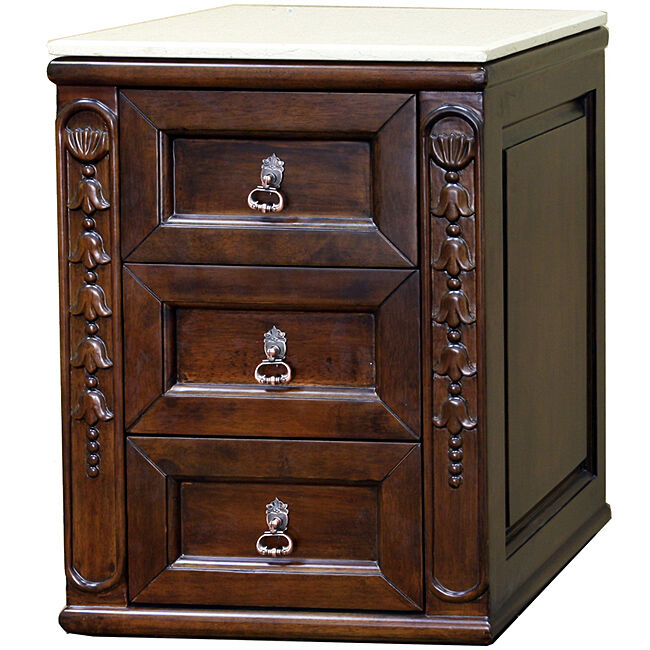 Buyers and craftsmen alike appreciate the appearance of walnut wood, and it is widely considered to be an excellent choice for traditional handcrafted furniture. A durable hardwood, it is set apart from other wood types as it retains an attractive finish for many years. If you're considering purchasing an item of walnut furniture, such as an antique walnut cabinet, there are many things you may not know about this versatile timber. Finding out more about the characteristics of walnut wood will prepare you to make the better decisions when it comes to buying antique walnut furnishings for your home. This guide will look into the history of walnut cabinets, factors that should be considered when purchasing an antique walnut cabinet, and give thorough directions on how to purchase this item on eBay.
History of Antique Walnut Cabinets
Walnut wood comes from the walnut family of trees called Juglandaceae. Other species included in this group include: English walnut, black walnut and white walnut (sometimes known as 'butternut trees'). Often favoured by manufacturers for use in ornate furniture that requires intricate woodworking, it was frequently used to make cabinets and other fine furnishings in 17th and 18th century Europe. The uses for walnut are extensive; it is primarily used to make furniture, but it is also commonly used in the production of woodcrafts, musical instruments, gunstocks, flooring and wood paneling. Walnut is one of the more costly wood types; as such walnut veneers are often used as a way of achieving its attractive appearance in a more economical way. Antique walnut cabinets are widely available in the marketplace.
Discover Antique Walnut Cabinets
Walnut is strong, hard and resilient, and is an excellent choice for ornate furniture. There are two distinct types of walnut lumber, depending on the layer from which it comes from. The outer layer is called sapwood and is creamy white in colour, and the inner layer is called heartwood and is a rich chocolate brown. The latter retains its colour well, and as a result, has long been a favourite amongst carpenters, craftsman and furniture makers. Compared to other timbers, walnut does not swell or shrink easily. This is a quality that cabinet-makers seek, and is why walnut is such a popular choice of wood for furniture or musical instruments. In addition, walnut does not require extra wood staining to make it more appealing, as its natural colour is attractive enough that only a clear-coat finish is necessary.
Characteristics of Antique Walnut Cabinets
Walnut is a particularly sought after wood. Furniture manufacturers often use walnut veneer as a way of making inexpensive furniture seem more luxurious than it is. Below are some of the wood's characteristics:
| Feature | Description |
| --- | --- |
| Strong | Hard and durable, walnut holds its shape very well. |
| Hard-wearing | Can last hundreds of years if properly cared for. |
| Good colouring | Attractive colour that varies from dark to very light brown. |
| Distinctive grain | Subtle grain that is generally straight and becomes wavy towards the roots. |
| Versatile | Can be used for all manner of furnishings, from cabinets to headboards. |
Types of Antique Walnut Cabinets
There are a number of different antique walnut cabinets to be found in the marketplace, and when choosing which one to buy, it is important to consider which style is right for the buyer's home.
| Type | Description | Advantages | Considerations |
| --- | --- | --- | --- |
| Drinks Cabinet | Used to store wines and spirits as well as glassware such as; wine glasses, brandy glasses, champagne flutes etc. | · Practical when entertaining. | · Use is limited. |
| Corner Cabinet | Designed to fit in to the corner of a living area and store/showcase belongings and ornaments. | · Useful when limited space is available. | · Often smaller than other types of cabinet with less storage space. |
| Hanging Wall Cabinet | Hanging wall cabinets are fixed to a wall to allow storage and act as a decorative feature. | · Decorates empty wall space. | · Limited positioning. |
| Traditional Cabinet | A cabinet usually found with either glass-fronted or solid doors that contain shelves and drawers storage. | · Useful for storage. | · Often larger than other cabinet styles. |
Factors to Consider When Buying an Antique Walnut Cabinet
Before buying a piece of walnut furniture, it is important to ascertain whether the item is solid walnut or walnut veneer. The two can appear almost identical, and the difference between them will not be obvious to the untrained eye. A buyer should not be afraid to ask the seller if this distinction is important to them. In addition, it is also worthwhile considering the following factors prior to making a purchase:
Age – In most cases, the older the piece is, the higher its value will be.
Markings – Look for the manufacturers signature or initials on the piece. These markings are very important when determining the item's origin and value.
Hand-carvings – Antique furniture with intricate carvings and inlays are considered to have been expertly crafted, and as a result, they can often be worth substantially more than less elaborate examples. As a general rule, the price of an item typically goes up in proportion with how long the item took to the maker produce.
Original material/finish – In the antique world, original is always best. Check the item for any signs of repair or refinishing as this may affect its value. Don't be put off by slight signs of deterioration; however, as general wear-and-tear isn't likely to affect the item's value, as most antiques do display some signs of aging.
How to Care for Antique Walnut Cabinets
A lack of care, along with fluctuations in temperature and humidity, can cause walnut and other hardwood furniture to deteriorate as time goes by. Contemporary furniture is usually finished with polyurethane varnish, which creates a hardwearing film on the woodwork that requires minimal care and upkeep.
Antique furnishings, however, do not have this coating, and so it is necessary for their owners to regularly oil or wax them to retain their condition. Because of this, it is also important that owners do not use household furniture sprays to clean antiques. Whilst these products may work for modern furnishings, they can cause a great deal of damage to older pieces. When dusting, use a microfiber cloth without rubbing the surface too forcefully. This should suffice for day-to-day cleaning and will keep your cabinet in good condition. When caring for antiques, it is also important to wipe off any spills immediately to prevent cloudy stains from forming. Finally, to best care for your walnut furniture, apply a thin layer of furniture wax once a year to preserve its patina.
Popular Antique Walnut Cabinet Manufacturers
Here is a list of some popular cabinet manufacturers.
Thomas Hope
Edwards and Roberts
Howard and Sons
Robert H & James Simpson
William Kent
Thomas Sheraton
George Hepplewhite
Gillows of Lancaster & London
Thomas Chippendale
Parker and Perry
John McLean
Useful Accessories for Antique Walnut Cabinets
Antique furnishings not only bring personality and elegance to a home, but they are also likely to garner many compliments from visitors who see them. That is why antique owners are keen to preserve the item's patina and ensure it remains in excellent condition at all times. However, it should be noted that caring for antique furniture is very different from caring for more contemporary pieces. Due to their age, it is recommended that owners of antiques have a number of products on hand to guarantee their furniture retains its lustre. These products include:
A soft cloth (such as cheesecloth or cotton)
Gloves
Beeswax
Dehumidifier
Finding Antique Walnut Cabinets on eBay
Once you determine the type of antique walnut cabinet you want to purchase, visit the Antiques portal on eBay, click on 'Antique Furniture' then 'Cabinets' and start searching item listings. The Categories list on the left-hand side of the eBay page helps to narrow the search.
Searching for Antique Walnut Cabinets on eBay
Search eBay listing titles for specific words when shopping for antique walnut cabinets. For example, to find an Inlaid Queen Anne style walnut cabinet, type 'Queen Anne Walnut Cabinet' into the search box, and then click the Advanced button to customise the results. Also visit eBay's Search Tips page for more advice on searching for antique walnut cabinets with keywords. If you can't find the exact cabinet you want, try shopping eBay Stores.
Conclusion
Antique walnut furnishings have great appeal, and in some cases, can be considered extremely valuable. Before purchasing an antique walnut cabinet it is important to determine whether the item is solid walnut or walnut veneer. If the piece's appearance is more important than the materials used, then buyers should consider buying an item constructed from a walnut veneer as they are often substantially less expensive. Prospective buyers should also look for handcrafted pieces that bear the markings of its craftsman or manufacturer, and should avoid items that have been refinished or repaired in any way. With the help of this guide, buyers should have the knowledge required to make a purchase, taking into consideration the item's condition, age and finish. Once you have collected this information, you can buy an antique walnut cabinet safely and securely on eBay.