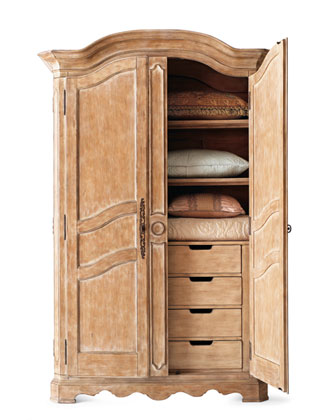 In the past, a full bedroom suite was composed of a single, double or triple wardrobe, a bed, bedside tables and a dressing table. In generations past, bedroom furniture was built from a variety of woods, and adorned with veneers and overlays, engravings and marquetry. Antiques are the perfect way to furnish a room if the objective is to create a sense of continuity with the past. Antique wardrobes never go out of style because they are such beautifully, and expertly, crafted pieces of classic bedroom furniture.
By definition, an antique wardrobe is one that is over 100 years old. If the wardrobe is younger than that, it is considered vintage. Antique wardrobes that have survived into the 21st century are durable works of craftsmanship. When one is shopping around for a beautiful antique wardrobe, one needs to consider the wood the wardrobe is crafted from. A wardrobe made from a hardwood will no doubt survive for another few decades. One can find antique wardrobes at estate sales or consignment stores. But for a wider selection of antique wardrobes, one should consider shopping on eBay.
The Benefits of Antique Furniture
Antique wooden furniture lends a feel of comfort and gentility to any room by virtue of the type of wood and the beauty of its finish. People seek to acquire antiques hoping to capture that feeling of comfort and nostalgia that seems to emanate from antique furniture. Antique wardrobes are often made from pine, oak, mahogany, walnut, and pecan woods. They are heavy and durable, and make one feel connected to the past in a way that modern, lightweight, plastic and metal furniture does not.
One of the benefits of antique furniture lies in the fact that the wood can be refinished, ensuring the pieces always look their best. Wood furniture can also be painted to match any decor. Many antique pieces of furniture have been painted and gilded to match specific design motifs. In today's environmentally conscious consumer culture, people are looking for furniture that brings nature indoors. Collecting antique pieces like wardrobes recycles existing wooden furniture that would otherwise be discarded in the rubbish. Wood also tends to build a very nice patina over time, creating a mellow and beautiful finish that simply cannot be created by artificial means.
The Different Types of Wood
Wooden furniture is manufactured using softwoods and hardwoods. The difference between the two is that soft wood is more supple and mouldable, and hardwood is denser and stronger. The best way to tell the difference between the two types of wood is to press a fingernail into the surface of the wood in a hidden place to see if it will dent the wood. If it does, it is softwood. Hardwood cannot be dented in this manner. Often, the softer varieties of wood are considered less valuable, while hardwoods are deemed much more valuable. Many different types of wood have been used in the manufacture of wooden antiques. Often it can be hard to tell the difference between the types of wood if it has been stained or painted. Many times wood of lesser value was stained to make it look like more expensive wood.
The Value of the Wood
The reason that some types of wood are considered more valuable than other types is due to the rarity of the wood, the ease with which it can be obtained, and the cost of importing it. For very valuable wood, the cost of importation and use of the wood results in an item of furniture whose cost is higher than items made from more common, native varieties of wood. When looking for a antique wardrobe it is helpful to have a good idea of which types of wood are considered 'valuable' and which types are considered less so. The more valuable the wood, the more pricey one should expect the antique wardrobe to be. The high value woods include mahogany, oak, and various kinds of walnut, including burled, circassian walnut, and rosewood. Woods like maple, elm, and the soft wood pine, were used to manufacture more affordable wardrobe pieces.
Mahogany
This is a hardwood with a close grain. Mahogany is native to South America, North America and the West Indies, and was first brought to England during the mid 18th century. Many pieces of furniture during this time period were made from red or brown mahogany.
Oak
Oak is very hard, with a coarser grain. This type of wood is native to Europe and North America, and was first used in the 17th century to make furniture.
Walnut
This type of hardwood is close grained, and is available in colours from very light to rich and mellow golden browns. The types of walnut include burled, circassian walnut, and American fireside walnut.
Rosewood
Rosewood is a close grained hardwood native to India, the West Indies, and South America. This type of wood got its name due to the rose scent the wood gives off when it is cut. Rosewood and mahogany are so similar that they are often confused with each other, however when rosewood is examined closely it is evident that there are fine black or white rings which mahogany does not have. And rosewood is much heavier than mahogany wood.
Maple
This type of hardwood has a coarse grain and is native to Europe and North American. Maple furniture was often veneered in the past.
Elm
Elm is a coarse grained hardwood native to North America and Europe, and like maple, elm furniture was often veneered.
Pine
Pine wood is soft and has a straight grain, is pale and has many knotts. Pine is native to North America and Europe and was was often used to make furniture that would be painted or veneered.
Solid Wood or Veneer
The process of applying thin sheets of more valuable types of wood to less valuable wood surface with glue was a popular way of producing furniture that was affordable yet looked sophisticated and expensive. Veneer made in the 17th century was cut by hand and often had uneven edges, while veneer created in the 19th century was made with machines, making the edges very thin and even.
To determine if an antique wardrobe has been veneered, simply look at the edges of the wood. If you can see a seam in the wood then it is veneered. If there is no seam, the wood is solid. The process of veneering wooden wardrobes does not make the wardrobe less valuable, and if one's budget simply does not permit a solid hardwood antique wardrobe, a veneered piece is an excellent option. Such an antique wardrobe allows one to enjoy the beauty of handcrafted furniture without the expensive price tag.
Inlaid, Parquetry, and Marquetry
Historically, there have been many techniques used to decorate bedroom furniture. These methods added a depth of beauty and craftsmanship that is often missing in the mechanically manufactured furniture of today. The most common methods of decorating furniture were inlaying, parquetry, gilding, and marquetry.
Marquetry
Marquetry is a technique that uses several types of wood to apply shapes to the surface of furniture in order to make pictures. The most popular shapes applied were flowers and birds. Oftentimes, exotic woods is used for marquetry, including satinwood, tulipwood, and ebony.
Parquetry
The parquetry method sees the application of veneers in geometric patterns. This method is commonly employed for the creation of gaming boards for chess and backgammon.
Inlay
Inlaying refers to the application of materials into the wood to create patterns and pictures. Common materials used for inlays included ivory, bone, mother of pearl, brass, and tortoiseshell.
Gilding
Gilding was a method of adhering gold leaf to a wood surface with a plaster-like material. Gilding was a very popular practice in France.
How to Find an Antique Wardrobe on eBay
To start your search for an antique wardrobe on eBay, simply enter keywords describing the wardrobe you are looking for into the search bar at the top of eBay's home page. Yo can find this search bar on any page on the site. For example, if you enter a rather specific search query like "antique walnut wardrobe" into the search bar, the search engine will populate a results page with all the current listings that match that description. Complete your antique bedroom suite with an antique walnut dressing table or chest of drawers as well. eBay makes it easy to search for any item you want for your bedroom.
Once you have identified a clutch of antique wardrobes that pique your interest, take the time to read the item descriptions very carefully. Does the seller have shipping fees listed? Is the wardrobe in good condition, or will some repairs be in order? Examine the photos of the wardrobe very carefully. If you have any questions for the seller or even if you would like to see more photos from different angles, contact to seller by going into their profile page and clicking on the contact link. While on the seller's profile page, review the seller's feedback score to see how other buyers have rated their experiences with this seller.
Conclusion
When deciding upon the perfect furnishings for any bedroom, choose furniture that will complement each other, keeping like wood types together for a stunning and cohesive look. If a golden oak antique wardrobe is your choice, think about buying a beautiful golden oak bed frame and matching golden oak dresser to go along with it. With the mellow and timeless glow of the wood as well as the beautiful craftsmanship, anyone stepping into the room will immediately notice the care and attention to detail that went into the creating such a beautifully decorated bedroom.
When looking for an antique wardrobe, consider buying a piece that is made from a more durable hardwood. Not only will it look beautiful in your bedroom, but that beauty will likely last for decades to come. With proper care, an antique wardrobe can be handed down from generation to generation, creating new memories and family traditions. For the widest selection of antiques, including wardrobes, from around the country, head online to eBay.