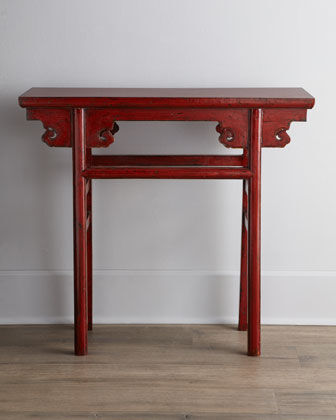 This eBay buying guide is designed to inform consumers about antique writing tables and offer shopping tips. It includes a brief history of the writing table and lists several types of writing tables, along with a description of each one. After becoming aware of the variety of antique writing tables that are available, follow the advice for locating a particular type of antique writing table on eBay. A discussion of important buying factors and a list of the designers and makers of antique writing tables are included as well.
History of the Writing Table
The writing table was used in Europe and colonial America, as its name implies, on which to write. It was slightly different from writing desks, and the style of the writing table evolved as the furniture style of the times changed. The plain wood surface of the writing table was enhanced with other materials, both for style and comfort. Some featured a leather-lined table top, while others incorporated decorative veneers. The legs of the table also adopted new features over time.
Discover Antique Writing Tables
Writing tables made more than 100 years ago are considered antique furniture. There are several types and styles, but most feature a series of drawers directly under the table top. Many collectors value pieces from various furniture styles, while antique shoppers may be interested in the overall look and feel of these writing tables.
Parts of Antique Writing Tables
There are three main parts of an antique writing table – the table top, drawer, and legs. Some tables may have additional parts.
| Part | Description |
| --- | --- |
| Table top | The surface of the table is flat and usually made of solid wood. Some tables may include leather on the writing surface. The edges of the table top are either straight or curved. Most table tops are rectangular or square in shape. |
| Drawer | A rectangular box under the table top. It holds items. |
| Handle/ Knob | A u-shaped or solid circular piece, usually metal, attached to the drawer. It is used to pull open the drawer. |
| Side panels | Wood surrounding the drawer compartment. |
| Legs | Supports the writing table. There are several styles. Cabriole legs are bent or curved. Tapered legs narrow in size from the top to the bottom. Ring turned legs feature rings at intervals along the length of the leg. Trestle legs are carved columns with a rectangular base, similar to a pedestal. |
| Casters | A round metal piece, similar to a wheel, attached to the bottom of the leg. |
| Stretcher | A wood piece that connects two trestle legs of a writing table. |
| Veneers | Thin wood pieces that are glued to the table, usually the sides and feature decorated designs. |
| Bust | Small carving or sculpture, usually of a person, attached to the front or sides of a table. |
Types of Antique Writing Tables
There are several types of antique writing tables. The following list describes each one.
Type

Description

Advantages

Considerations

Elizabethan

Elizabethan era writing tables were produced during the mid-sixteenth century to the mid-seventeenth century in Europe and colonial America. Common features associated with this style include a table top with carved edges that extend over the drawer and trestle legs.

Ÿ Detailed carvings

Ÿ Space-saving rectangular shape

Ÿ Solid construction

· Heavy

· Old wood may need to be polished to preserve it

Louis XIV

Writing tables during the reign of Louis XIV in France (1643-1715) were ornate and usually decorated with mounts or busts. Most featured cabriole legs.

Ÿ Showy and elaborate decorations make it a great conversational piece

Ÿ Decorations may become loose or faded over time

The Georgian writing table style (mid- to late- eighteenth century UK) featured square tapered legs, a rectangular table top and multiple drawers.

Ÿ Ample writing space on table top

Ÿ Ample storage space in drawers

Ÿ Table surface may be scuffed and discoloured over time

Chippendale

The Chippendale writing table was much larger than other types. The designs of this London cabinet-maker featured pedestals at both ends of the table that ran the width of the table top. The pedestals were usually enclosed rectangular boxes with carved designs on the exterior.

Ÿ Stately design

Ÿ Decorated surfaces

Ÿ More expensive and rarer than other types of antique writing tables

Ÿ Its large size may occupy to much space

Nineteenth century writing tables of the Regency style from the UK feature ring-turned legs that taper. Some feature casters. The table top is lined with leather or similar material and a row of drawers sit below it.

Ÿ Moveable table that rolls across floor.

Ÿ Table top may be worn out

Victorian writing tables from the mid to late nineteenth century in the UK featured carved columns and leather table tops.

Ÿ Simple, elegant design

Ÿ Solid construction

Ÿ Blend of wood and leather table top require care to maintain appearance

Art Nouveau

Early twentieth century Art Nouveau style featured new materials and machined surfaces. It was known for dynamic curves that brought mouldings to life.

Ÿ Modern piece that is in better condition

Ÿ Art Nouveau writing tables have a modern look
Factors to Consider When Buying Antique Writing Tables
There are several things to consider before buying an antique writing table. The retailer, the appearance of the table, and the table's condition will all influence the buying decision.
Reliable sources - Shopping for antique writing tables at the right place makes all the difference. The main factor to consider here is the authenticity of the piece. Antiques are manufactured during a certain period. Any pieces made after that are considered reproductions, even if they contain all the features of a particular style. Estate sales and auctions houses usually verify the details of a piece, but not always. It is best to buy from those that are known for selling authentic pieces. Top-rated sellers with positive reviews are usually reliable.
Appearance – There are antique writing tables of all sizes, shapes, and differing wood colours. Some feature decorations including veneers and mounts. Antiques are usually faded and look old, while reproductions typically look newer. The shape, wood material, and carved details all affect the appearance of the writing table. Select one that is appealing to you.
Condition – Antique writing tables, like any other used antique furniture piece, will show signs of wear. This includes scratches, faded colours and wobbly legs. Consider these issues when negotiating a lower price from the seller.
Typical Features of Antique Writing Tables
1. Writing surface - The table tops of most writing tables will have enough space to accommodate several stacks of paper and books.
2. Storage space - Writing tables have at least one drawer, and some writing table styles feature multiple drawers. Pens, pencils, calculators, and other stationary items can be stored in each drawer.
3. Attractive design/ craftsmanship - Most antique writing tables look great in any study or library, because they tend to be made of high-quality wood, beautiful carvings and elaborate decorations.
How to Care for Antique Writing Tables
Antique writing tables are made primarily from wood. This includes mahogany, cherry, walnut, oak, maple and ebony. The surface should be cleaned and protected from dirt and dust. The best way to do this is to apply a polish every now and then. Spray the surface and wipe it with a soft cloth. Not only will it clean the surface, it will also protect it from water and sunlight. If the table has been scratched or scuffed, it might be advisable to seek professional help to restore it to its original condition.
Popular Antique Writing Table Manufacturers
Here is a list of some well-known antique table manufacturers.
Goddard and Townsend
Pierre Pioniez
Arthur Heygote Mackmurdo
Gilles Joubert
Thomas Chippendale
Roger Vandercruse Lacroix
André-Charles Boulle
Bernard II van Risamburgh
Accessories and Add-ons for Antique Writing Tables
There are several accessories that would complete an antique writing table. They include:
Chair
Pen/ pencil holder
Pencil sharpener
Ink well
Desk mat for protection
Finding Antique Writing Tables on eBay
Once you determine the type of antique writing table you want to purchase, visit the Antiques Category portal on eBay, click on 'Antique Furniture' then select 'Tables' and start searching item listings. The Categories list on the left-hand side of the eBay page helps to narrow the search.
Searching forAntique Writing Tables on eBay
Search eBay listing titles for specific words when shopping for antique writing tables. For example, to find a Victorian writing table, type 'Victorian writing table' into the search box, and then click on the Advanced button to customise the results. Also visit eBay's Search Tips page for more advice on searching for antique writing tables with keywords. If you can't find the exact antique writing table you want, try shopping eBay Stores.
Conclusion
After browsing through the search results for antique writing tables on eBay, select one that fits the style of the room and is in fairly good shape. Find out the details of the writing table on the product page and contact the seller with any questions. Once you have collected this information, you can buy an antique writing table safely and securely on eBay.