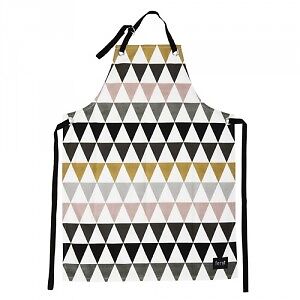 Far from being an old-fashioned item of little use in the modern age, aprons are still indispensable for anyone who spends much time in the kitchen. Because their general function is to protect clothing from any substance that might stain it, however, aprons are not only useful in connection with cooking. They are utilised to guard clothing against spills and stains in situations as diverse as cleaning, gardening, and staining wood. Heavy-duty aprons can also provide an important level of clothing protection in high heat jobs or hobbies, such as metalworking and other types of craft work. These activities can cause burn marks on clothing that is not shielded by an appropriate apron.
About Aprons
Aprons have been useful in Europe since at least the 12th century, when they were worn by farmworkers, blacksmiths, and cooks to shield clothing from damage. Originally an item that only men made use of, aprons today are highly helpful to both genders and come in an amazing variety of styles and models.
Aprons From the Waist Up
The typical apron is a sleeveless garment that mainly consists of a flat panel of fabric shaped roughly like the human body, with a relatively narrow torso that widens dramatically at the hips. Many aprons have a strip of fabric so that they can be hung around a person's neck, as well as further strips lower down that serve as ties so that the apron can be wrapped around the waist and securely tied behind. The typical apron covers the torso, but leaves the shoulders and arms free of fabric. This allows the wearer to move about unobstructed. Some aprons feature a small pocket on the bodice portion, but pockets are much more common, and convenient, further down where the hands can more naturally reach them. The top of an apron, on the other hand, is frequently embellished with decorative elements such as embroidery or piping.
Aprons From the Waist Down
Aprons generally cover the body much more thoroughly below the waist, where they may provide complete coverage to the knee, mid-thigh, or even the ankle. The lower section of an apron frequently features pockets that are designed to be practical rather than decorative. These pockets may be inline pockets much as a dress or skirt might have, or they might be more like pouches that are stitched atop the garment in the front. Some aprons have an extensive series of both pockets and pouches so that a variety of items can be stowed for convenient access. Some aprons are truncated versions that only provide coverage from the waist down. Waiters and waitresses in some restaurant establishments frequently wear this type of apron, where even though the apron is a functional item, it can give a server a somewhat formal aura while still protecting their clothing from accidental spills and other mishaps.
Aprons Reduce Other Chores
Because aprons do such a good job of protecting clothing, they provide the ancillary benefit of cutting down on the time that must be spent doing laundry. This is one of the primary reasons why many home cooks will routinely don an apron when entering the kitchen. Stains may not ruin clothing, but they will mean that worn items will need to be tossed into the wash before they can be worn again. Some stains are more serious and will mean that clothing should be changed immediately so delicate fabrics can be soaked at once. An apron helps a home cook to avoid these additional chores.
Aprons as Gifts
Everyone knows someone who remains notoriously difficult when it comes to finding a suitable birthday or Christmas gift. Novelty aprons make not only unexpected gifts, but also bring with them the inspiration to get into the kitchen. Given that there are apron options suitable for every budget, then making a present out of one is an option open to everybody, especially as these can even be customised to make them even more personal. Who knows, making a present out of an apron could even start off a passion for collecting them.
Aprons as a Fashion Statement
Owing to their diversity in terms of style, retro or vintage aprons can also be found. Adding to their value as functional items, there is no denying the apron's potential for style and fashionable customisation.
Aprons Come in Diverse Materials
The right apron for a particular chore depends greatly on the task at hand. Traditionally, many aprons were made from leather as this provided robust protection during tasks such as shoeing horses. While leather aprons are not nearly as common today, they can still be found and are still useful in similar situations.
Canvas Aprons
Crafting aprons are often made of light or heavy canvas, both of which are stiff and heavy enough to provide some protection against burns from hot objects such as thread zappers, which are used to melt the ends of synthetic threads used in a craft or sewing projects. Canvas has the advantage of being easy to care for as well as inexpensive, making it a simple proposition to purchase another set of canvas aprons on eBay when an existing set has become too stained.
Denim Aprons
Denim aprons are also available and possess many of the same advantages as canvas. Like canvas, denim aprons can be found in a variety of colours, though in the case of denim, the blue shades predominate thanks to this fabric's heavy association with blue jeans.
Cotton and Cotton Blend Aprons
One of the most common materials used in modern aprons, however, is not canvas or denim, but cotton, which appears in some aprons as a pure material and in others as blends with other fibres both natural and man-made. Cotton aprons, particularly those that consist of cotton blends, can be ideal because they tend to launder easily. Cotton aprons are available in a rainbow of colours and can be found in prints as well as solid shades. These allow home wearers in particular to express a great degree of creativity – matching their aprons to their kitchen decor, for example.
Find Aprons on eBay
The easiest way to find aprons on eBay is to enter a specific search term in the search box such as "canvas aprons," "full-length aprons," or "black aprons." eBay strives to make shopping as convenient as possible and will actually suggest search terms when generic terms are entered. Users who search for "aprons" will see search suggestions such as "vintage aprons", and "cooking aprons." Navigating the category tree can also bring up numerous fitting results for any apron search. From the home page, select Home & Garden followed by Home & Garden again. From here, go to Furniture & Living and then Cookware, Dining & Bar. The category search helps to make the search specific and is also great if just looking for inspiration.
Conclusion
The right apron truly is the eye of the beholder and depends on personal style and taste as well as practical considerations about the reasons why an apron is needed in the first place. Fortunately, eBay makes it easy to find and buy practically any type of apron a home or business user could desire.