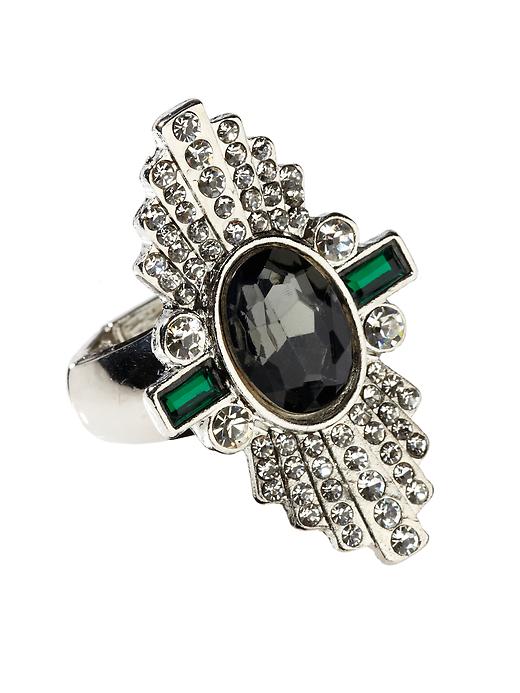 Various eras from the past have artifacts and objects that have sustained the interest of new generations, for their sheer beauty, innovative design, practicality, or functionality. Every so often, a blast from the past sweeps across the present and people relive the magic with renewed vigour and zest. The Art Deco style originated in Europe during early 20th century, spanning the years from 1920 to 1940 and touching the lives of people, especially women who revelled in new-found freedom and fashion after World War II ended. The various pieces of clothing, fashion accessories and jewellery of the Art Deco style still garner interest, and the Art Deco ring is one such item.
Vintage jewellery is timeless and the market for such jewellery is always filled with people looking to own a piece of history at bargain prices. Art Deco jewellery laid heavy emphasis on geometric forms such as sharp edged squares and rectangles and other chic angular designs in bold colours. Diamond solitaires and small diamonds contrasting with black onyx and rock crystal are characteristic of Art Deco designs. Diamonds were also used in combination with brightly coloured rubies, sapphires and emeralds especially in rings. Shoppers looking to buy Art Deco rings can visit eBay for a whole array, of stunning vintage designs. Armed with valuable information about Art Deco jewellery general and Art Deco ring styles in particular, shoppers can select the perfect Art Deco ring.
Innovations in Jewellery Design During Art Deco Era
The Art Deco era was one of innovations in design and experiments using new materials. Gemstones, especially diamonds were cut in new shapes and in facets enhancing brilliance, and filigree work was much in vogue. Filigree is intricate work done on jewellery using fine twisted threads and tiny beads to create stunning motifs in gold and silver, popular in India and the Middle Eastern countries. Platinum was liberally used in jewellery making during the Art Deco era as it was a strong metal, and less of it was needed to make jewellery. The popular Chinese lacquer techniques were introduced as jewellery coating that protected the finish on the product.
Another important innovation came from Van Cleef & Arpels, known as the 'serti invisible' or invisible setting. The process, used mostly for Art Deco rings, involved grooved girdles created on gemstones that matched thin wire framework on the jewellery piece, allowing the stones to be set seamlessly on the jewellery. This creates an impression that the gemstone is integrated into the precious metal without prongs or bezel. Another component for artificial jewellery created during this period was a type of plastic called bakelite. Colourful and chunky bangles, necklaces, bracelets, pendants, cufflinks, and other types of jewellery were made using bakelite.
Types of Art Deco Rings
Extravagant designs on jewellery during the Art Deco period are even found on small pieces of jewellery such as rings and earrings. Besides precious and semi-precious gemstones such as diamonds, rubies, sapphires, emerald, onyx, opal and pearls, Art Deco rings also had coloured glass insets. Wedding and engagement rings, eternity rings, solitaires, and other rings had the typical, bold Art Deco designs.
Art Deco Cameo Rings
Art Deco cameo rings have hand carved or sculptured miniature relief artwork and may depict royals, common folk, or profiles of loved ones or famous people. The carving is generally done on shells, agate, ivory, coral, or stone. The silhouette is seen against a dark background and this is set in bands made of precious metals.
Art Deco Rings with Engraved Filigree Work
Exquisite filigree work on rings also encrusted with precious and semi-precious stones is a typical Art Deco design. Knuckle rings which are long rings covering the finger up to the knuckle were typical Art Deco rings with filigree, diamonds and other stones, singly or in combination.
Art Deco Diamond Rings
Rings in geometric designs using square, rectangular, and triangular plaques on bands made from precious and ordinary metals and set with a myriad of precious or semi precious stones were popular during the Art Deco period. Art Deco diamond rings also had other colourful gemstones such as rubies, sapphires, and emeralds in combination with diamonds.
Art Deco Solitaires
Solitaires adorned fingers during the Art Deco period as well. The single stone was either a diamond, aquamarine, emerald, ruby, sapphire, onyx, amethyst, or opal set in various geometric art works, punctuated with other faceted gemstones.
Art Deco Bakelite Rings
Besides fine jewellery of the Art Deco era, chunky ornaments of bakelite and celluloid were also hugely popular. Bakelite rings very rarely had accents of precious stones, but these rings have vibrant, attractive colours and designs.
Other Gemstones and Settings Used During Art Deco Period
Other less popular gemstones during the Art Deco era besides diamonds, emeralds, rubies, sapphires, and onyx include coral, quartz, mother-of-pearl, lapis lazuli, and jade. These gems were also used as linear accents along with diamonds, rubies, emeralds, and sapphire. Faceting created baguettes, shields, and emerald cuts on gemstones, and cabochon cuts were liberally used to create rings designs. Cutting en cabochon is a simple technique creating gems with flat bottoms and a dome-shaped upper portion. Channel and bead settings affixed the gemstones on Art Deco rings.
Channel Setting
Channel setting of gemstones aligns gemstones girdle to girdle without any metal between them. The two gemstones at either end are placed in the channel created in the metal and a small edge of the metal channels is smoothed over the gemstone to hold them securely in place.
Bead Setting
A faceted gemstone is set in a ring raising small burrs of the precious metal around the gemstones. The burr is then burnished into a tiny bead visible over the girdle of the gemstone. A burnisher is a tool that smoothes and polishes metal by rubbing it in.
Art Deco Jewellers
Several big names in jewellery design houses and professionals were part of the cultural revolution that echoed through the Art Deco era. Their creations varied from extravagant jewellery pieces studded with numerous colourful gemstones to creative costume designs made using unusual materials and metals. Cartier's exotic motifs using precious stones such as diamonds, rubies, emeralds; opaque stones such as jade, lapis lazuli, onyx; and metals such as platinum were profoundly influenced by the then-trends prevalent in India, China and Persia.
Inspiring glass jewellery by Réne Lalique and Gabriel Rousseau had geometric configurations as well as floral and animal designs. Parisian Raymond Templier experimented with platinum and silver, combining them with onyx and other dark-coloured gemstones and diamonds to create some classic pieces while Swiss born Paul Emile Brandt evolved from Art Nouveau to Art Deco and became renowned for the bejewelled, geometrical-shaped watches. Others who made an impact with their work were Jean Desprès, Gérard Sandoz, Suzanne Belperron, and Jean Fouquet.
How to Buy Vintage Art Deco Rings on eBay
Vintage jewellery is very much in demand and expensive. Though connoisseurs of vintage jewellery would be delighted to own these despite their cost, collectors run the risk of buying fake pieces that are being passed off as antique Art Deco.
Part of the challenge is knowing where to shop. eBay has a wide collection of genuine Art Deco jewellery, especially much-sought-after Art Deco rings. Fabulous as gifts or for personal use, Art Deco rings are available as exquisite fine jewellery or as chunky pieces with geometrical designs. Shoppers looking for Art Deco rings studded with precious stones on eBay can buy with confidence from eBay top-rated sellers, sellers who receive 99 to 100 percent positive feedback both for quality of products and excellent service. The individual listing page contains the product description, images that can be enlarged or zoomed to view it minutely, postage and payments, and details about the seller. Shoppers are encouraged to carefully go through all the details on the page and satisfy themselves thoroughly by corresponding with the seller before going ahead with the purchase. With numerous secure payment options offered by eBay, shoppers will certainly find one payment mode that is convenient for them.
Conclusion
Genuine antique jewellery is something most people hold dear to their hearts as it depicts the glory of the past. Therefore, such jewellery is both rare and expensive. Art Deco is the period from the early 1920s to 1950s during which several art forms revived and newer ones emerged. Art Deco jewellery, especially Art Deco rings with their bold sharp lines and angles, usage of a variety of colourful gemstones and diamonds, platinum, and silver besides white, yellow, and rose gold; other unconventional materials also made a bold fashion statement during the period. These Art Deco rings of various types and designs are available today and include solitaires made using diamonds, rubies, sapphires, and emeralds; other Art Deco rings also have these gemstones encrusted in bold geometric panels of precious metals. Long knuckle rings, Art Deco cameo rings, and Art Deco bakelite rings gel beautifully with modern attire and are available in a variety of patterns. Stunning, classic Art Deco engagement and wedding rings are a great way to seal lifelong companionship and love.