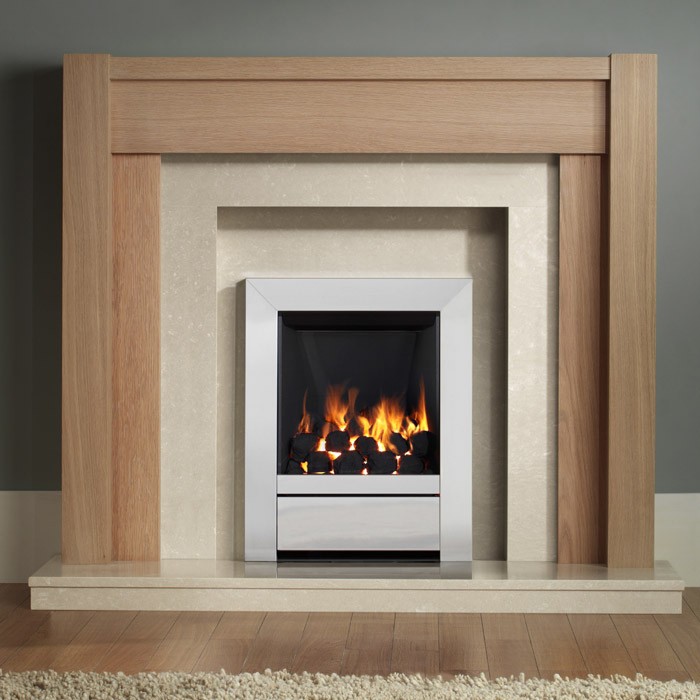 Gas fires are a great way to heat a room and create an inviting atmosphere. They are an alternative to real wood or coal fuelled fires and electric fires and have many advantages in comparison to these. Not all gas fires require a chimney, or even a flue, and there are fires available to suit almost any property. Some types and models of gas fire are designed to be primary sources of heating in a room, whereas others are designed more as secondary sources of heating. As secondary sources they provide instant and easily available heat to a specific area.
Efficiency
Efficiency is especially important if a gas fire is used as a primary source of heat, and it is worth carefully weighing up the buying and installation costs against running costs in this instance. But whether they are used as a primary or secondary source of heat in a room, efficiency is a key factor in choosing the right gas fire. In comparison to other fuels, gas is up to 70 per cent cheaper than electric and over 90 per cent cheaper than wood and bioethanol. Gas fires have many features to optimise energy efficiency, from flueless designs and glass fronts to variable heat controls and specialist technology, there are many ways in which gas fires have evolved to be extremely efficient. This makes them not only cheaper in terms of running costs and appealing in terms of heat distribution, but also environmentally friendly options. The efficiency of a fire is given as a percentage. This is calculated by taking the amount of gas required to provide a certain amount of heat. For example, the efficiency of a gas fire that uses 4.1 kilowatts (kW) of gas to provide 3.5 kW of heat would be 86 per cent. The efficiency of traditional fires and wood burning stoves varies from around 30 per cent to 70 per cent for an open fire and 60 per cent to 80 per cent for a wood burning stove. Wood burning stoves tend to be more efficient than open fires because they are relatively enclosed and because the heat does not escape up the chimney. Electric and bioethanol fires, in contrast, are highly efficient in terms of the amount of fuel required to produce a certain amount of heat. However, running costs tend to be high because the fuel is expensive. Bioethanol fires are up to 20 times more expensive than gas fires.
Choosing an Efficient Gas Fire
Being that buying an efficient gas fire is by no means a small investment, it deserves due attention and consideration of the key points.
Type of Flue
The type of flue is an important factor in determining efficiency. The five basic types of flue are Class 1, Class 2, pre-cast, balanced, and powered. Other fires do not require a flue and are known as flueless.
| | | |
| --- | --- | --- |
| Class 1 | Traditional brick or stone chimneys with a chimney stack and chimney pot. | Heated air is buoyant and naturally carries emissions up through the chimney and out. |
| Class 2 | Pre-fabricated flues with (usually) a metal pot on the roof. | Like traditional chimneys, these use the natural buoyancy of heated air to carry emissions through the flue and out. |
| Pre-cast | Narrow concrete or clay flues with either a metal pot or ridged terminal on the roof. | Rely on the natural buoyancy of heated air to vent emissions. |
| Balanced | Flues that vent directly to the outside through an external wall. | The flue has a co-axial pipe, with the outer pipe drawing in air for combustion and the inner pipe venting emissions. |
| Powered | Flues that vent directly to the outside through an external wall with the aid of a fan. | The flue is driven by an electric fan. |
| Flueless | Fires that do not require a flue use other technology. Emissions are returned to the room. | Typical method is catalytic converters which convert carbon monoxide to carbon dioxide and water. |
Fires with traditional flues such as Class 1 and Class 2 tend to have lower efficiency than those with balanced flues or flueless designs, largely because they draw heat out of the flue (and room) along with emissions. Balanced flue and most flueless fires have glass fronts which seal the fire from the room, eliminating draughts and draw and retaining heat within the room. Powered flue fires do not require glass fronts, and their efficiency (and running cost) is also affected by the requirement for electricity to drive the fan. While at around 85 per cent and 100 per cent efficiency respectively, balanced flue or flueless models are amongst the best for fuel efficiency, the efficiency of specific models also depends upon other features. Wall mounted fires with glass fronts using other types of flue can also have around 85 per cent efficiency. Open flame gas fires using flues have up to around 50 per cent efficiency.
Type of Fire
There are various types of gas fire, and some tend to be more energy efficient than others. The five basic types of fire are inset, semi-inset, outset, wall mounted, and freestanding.
| | |
| --- | --- |
| Inset | Placed into fireplace opening, usually a traditional hearth. The fire itself sits in the opening so the surround is the only part projecting into the room. |
| Semi-inset | Placed into alternative recesses, either completely or partly. |
| Outset | Usually placed in covered over fireplaces with or without hearths. Can also just be placed upon a hearth or sometimes fixed to the wall. The fire projects into the room. |
| Wall Mounted | Either recessed into the wall (hole in the wall) or fixed to the surface (hang on the wall). Usually designed to be used without a traditional flue and many are flueless. |
| Freestanding | Freestanding upon a hearth and projecting into the room. Usually glass fronted. |
Outset and wall mounted designs tend to be amongst the best for fuel efficiency.
Type of Flame Effect
Certain types of flame effect are more efficient than others. Living flame effects are designed to simulate real fires whereas gas fires with ceramic plaques are not. Fires with ceramic plaques have traditionally tended to be more efficient than those with living flame effects, but some newer models of living flame fire with glass fronts are now more efficient than those with ceramic plaques. The most efficient living flame fires tend to have ribbon burners which give the appearance of uniform sized flames. Pebbles are often used. Variable heat controls mean that higher or lower flames and greater or lesser heat can be obtained in many models.
Type of Heat
Gas fires provide two types of heat – radiant and convected. Radiant heat comes from the gas flame heating coals, logs or pebbles. These absorb and radiate out heat in straight lines. Convected heat comes from air in the room passing through a heat exchanger, also known as a convector box, in the fire. The heat exchanger takes heat from burning gas and heats the air with it, passes the heated air back to the room through a grill. Glass fronts retain the heat inside for longer. Convected heat is more capable of heating a room evenly and efficiently. To provide convected air, the fire needs to have a heat exchanger. Most fires are capable of delivering both radiant and convected air, but the ratios in which each is delivered can vary. This can be affected by their design and position in the room. Typically, outset fires have around 60 per cent radiant and 40 per cent convected heat, and inset fires have around 40 per cent radiant and 60per cent convected heat.
Style
Choosing a high efficiency gas fire should not be, and does not have to be, a compromise on style. High efficiency gas fires come in a number of different designs and styles, from traditional brass inset fires to contemporary steel wall mounted fires.
Conclusion
Gas fires are frequently more efficient with lower running costs than other types of fire, such as wood burning, electric, or bioethanol powered. How efficient a particular gas fire is depends upon various factors, such as the type of flue, style of fire, type of flame effect, and type of heat. Flueless and balanced flue fires tend to be the most efficient, as fires with traditional flues tend to lose a lot of the heat along with emissions through the flue. Outset and wall mounted fires also tend to be more efficient, along with fires with glass fronts that retain the heat inside for longer. Fires with ceramic plaques were traditionally more efficient but some living flame fires are now equally or more so. Efficiency also depends upon how the heat is distributed throughout the room. Most fires can deliver both radiant and convected heat, with convected heat the more important for even heat distribution. Efficient gas fires are available in a range of stylish models, both traditional and contemporary, to suit any home.