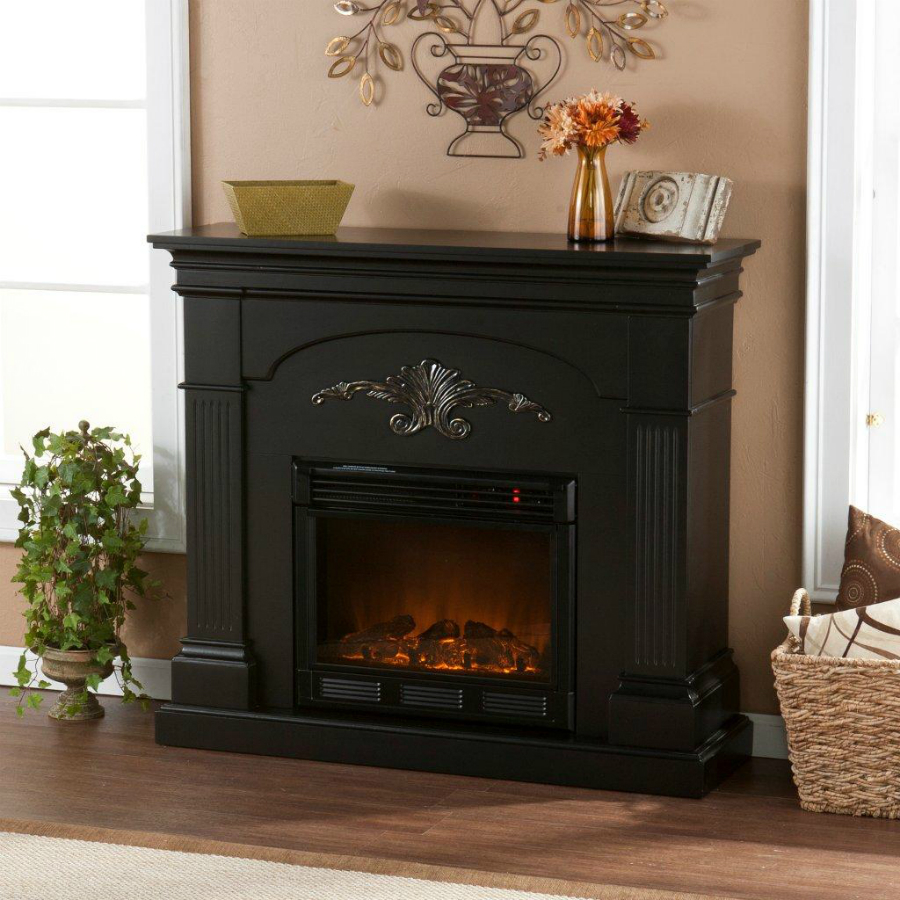 Electric fireplaces provide consumers with an excellent alternative to the traditional fireplace where wood or coal is burnt as a source of heat. Traditional fireplaces carry with them an inherent risk of fire danger even when used as directed, but a properly functioning electric fireplace eliminates this problem. Traditional fireplaces also create a considerable amount of work that must be performed, often on a daily basis. With an electric fireplace, homeowners are freed from onerous tasks such as handling logs or coal and bringing them inside. Electric fireplaces are also preferable because they create no ash, smoke, or mess inside the house. Traditional wood or coal-burning fireplaces emit smoke into the air outside and have actually been banned in designated smoke-free zones. Electric fireplaces are kinder to the environment although the electricity to power them has to be generated by some means. A major benefit is the fact that since they require no vent or chimney, they can be installed with a minimum of effort.
Electric Fireplaces Offer Advanced Features
Even the most basic electric fireplace model offers the benefits already outlined, but consumers looking on eBay for electric fireplaces will very quickly realise that many models also offer advanced features. One of the first steps involved in buying an electric fireplace is to decide which of these advanced features are worth having.
Remote Controls
Many modern electric fireplaces come with a remote control that is both compact and wireless. These allow users to operate the electric fireplace from a convenient distance if they prefer; they can be particularly useful for individuals that have mobility issues.
Realistic Simulated Flames
Shoppers should be aware that today's electric fireplaces often feature highly realistic flame effects that closely mimic the look of a real fire. Less expensive electric fireplaces may feature a physical apparatus to mimic a flame, but the high-end units tend to use advanced electronics. These can include a DVD player and high definition imaging in order to create a three-dimensional facsimile of a fire, complete with flames leaping and dancing in ways that appear thoroughly authentic.
No Heat Setting
A traditional fireplace can only provide light when a fire is actually burning, which means that light and heat have to go hand in hand. This may be fine in the winter when heating is actually desired, however, it means that a fireplace may be completely unused for six months or more out of every year. Advanced electric fireplaces improve this situation by offering a "no heat" setting. This allows users to switch on the flames and enjoy a soft, flickering light without the unit producing warmth that may be unwanted during certain seasons of the year.
Blowers
Some electric fireplaces feature fans that allow heat to be circulated more effectively around a room. Even with these fans there are variations in quality. Some are engineered to be almost completely silent during operation so that the unit will not disrupt the enjoyment of media in the living room.
Filters
Advanced electric fireplaces with fans may also incorporate air filters that cleanse the air on a continuous basis as long as the blower is in operation. A typical blower/filter combination can process all the air in a room four times in a single hour. Such filters do require periodic replacement, but in most cases, this needs to be done no more often than once per year.
The Basic Types
Once a consumer has decided which of the advanced features are desired, the next step in buying an electric fireplace is to look for those features within the broad category of fireplace needed. Although there are a variety of ways to classify electric fireplaces, it can be helpful to think of them as being available in four basic types as outlined in the table below.
| | |
| --- | --- |
| Mantel style | A mantel electric fireplace is designed to sit on the floor and fit flush against a wall. These units include an integrated mantelpiece in addition to the electric fireplace itself. This means that they can take on the appearance of a traditional fireplace but without the need for a chimney or vent. Corner mantel units are also available. |
| Wall Mount Style | A wall-mounted electric fireplace is fixed to the wall above the floor, allowing for more scope when deciding on placement. Some models come with trim pieces intended to dress the fireplace out to present a classic appearance, while others consist of the electric fireplace alone, which can create a sleek and modern look. As above, corner wall mount units are also available. |
| Insert Style | Electric fireplace inserts fit inside a traditional wood-burning fireplace made of brick or masonry, converting it to clean electrical use. |
| Portable Style | Many electric fireplaces are intended to remain portable so that they can be moved from room to room as needed. |
About Electric Fireplace Mantels
Most mantel styles of electric fireplace include two components: a firebox and a mantel that will surround it on three sides. The firebox will be vent-free and will feature a typical electrical plug that can be used in any standard 13amp socket. The mantels are often made of wood or faux wood, but other options are available. In general, electric fireplace mantels can be found to match any type of decor since a wide variety of finishes, colours, and materials are available. Some mantels go beyond a mere decorative function. A modern option is a media-console mantel that features shelves able to house a variety of electronic units, DVDs etc. Some mantels are even designed to support a television set.
About Wall Mounted Electric Fireplaces
There are two main types of wall-mounted electric fireplaces: direct wall installation models and hanging units. Direct wall installation models are also sometimes called "built in fireplaces." They are intended to occupy an opening that has been left in a wall during new home construction or that has been created afterwards. Electric fireplaces that are fitted directly into a wall provide an installation with an advanced sleek look, since the fireplace's front surface is usually perfectly flush with the wall. These units feature zero clearances and may need to be installed by a qualified professional. Hanging wall mounted electric fireplaces come complete with all necessary fittings as well as instructions so that homeowners can install these units for themselves. Most instructions will be illustrated for ease of use. Some electric fireplace models are highly flexible because they bridge categories and can be installed directly into a wall or can hang like a traditional wall mounted model. In some cases, these units can also stand on the floor and be incorporated under a mantel already present.
About Electric Fireplace Inserts
There are two main types of electric fireplace inserts: log inserts and full cabinets. A log insert simply consists of a grate, typically designed to look like cast iron, and artificial logs or coals that sit on top. Log inserts are among the simplest of electric fireplaces to install. They only need to be unpacked and positioned inside an existing fireplace before they are plugged in and switched on. Full cabinet inserts need to be assembled and are then slid into the existing fireplace. This requires more assembly but the finished look is more sophisticated. A log insert, in contrast, can create a home-sweet-home country ambience.
About Portable Electric Fireplaces
A highly affordable option is the portable electric fireplace. Like a log insert, it only needs to be unpacked and plugged in. Portable electric fireplaces are intended to be easily moveable from room to room and come in a wide variety of styles. Cast iron and wood are common materials used in the cabinet of such units, but other electric fireplaces may be minimalist and have almost no housing at all.
Find Electric Fireplaces On eBay
It is quite simple to find electric fireplaces on eBay. The search function can be used to look for particular types such as "wall mount electric fireplaces." Those who are still considering all their options may wish to see the entire fireplace category instead. To find electric fireplaces on eBay, begin with the homepage. Select Home, Furniture & DIY from the Categories dropdown, and then click on the search button. The screen should populate with a category bar on the left hand side. From here, select Fireplaces and Accessories, Fireplaces then check off the Electric Fireplace option.
Conclusion
Electric fireplaces offer homeowners an alternative to wood burning fireplaces. Most electric fireplaces are used as secondary heating sources, but they often also function as an important decorative element in a room. Careful thought must be given to the advanced features desired and to the electric fireplace style that will best match the lifestyle of the homeowner. The decor of the room itself should also be taken into account when making a final decision.