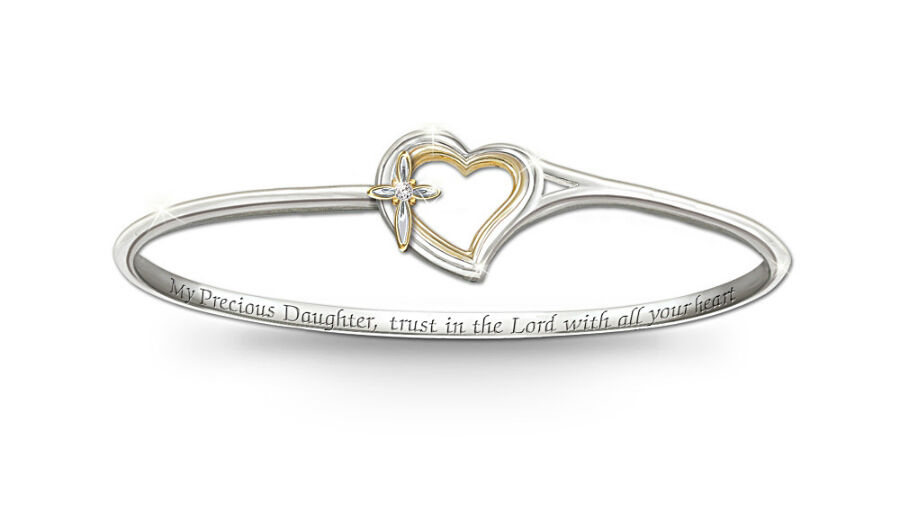 Fashion trends evolve all the time, and an individual who always wants to be in style can have her work cut out for her. Bracelets, however, are not that hard to incorporate into a set wardrobe or personal style. The designs in which bracelets come are unlimited, therefore, it is relatively easy to find several that express a wearer's personal style. Engraved silver bracelets are not all that rare, and can be acquired in many jewellery shops across the country. Still, if a buyer is looking for something unique, and of good quality, the selections on eBay can help tremendously. Silver bracelets are timeless pieces that go well with virtually any kind of attire. Silver jewellery is often understated; engravings adds a little more punch to the design.
Silver is a popular jewellery metal, especially in recent years. But still, the discerning buyer needs to know how to choose top-quality silver pieces if they are looking for fine jewellery, an endeavour which can be helped by having at least a basic knowledge of types of bracelets and silver jewellery.
Things to Consider When Buying Silver Jewellery
Many people think they know silver when they see it, but unless a person has a working knowledge of the metal, it is a good idea to do a little research into the types and features of silver. When buying engraved silver bracelets, there are a few options to consider.
Quality and Purity
There are silver jewellery pieces that can be purchased at the corner alley, and there are pieces that are only available at the most lofty boutiques. Standard silver used in jewellery and silverware is sterling silver, which consists of an alloy of 92.5 per cent pure or fine silver and 7.5 per cent copper. Like gold, the purity level of silver is stamped somewhere on the piece. For example, an alloy with 90 per cent silver is stamped with the symbol 900, and sterling silver with 925. Instead of the decimal hallmark stamp, sterling silver may also be stamped with sterling, sterling silver, or ster.
Type of Silver
While sterling silver is the most popular type of silver, there are other alloys with different amounts of fine silver. Many have unique names.
Type of Silver

Characteristics

Pros

Cons

Mexican silver

95 per cent fine silver (950) and the remaining is copper

High quality

May be too soft for everyday jewellery

Can be more expensive

Fine silver

Pure silver

99.9 per cent silver (999)

Finest looking silver

Great for coating decorative pieces and jewellery

Too soft for jewellery and silverware

Easily damaged

Sterling silver

92.5 per cent fine silver (925)

Top quality silver alloy for jewellery

Lustrous

Difficult to sculpt

Copper makes the alloy prone to tarnish

Britannia silver

95.8 per cent fine silver (958)

Top quality

More expensive

Not widely used
Fine silver is often too soft to be of use to jewellery creators, so they make do with silver alloyed with small amounts of copper. There are other types of material that are called silver, but are really not. Some of them are listed here.
Silver Plating
Silver-plated jewellery is often sold as "silver jewellery" but is a whole lot cheaper and has a lower quality. Silver plating tends to wear off or chip off sooner or later. This type also includes electroplated metals and virtually all silver-coated jewellery.
Silver-plated accessories should be kept away from people with sensitive skin, especially. When the plating peels or flakes and the base metal is uncovered, a wearer experiences problems, like rash or redness. Despite many claims that silver is hypoallergenic, it does not protect the base metal for long.
Nickel Silver
This is also called German silver, though not to be confused with the German silver that contains 80 per cent fine silver. It is an alloy of several metals that results in a grey alloy that looks like silver. Often, nickel silver is also used in silver-plated items, yet another reason not to purchase plated jewellery. Nickel can cause rash or redness when exposed to skin.
Why Buy Engraved Silver?
One of the reasons silver is popular is that it affords elegance and refinement without the exorbitant price that many quality gold or platinum jewellery pieces possess. Its understated appearance makes it easier to match with a wider range of fashions and styles than gold. Silver is also the jewellery metal of choice for individuals with sensitive skin, though that depends on the other metals used in the alloy.
Engraving is a great way to send a message using jewellery without being ostentatious. Engraved metal is often subtle in appearance, the engraved images or words appearing in full only after the bracelet is lighted at certain angles. Silver is rather hard to engrave, but worth the effort to acquire a tasteful piece that can be worn to any occasion. Buyers may see that many engraved silver bracelets on eBay range from less than a hundred pounds to several hundred.
Pointers for Buying Bracelets
There are many types of engraved silver bracelets both online and offline. Any little accessory shop has thousands on bracelets, with different styles and materials, in stock. Narrowing down such a huge selection depends on many things, not the least, the preference of a buyer.
Style
There are many types of bracelets, from charm bracelets to cuff bracelets to beaded bracelets. Every type of bracelet, and numerous variations of such, can be found on the eBay site. A buyer planning to purchase one to pair with multiple outfits should go with less bold styles, like tennis bracelets. Cuff bracelets may also be a good thing as various styles can be paired with either formal or casual wear. The advantage of bracelets is that they are easy to personalise, engraved bracelets can especially tell someone about a person without beating them over the head with it. Silver is subtle in itself, and the illusive quality of an engraving reinforces that.
Occasion
Why buy an engraved silver bracelet? Is it a gift? An addition to a personal wardrobe? Something to wear to a party? Silver bracelets can be worn to any occasion, they are not as flashy as gold so they can serve as dress up accents to a casual outfit or a simple, yet refined, accessory to go with a little black dress. The silver engraved bracelet is universal; that is, wear it anywhere and anytime. it can be difficult to select the most ideal silver bracelet for a particular occasion, but with the huge number of jewellery products on eBay, any shopper is sure to find for what they are looking.
Vintage
Vintage silver bracelets can also be found on eBay. Going vintage is an option for those wanting classic styles and the character of antique accessories. However, silver tarnishes if not maintained properly, so it can be difficult looking for vintage silver items in pristine condition.
Buying an Engraved Silver Bracelet on eBay
Many people choose eBay for their online shopping needs because of the number of options for the individual buyer. Not to mention, it is easy to find a particular object on the site, despite the size of its inventory. Simply type "engraved silver bracelet" into the search bar on any eBay page, and you receive hundreds of listings ready for your perusal. You do not want to go through every one, but narrowing down that selection is as simple as ticking off your preferences in the various menus provided, and using other site tools to order your resulting list for more efficient browsing. You can always type your preferences into the search bar, for example, "engraved sterling silver cuff bracelet&" and the resulting listings reflect those preferences. You can also search by brand, like Tiffany, or include whether you want the bracelet in certain styles.
Always remember to read the feedback that is given to a seller; do a little research into the transactions that he or she has made. A reputable seller is a reliable one. Read the listing information critically to determine whether the item is the most ideal for you. Remember to avoid plated accessories or those that have something to be desired when it comes to quality. After you have determined the item and evaluated the seller, check the shipping options offered and return policies of the vendor to ensure that your purchase gets to you safely and intact.
Conclusion
The popularity of silver jewellery has not waned in the least, since people began using the precious metal as body ornaments centuries ago. There are several kinds of silver alloys that may be used to create jewellery. Most of the top quality alloys have at least 90 per cent fine silver in them, though some good quality pieces are also created with less. Remember that silver-plated and faux silver items are not in any way acceptable for occasions where you really need to dress up. At least, if there is a need to fake it, then fake it convincingly.
Silver jewellery makes good heirloom items too, especially those that are inlaid with precious stones. Engraving a bracelet is one way to personalise it, and bracelet styles, like charm bracelets, can benefit greatly from out-of-the-box engraving ideas. A buyer who does not want to purchase a custom made bracelet, should consider eBay as one of her sources of the more unique items on the market.