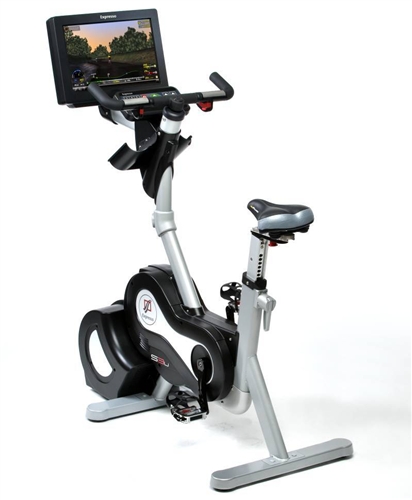 Exercise bikes are a great, convenient way to work out. They allow people to enjoy the benefits of cycling all year round, without having to face rain or cold weather, or worrying about night-time dangers such as low visibility. Cycling is a lower impact exercise than running, which means that it minimises stress on the feet, knees, hips, and back. There are many factors to consider in order to choose the right exercise bike as the price and features can vary dramatically from model to model.
After identifying a budget and who intends to use the bike, buyers should decide which type of exercise bike suits best their needs, and then look at key features, such as the type of resistance and the training programmes available. Finally, buyers should consider storage and portability for the times when the bike is not in use. Buyers can find exercise bikes at department stores, specialist exercise shops, and online retailers, like eBay, which offers a convenient way to locate a large variety of exercise bikes at affordable prices.
Set a Budget for the Exercise Bike
Exercise bikes vary in price based on the technology that they use and the features that they have. Many basic exercise bikes can be relatively inexpensive. Buyers should research beforehand to get an idea of which features are necessary, and then set a budget based on those requirements. Buyers on a budget can also consider choosing a used exercise bike, which is typically less expensive. However, verify that the item is in good working condition before buying.
Know Who Plans to Use the Exercise Bike
Before making a purchase, it is also helpful to know who is going to use the exercise bike: just one person or the entire household. If more than one person plans to use the same exercise bike, then check that the seat is easily adjustable to accommodate different heights: some exercise bikes may be too small to seat a very tall person comfortably. Even if only one person plans to use the bike, it is still good to have adjustable functionality for the height of the seat and the reach of the handle bars.
Also consider the user's fitness level when buying an exercise bike. Novice users may do perfectly well with an entry-level bike with minimal features, but serious cycling enthusiasts may prefer more advanced features, such as built-in training programmes, for a more effective workout and to help them to reach new levels of performance.
Choose a Type of Exercise Bike
Buyers have four types of exercise bike to choose from, so they should consider the benefits of each type carefully and decide which best meets their needs. The four types are upright, dual action, recumbent, and spinning.
Upright Exercise Bikes
Upright exercise bikes are the stationary equivalent of traditional bicycles, requiring the user to sit up while pedalling. Upright exercise bikes are usually small, but some people may find it difficult to climb onto or dismount the bike. Upright exercise bikes are a great way to get a solid lower body and cardiovascular workout.
Dual Action Bikes
A variation on the traditional upright exercise bike is the dual action model. Whereas the upright exercise bike typically provides only a lower body workout, the dual action bike provides a full body workout as it features moveable handlebars.
Recumbent Exercise Bikes
Recumbent exercise bikes let the user recline in a natural position while pedalling. This is often more comfortable for people with back problems and those who have difficulties with traditional upright bikes. Recumbent bikes help to promote healthy blood flow and make it impossible to cheat while pedalling because the user is not upright.
Spinning Exercise Bikes
Spinning exercise bikes, also known as training bikes, are another form of upright exercise bike. They are great for serious cycling enthusiasts because they have all of the features to mimic the experience of road cycling, such as adjustable resistance. A spinning bike provides an intensive workout.
Look for Key Features of Exercise Bikes
Buyers should consider the features that an exercise bike has to offer, such resistance, a heart rate monitor, training programmes, and brake systems. Not all features are important to every buyer.
Resistance for Exercise Bikes
Resistance for an exercise bike is used to increase the intensity of a workout, but the way that a given model achieves that resistance varies. Many basic models of exercise bike use a simple tension belt that can be adjusted manually. Other exercise bikes create tension with air pressure supplied by a fan blade. Top of the range models often use magnetic resistance, which is effective and reliable, as well as quiet.
Flywheel Weight for Exercise Bikes
Exercise bikes designed for intensive training differ from traditional upright bikes by their use of a flywheel, which has a similar purpose to the front wheel of a traditional bicycle. A flywheel provides constant resistance when using the exercise bike, but can be adjusted to simulate riding across flat roads as well as uphill and downhill. Flywheels weigh anywhere from 44 kg to 120 kg, and the heavier they are, the smoother the ride. However, the greater weight also means more energy and power is required by the user.
Heart Rate Monitors for Exercise Bikes
One of the best ways to gauge the effectiveness of a workout is to monitor the heart rate, and many exercise bikes are equipped with built-in heart rate monitors, especially if they have training programmes. Most heart rate monitors work by monitoring the pulse through a grip on the handlebars, but high-end exercise bikes have a monitor that straps across the chest. Even if an exercise bike does not have an onboard heart rate monitor, buyers can purchase one separately, but they may lose out on the benefits, such as the bike being able to adjust a training programme automatically to keep the user's heart rate within the target range.
Training Programmes and Workout Data for Exercise Bikes
More advanced exercise bikes can be preprogrammed with a variety of training routines, which help the user to meet specific goals. The built-in programmes can be great motivators to keep in shape and work towards a personal best. Even basic exercise bikes may be equipped with a display to indicate speed, distance travelled, or total workout time. Other data may include calories burned or the amount of resistance. When choosing an exercise bike, look for a menu and layout that is easy to read and understand, as well as simple to use. This can reduce the amount of time needed to learn how to use the machine.
Consider Exercise Bike Storage and Portability
Buyers should also consider where they intend to keep the exercise bike. Most upright exercise bikes are fairly compact, but a recumbent bike may need more space. In addition, a bike with a heavy flywheel can be difficult to manoeuvre, even if the machine is compact over all. If the bike is to remain in one place, then this may not be as serious a concern. However, if the user intends to store the bike in the cupboard under the stairs or a spare room and bring it out for workout sessions, portability should rank highly on the list of priorities.
How to Buy Exercise Bikes on eBay
From the eBay home page, start searching for exercise bikes with just a few keywords, such as "magnetic exercise bike". You can filter the results to get the most accurate listings, and then apply a variety of refinements to further narrow down the search. For example, you can specify whether you are looking for a new or used bike or the seller's location. If you find a local item and both parties are comfortable, then you may be able to arrange to collect your purchase in person to reduce the postage and packaging costs.
Buying with Confidence on eBay
When shopping on eBay, always check the seller's feedback history, which is provided by eBay members who have purchased from the seller before. Positive comments and high ratings are good indicators of reputable sellers. In addition, always read the seller's listing to know exactly what is included in the purchase and the condition of the item. Visit the buying basics page in the eBay Help Centre to learn more about the process and how to make the most of your shopping experience.
Conclusion
Exercise bikes are a great way to get fit or to stay in shape because they are not restricted by the weather or time of day. Instead, users can get a workout in the convenient setting of their own home at any time. There are many factors to consider when choosing an exercise bike. Firstly, the buyer's budget. Other factors include the number of users and their level of fitness. Buyers should decide which type of exercise bike that they want. Upright exercise bikes are traditional and compact, but dual action bikes provide a full body workout rather than just activating the lower body. Recumbent bikes allow the user to recline while working out, which is good for those with back problems.
After deciding on the type of exercise bike, look for key features such as the resistance, flywheel, and extras, such as heart rate monitors and training programmes. Although not strictly necessary, these built-in features may make a workout more effective and can even motivate the user. Finally, consider how easily an exercise bike can be stored or moved around. Ultimately, whichever style of exercise bike and features are chosen, eBay offers a great selection and a convenient shopping experience.