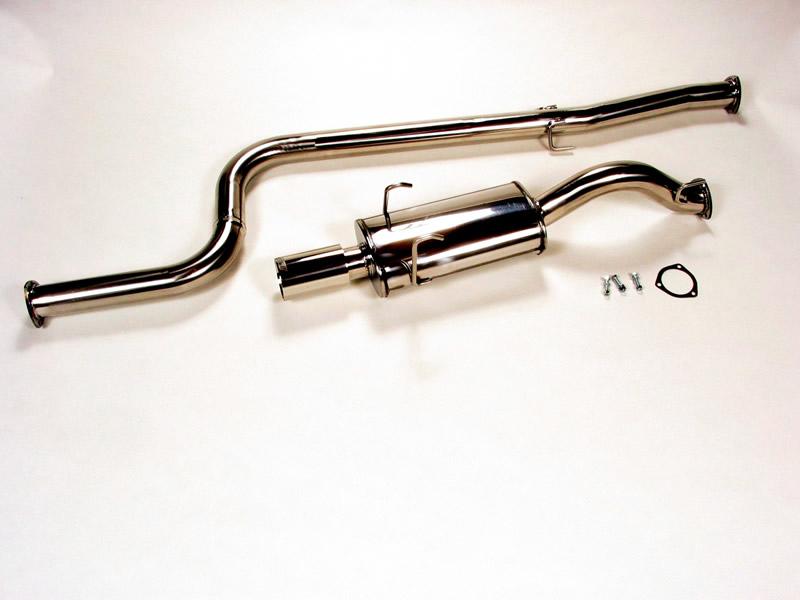 The exhaust system of a car is important for the efficiency and performance of the vehicle. It removes the waste gases from the engine to allow cleaner combustion to occur. Additionally, the exhaust system helps to reduce the noise that the engine creates when it is running. Many people like to remove the stock exhaust systems from their vehicles and replace them with ones that enhance the performance of their vehicles. This is commonly done in Nissan cars and trucks for racing, off-roading, and for show. With so many options to choose from, it may be difficult for Nissan owners to decide which type of exhaust system to buy for their cars. By learning about the differences between the different types of exhaust systems, a person can easily determine which one best meets his or her needs and is compatible with the driver's driving style. Since shopping for car parts can be expensive and time consuming, shoppers should turn to eBay to find great deals and compare prices, all without having to visit different stores.
Learn the Importance of an Exhaust System
An exhaust system is an important part of a car no matter what style of driving a person does. The exhaust functions to remove the waste gases from the engine so that more oxygen is available in the engine for combustion. This increases combustion and allows the engine to run efficiently. Additionally, it removes these harmful gases so that they do not build up on the inside of the car. Various types of exhaust systems exist, and people can purchase exhaust systems that work efficiently and boost the power of their cars. This is especially common in Nissan cars and trucks that are often modified for racing or off-road adventures.
Identify the Type of Nissan
Before purchasing an exhaust system for a Nissan, it is important for the shopper to identify the type of Nissan that he or she owns. Nissan makes a number of cars and trucks, and each one has a different exhaust system. The table below lists the different models of Nissans, as well as the type of vehicle they are.
| Type | Models |
| --- | --- |
| Standard | Pixa, Micro, Note, Juke, LEAF |
| Sports | 370Z, 370Z Roadster, GT-R |
| Sport Utility Vehicles | Qashqai, Qashqai+2, X-Trail, Pathfinder |
While the cars listed above could be divided into different classes, in terms of exhaust systems, standard, sports, and sport utility vehicles are the most important. Standard cars are designed for normal driving conditions, and shoppers simply need an exhaust that boosts its efficiency. With sports cars, owners often choose exhaust systems that boosts power and performance rather than efficiency. With sport utility vehicles, the exhaust system needs to be able to handle off-road conditions and increase the power of the vehicle. By identifying the type of Nissan that the owner has, it becomes easier to find the right exhaust system for his or her needs.
Evaluate Sound Preferences
For many people, especially those who modify their Nissans for racing, the sound of the exhaust system should be evaluated. Each muffler has its own unique sound depending on the type and the brand. Stock mufflers and exhaust systems are usually quiet and unobtrusive. People who use their Nissan cars for day-to-day driving usually prefer this type of exhaust. However, those who like to race their cars often switch to aftermarket exhausts specifically for the loud sound often associated with racing. This is also true for off-road Nissan trucks. The louder the sound, the more powerful others perceive the truck to be. No matter what kind of exhaust a shopper is looking for, he or she should keep in mind that unless a stock exhaust is chosen, the car sounds different once the exhaust is installed.
Choose a Style
Performance exhaust systems are available in a few different styles. Each style offers different enhancements, appearances, and sounds. Additionally, they can be made from a number of different materials, though steel is the most common. The two main styles that shoppers often look for when purchasing aftermarket exhausts for Nissans are single exit and dual exit exhausts.
Single Exit
A single exit exhaust system has one set of exhaust pipes, a muffler, and one tailpipe and tip. These types of exhausts give the car a boost in torque, power, and economy without requiring a lot of work in terms of installation. An aftermarket single-exit exhaust system can easily replace a stock exhaust without the need for extra bolting or welding. Typically the single exit exhaust exits at the rear of the vehicle, but can also exit to the side of the vehicle. Side exits do not offer additional performance enhancements and are simply for the sake of appearance.
Dual Exit
Dual exit exhaust systems have two sets of pipes, two mufflers, and two tailpipes and tips. These types of exhaust systems can give a racing or show Nissan a hot rod appearance. They provide a boost in torque and power, but the comparison between dual exit and single exit is negligible. The standard design of a dual exit exhaust exits to the rear of the vehicle on each side. As with single exit, it can also exit to the side of the vehicle to give a different look..
Determine the Size of the Exhaust Pipes Required
Every exhaust system has a set of pipes that goes from the engine to the muffler to the rear of the car. Many people incorrectly assume that a larger exhaust system is better because it allows the waste gases to be moved out of the engine more quickly. When it comes to exhaust systems, bigger is not always better. The size of the pipes is entirely dependent on the size of the engine of the car. So, the size of an exhaust system for a large Nissan SUV would be entirely different from that of a smaller standard Nissan vehicle. To determine the size of the exhaust needed, car owners should look at the size of the stock exhaust system and also the engine displacement. A Nissan with an engine displacement of 250-300 cc could use an exhaust that is nearly half the size of a Nissan with an engine displacement of 450-500 cc. If the pipes are too large, they negatively affect the power, performance, and efficiency of the car.
Examine the Budget
As with all modifications for a car, a Nissan owner should examine his or her budget before making a purchase. With various levels of quality and performance there are also various prices points. Stock exhaust systems are often priced much lower than performance parts. Shopper should think about how much they are willing to spend before making a purchase. This gives them an idea for what kind of exhaust system they can afford.
OEM vs. Aftermarket Parts
When choosing an exhaust system, shoppers have a choice between OEM and aftermarket parts. OEM parts refer to original manufacturer parts. These are stock items that offer no performance gains. They are cheaper than performance parts, but not necessarily the cheapest parts available. Some aftermarket parts are made to meet manufacturer specifications but are priced much lower. Depending on the brand, these exhaust systems may not offer the same level of quality.
Other aftermarket parts are designed specifically to enhance performance of the Nissan car or truck. These exhaust systems are made by a number of different manufacturers and each one performs differently and offers a different level of quality. As such, the prices of these vary greatly. Some of the top brands for aftermarket Nissan exhaust systems are Klarius, BM Catalysts, and Link.
Used Exhaust Systems
Another way to save money on an exhaust system is to purchase a used exhaust system. This is especially true for people who just need to replace their stock exhausts. Since so many people modify their Nissans by removing the stock exhausts and installing aftermarket performance exhausts, they in turn offer the stock exhaust for sale. These are often in good working condition and priced much lower than new parts. A shopper should be sure to examine the condition carefully to ensure that the parts are in good condition before making a purchase.
How to Buy a Nissan Exhaust System on eBay
You can find great deals on new and used exhaust systems for a Nissan on eBay. This large online marketplace makes it easy for you to browse and compare different items. To perform a basic search, start by entering keywords into the search bar. Be specific about what you want so that you are not inundated with numerous irrelevant results. Once the initial listings are returned, you can narrow down the options to those that more specifically meet your needs. From there, you can browse the descriptions and pictures of each item to find the exhaust system you wish purchase.
Delivery Options
Complete exhaust systems are large, bulky, and since they are made of steel, they are also heavy. Postage and packaging fees can be quite expensive for these items. Fortunately, eBay sellers offer a number of different delivery options to make it more affordable and convenient for you. Some sellers offer free postage and packaging, while others are willing to make arrangements for you to pick up the parts in person. If you need the exhaust system sooner, some sellers offer express delivery for an additional fee.
Conclusion
Nissan is one of the largest automobile manufacturers in the world. The cars produced by Nissan include a wide range of passenger cars, sports cars, trucks, and sport utility vehicles. People enjoy the powerful engines and sleek appearances that Nissan cars have to offer. For this reason, many people choose to modify their Nissans to enhance their appearance or performance. One such modification is the exhaust system. This part of the car is essential for the car to run efficiently and for boosting the power of the engine. With a large selection of OEM and aftermarket exhaust systems to choose from, a Nissan owner can easily find the one that best meets his or her driving needs. Because exhaust systems can be expensive, shoppers should explore all of their options to find the best prices. Additionally, shoppers can find the best deals and the best selection by shopping online at eBay.