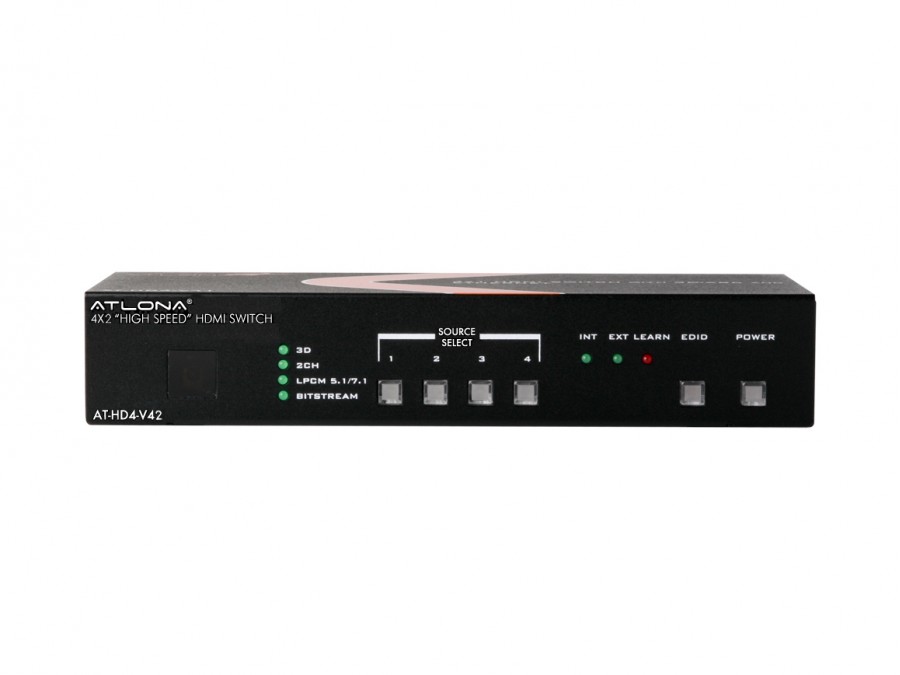 HDMI stands for high-definition multimedia interface. It transmits high-definition signals, including video, 3D-encoded video, and multi-channel audio. HDMI is the preferred option for home entertainment systems: HDMI switches work with Blu-ray players, games consoles, DVD players, and media streamers. High-definition content can be displayed on a computer or TV screen, but when the display device has only one HDMI input it is not possible to connect more than one device at a time. In this case, a games console and a DVD player could not both be connected at the same time. So, using an HDMI switch means that multiple source devices can be connected to a computer or TV, which is a convenient option because the devices do not have to be unplugged when not in use. Moreover, it is not necessary to buy a new TV just because it does not have enough HDMI ports in order to meet the buyer's needs.
Before buying an HDMI switch on eBay, consider its features, its compatibility with other devices, as well as how to install and operate it.
Features of HDMI Switches
HDMI switches have a number of features that should be taken into account before buying on eBay. The number of ports, the HDMI cable, and the power source play an important role.
Ports on an HDMI Switch
The number of input ports on the HDMI switch varies. More than one port is required so that multiple devices, such as a games console and DVD player, do not have to be unplugged in order to connect a new one. Therefore, buyers should consider purchasing an HDMI switch with as many input ports as are available, so they they can be used as new devices are bought. It is also wise to consider the number of output ports. Basic HDMI switches have only one output, but the buyer may want the ability to transmit a signal to several TVs or projector screens. There are HDMI distribution amps that allow the buyer to connect one device with up to eight screens that then show the same picture. The most complicated input and output system is the HDMI matrix that connects multiple inputs and outputs and offers great flexibility.
Cable for an HDMI Switch
An HDMI cable transmits both video and audio, but occasionally additional audio capabilities are needed to allows for the integration of a source with a surround sound system. Some HDMI switches have optical-audio ports.
Powered Signal Amplification for an HDMI Switch
If the cable for the HDMI switch is very long, that is over 10 metres, then the powered signal amplification helps to strengthen it. This ensures high quality transmissions with a high speed at all times.
Power Source for an HDMI Switch
HDMI switches can be either powered or self-powered. Powered switches are plugged in with an AC adapter, while self-powered devices mean fewer wires around the house. Some self-powered models still have a power supply included in order to ensure that they are still compatible with older HDMI devices.
Audio Return Channel for an HDMI Switch
Some HDMI switches come with extra features that add to the functionality. For example, eBay offers HDMI switches with an Audio Return Channel (ARC) that increases flexibility by sending audio data to a surround sound controller or an AV receiver. With the ARC, there is no need for a separate audio connection. This is beneficial when the HDMI switch is used with a TV that has a tuner or integrated DVD player, as it allows the audio to be sent from the TV to the surround sound system.
HDMI Switch Compatibility With Other Devices
An HDMI switch should be compatible with all of the devices that the buyer wishes it to be used with. Therefore, it is important to check the HDMI version before buying on eBay. The audio and video formats should be checked as well in order to ensure that all the necessary definitions are available. It is also worth considering whether the switch supports full 1080p video, if this is necessary. The following table compares the features of different versions of HDMI switches.
HDMI Version

Features

HDMI 1.0

Data transfer up to 4.9 Gb per second

Plays back standard Blu-ray discs at full resolution

HDMI 1.1

Supports DVD audio

HDMI 1.2

Supports super audio compact discs (SACD)

HDMI 1.3

Data transfer up to 10.2 Gb per second

Supports the streaming of DTS-HD Master Audio and Dolby TrueHD to external audio-visual receivers for decoding

HDMI 1.4

HDMI ethernet connection between devices

High video resolution

Supports 3D TV control codes
HDMI 1.1 had the basic features and the newer versions are very similar, but with additional features. Note that the older HDMI versions do not have as many features as the newer ones. However, it may still be possible to buy a good older HDMI version if the new features are not essential. In any case, the HDMI version for the existing devices should be checked.
Installing an HDMI Switch
In general, installing an HDMI switch bought from eBay is simple enough to be completed by the buyer. They only need to know which ports to use. The HDMI port on a TV or any other device resembles a USB port, but is wider and thinner. The HDMI switch is connected to various devices by using an HDMI cable and corresponding HDMI ports on the devices. The shape of the connection allows for the HDMI cable to be inserted only one way round. A single cable is able to transfer both video and audio. Some devices have a DVI connector. It is possible to buy a DVI to HDMI cable, so that these devices can also be connected to the HDMI switch. However, DVI only sends video.
After the cables are connected, the switch should be turned on. The devices should then be detected and connected, if they are working correctly. Sometimes the HDMI switch needs further configuration, but it usually works with the plug and play principle, requiring no expertise.
Operating the HDMI Switch
The HDMI switch can be operated either automatically or manually. Automatic HDMI switches connect to the device automatically when it is turned on. Most automatic switches can be overridden manually. Manual switches are operated by using a select button or a remote control. The activity of the HDMI switch is usually indicated by lights on the switch: a green light is typically the indicator of active processes.
Buying an HDMI Switch on eBay
eBay is a large auction site that has a number of sellers that offer HDMI switches. Therefore, it is possible to find the just right HDMI switch, once you have done your research.
Searching for an HDMI Switch on eBay
You can start your search for an HDMI switch on the eBay main page by typing your keywords into the search box. The basic search "HDMI switch" yields more results than using specific search terms. From there on, you can sort your results by price or item condition. You can also read the item listings in order to find out about the specific features of the switches so that you can make an informed decision. If you have something very particular in mind, you may include it in your search terms, but not all sellers list everything in the item name and sometimes you have to delve deeper into the item listing for details.
Knowing the Seller
To find the best service, you can check the seller's feedback and ratings before you make your purchase. Top-rated sellers have a good reputation within the eBay community. On the other hand, you can also assess the seller by checking the item listing and information provided there. Good sellers list all of the necessary information in a concise way and are always ready to answer your queries. They should also provide information about refunds, exchanges, payment methods, and local collection, if that is an option.
Conclusion
HDMI is a high-definition multimedia interface, which transmits high-definition video and audio signals that are commonly used in home entertainment. Screens, such as computers and TVs, can deliver the quality video and audio from many HD-sources when they are connected to the switch. HDMI switches are especially useful when there is more than one source, such as a games console and DVD player. HDMI switches can have multiple ports for inputs as well as outputs and the number should be chosen according to the buyer's needs: the more devices that need to be connected, the more ports are required. It is also wise to think about any devices that will be bought in the future and buying a switch with as many ports as are available.
HDMI switches can be either powered or self-powered and they are operated either automatically or manually. The compatibility with other devices should be considered carefully by checking the HDMI versions used. If advanced features are required, then the switch should have a newer HDMI version. The HDMI switch is usually installed with a simple plug and play principle. So, it requires no additional configuration. eBay offers a range of HDMI switches for all versions, with many extra features.