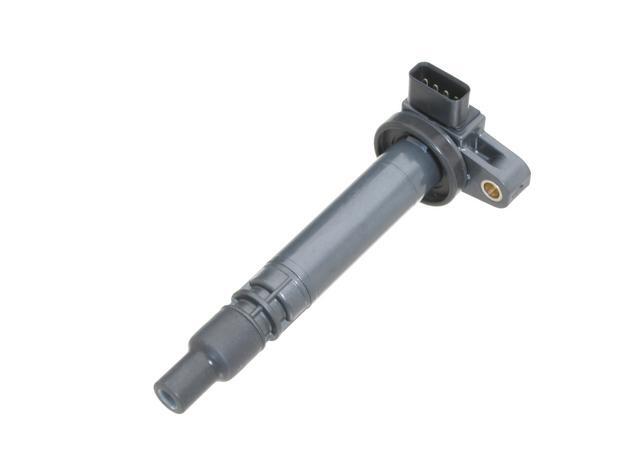 Toyota is the third largest manufacturer of automobiles in the world. Toyotas are a popular choice due to their style and efficiency. Toyotas are commonly seen on the streets of the UK, and most owners take the necessary steps to ensure that their vehicles are in top condition. The ignition coil is a part that many people are not familiar with, but without it, the car would not function. Without the ignition coil, the car would not be able to start or burn fuel to propel the car forward. Fortunately, parts for Toyotas are readily available and affordable. If the ignition coil fails, a person can easily find new and used parts to make the the necessary repair. When shopping for an ignition coil for a Toyota, a shopper should take the time to learn about the different parts, determine his or her driving needs, and find the best deals. eBay makes it simple to find and compare different ignition coils for Toyotas.
Learn What Ignition Coils Are
The ignition coil is an important part of the ignition system of a Toyota or any other car. This part converts the voltage from the battery to a higher voltage needed to create the sparks to ignite the fuel. A wire from the ignition coil is connected to the distributor, which then connects to each of the spark plugs on the engine. A few types of ignition coils and systems exist, and depending on the type of car, the ignition coil can be located in a number of different places under the bonnet. Not all Toyotas use the same ignition coils, but they all perform the same job.
Explore the Types of Ignition Coils
Before purchasing an ignition coil for a Toyota, a shopper should familiarise himself with the different types available. Purchasing the wrong type means buying a coil that is incompatible with the other parts of the ignition system. In order to use that part, the other parts would need to be replaced as well. Shoppers should learn about the different types to ensure that they purchase the ignition coils that fits with their existing ignition systems. The three main types of ignition coils are described in the table below.
| Type of Ignition Coil | Description |
| --- | --- |
| | Current flows through the windings of a primary coil to create a magnetic field; opens the distributor cam to collapse the magnetic field and create a spark |
| | Current flows through the windings of a primary coil to create a magnetic field; signals a control module to create a spark |
| | Uses three or more coils mounted together to fire a single spark plug |
As seen in the table above, the three different types of ignition coils operate in different ways. In addition to their different operations, they are also installed differently. Conventional and electronic ignition coils are seen primarily in vehicles manufactured prior to the 1980s. Those Toyota owners replacing ignition coils for their newer Toyotas likely need distributorless coils.
Find the Right Ignition Coil for a Toyota
In addition to the three types of ignition coils, several ignition coils have been developed to offer better performance in different situations. While some people may think that the ignition coil is not a major part in terms of driving and only necessary for starting the car, this is not the case. The ignition coil can improve performance while driving or racing.
Stock Ignition Coils
Stock ignition coils are those that are made by the manufacturer. If the ignition coil simply fails to work any longer and needs to be replaced, then this is likely what the shopper is looking for. These can be purchased from a Toyota dealer or from an auto parts store. The stock ignition coils offer no improvements or enhancements to driving performance.
Street Ignition Coils
Street or stip ignition coils are rated at a higher voltage than stock ignition coils. This increased voltage results in quicker and easier starting, as well as improved throttle response and gas mileage. These coils are able to increase the amount of fuel that is ignited to increase combustion for more power and more efficiency. The high voltage and high current capacity seen in these coils are necessary to accommodate the needs of an engine that is operating at low RPMs for a long period of time. These types of ignition coils should be considered by Toyota owners who have modified their Toyotas to participate in street races but also drive their cars under normal conditions.
Race Only Ignitions Coils
Race only ignition coils are designed with a higher voltage than street ignition coils, but they have a low current capacity. Race only ignition coils should only be used with race cars that are not driven at low speeds or low RPMs. They are designed to accommodate the needs of an engine that is operating at high RPMs for an extended period of time. If the car is driven too often at low RPMs, then the ignition coils can burn out very quickly. These types of ignition coils should be considered by those Toyota owners who have modified their Toyotas solely for the purposes of racing, such as professional race cars.
Choose a Brand
There are a number of brands for Toyota ignition coils available. Stock or OEM parts are available directly from the manufacturer, but aftermarket parts are also available. These ignition coils are developed by third party manufacturers, and while these manufacturers have designed the ignition coils to operate the same and fit to the same connections, their quality varies greatly. All performance ignition coils are considered to be aftermarket parts since they do not meet the same specifications as OEM parts. Some of the top brands for ignition coils for Toyotas are Blue Print, Kerr Nelson, Intermotor, and Bosch.
Save Money on an Ignition Coil for a Toyota
The cost of the ignition coil should also be considered when purchasing a new or replacement part for a Toyota. The cost of car parts can quickly add up, especially if many repairs and modifications need to be made. Shoppers have several options for saving money on an ignition coil, both at the purchasing and installation stages.
New vs. Used Ignition Coils
New ignition coils have never been used before and their performance is often guaranteed by the seller or manufacturer. However, they are also the most expensive. Shoppers should consider used ignition coils whether they need a replacement or want to make an upgrade to their current ignition system. Used ignition coils are available in a wide range of conditions. Some have been used a lot in the past, and while still in working condition, may not be in the best shape. Over time, ignition coils can weaken and not perform as they should. This could cause the engine to misfire or skip. Others have not been used much and appear to be like new. A shopper should evaluate the condition before making a purchase to determine which ignition is the best deal for the money.
Repairs By a Mechanic
Another way to save money on the cost of replacing ignition coils for a Toyota is at the installation stage. The steps for replacing the ignition coils for a Toyota are not that complicated. However, for a person who does not have an understanding of car repairs, this can seem like quite a task. While safety precautions do need to be taken while working with the car battery and the electrical or ignition system of a car, it is possible for an amateur to replace the ignition coils quite easily. Repairs by a mechanic are often much more expensive than the part itself. If a mechanic must be hired, then the car owner should take this cost into consideration when making up shopping budget.
How to Buy an Ignition Coil for a Toyota on eBay
If you are looking for a great deal on an ignition coil for your Toyota, then eBay is the place to look. In this online marketplace, shoppers have the ability to search for parts from all over the UK and locate hard-to-find parts that cannot be found anywhere else. This is especially true for older Toyotas and parts that are not readily available from auto parts dealers.
Search for an Ignition Coil
Use the basic search function to begin your search for an ignition coil. To do this, enter keywords into the search bar to describe the ignition coil that you need. Be specific so that a list of relevant results are returned. For example, a search for 'ignition coil' is too broad, but a search for 'toyota camry ignition coil' returns a smaller set of results that are relevant to the vehicle you have. From here, select different categories and options to further narrow down the list to find the item that you wish to purchase. You can also sort the listings by price or location.
Conclusion
As one of the most popular makes of vehicles in the world, Toyota cars and trucks are easy to repair and find replacement parts for. When the ignition coil fails in a Toyota, it is necessary to have it replaced as soon as possible to ensure continued operation. Without it, the fuel in the car would not ignite, a necessary step in a combustion engine. Fortunately, the ignition coil is easy to replace and is affordable. When shopping for an ignition coil for a Toyota, a car owner should know what type he or she needs, as well as what type best suits the car owner's driving needs. Additionally, shoppers should look for the best deals to ensure that they do not pay more than they need to for the auto repairs. A number of new and used parts are available from retailers and private sellers around the UK. To simplify the shopping process and find the best deals, shoppers should search online at eBay.