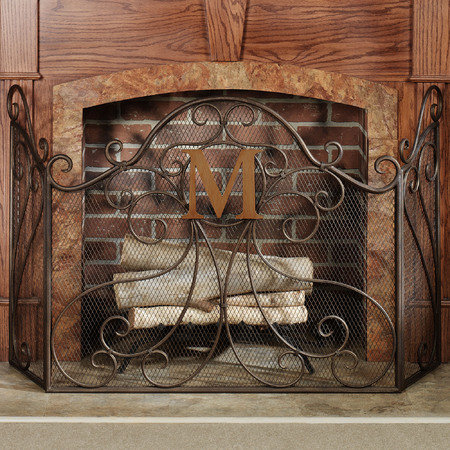 A durable, iron antique fireplace brings functionality and old-fashioned style to any room of the house. Sturdily built and available in a variety of options, an iron antique fireplace can be paired with a decorative mantel or serve as a standalone piece. There are lots of styles available, from ornate Victorian or Rococo, to simpler Edwardian or Federal designs. Add useful or decorative accessories to an iron antique fireplace to make it a real focal point in a room. With at least a hundred years of history, an iron antique fireplace is a decorative and functional piece of art that adds a cozy touch of warmth to a home.
History of Iron Antique Fireplaces
Fire has been an important component of human existence since prehistoric times, and fireplaces were the main source for providing heat in communal spaces. The first domestic fireplaces were placed in the middle of a room; with a hole cut into the roof to let dangerous smoke escape. In the middle ages, the fireplace was set into a wall and a chimneypiece was used to let out smoke, creating a more sophisticated heating system.
Cast iron was initially made in China over one thousand years ago, and was used for such things as pots, weaponry, architecture and ploughshares. It became a popular material in the West during the 15th century because it was an incredibly resilient and long-lasting building material that could withstandhigh temperatures and absorb heat. As fireplaces and their mantels became more ornate, cast iron or other materials such as marble started to be used as ornamental elements for the fireplace area. Indeed, the fireplace gradually became the focal point of a room, reaching its height in the Victorian era. Cast iron could be used for fireplace accessories as well, such as stoves, fire backs and other elements. However, in the 20th century many fireplaces were removed from houses as other kinds of heating systems were installed.Today iron antique fireplaces are often sought after for home restoration projects.
Discover Iron Antique Fireplaces
Iron antique fireplaces bring cozy warmth and charm to a living room, bedroom or kitchen. They have a long history of serving many functions, from cooking to centralized heating, while providing a decorative focal point to a room. There are many styles of iron antique fireplaces available, so matching one with the existing décor of a room simply requires a little research. Practical and elegant, iron antique fireplaces are durably made and steeped in tradition. A gathering place for family and a producer of warmth and comfort, an iron antique fireplace is a welcome addition to any home. With some care, it can be kept in excellent condition and appreciate in value.
Components of an Iron Antique Fireplace
There are many components that may be present in an iron antique fireplace. Listed below are some of the most basic features that may be found:
Fireplace Insert or Grate: This is the basic element of an iron antique fireplace. It is the metal structure that holds the coal or wood that burns in the fireplace.
Hood: An insulating piece that attaches to the top of a fireplace opening to protect the mantel from heat and soot damage. Usually made with metal or another fire-resistant material, hoods are quite simple in design most of the time, although some have ornate patterns or carvings.
Fire Back: A flat piece of cast iron that is placed against the back wall of the fireplace to provide extra insulation and protection. As the fire back heats up, it radiates heat out into the room. Fire backs are often very ornate and decorative.
Hearth: The hearth is usually made of stone and lies on the bottom of the fireplace with an extension in front at ground level. Some extensions are tiled or bricked.
Mantel or Fireplace Surround: A mantel is the decorative surround of the fireplace. A mantel is usually made with fine materials like marble or wood, sometimes fairly plain in design and sometimes very ornate. Mantels also come in cast iron. The topmost part of a mantel, called the mantelpiece, is used for display.
Types of Iron Antique Fireplaces
There are several different kinds of iron antique fireplaces and some of the most distinct differences come from the style periods in which they were designed.
Rococo (18th century):This French style is luxurious and decorative, featuring heavy scrollwork, serpentine forms, floral patterns and Neo-Classical figures. Parts of the iron may be embellished with bronze.
Victorian (1837-1901): The Victorian era was an age of revivals, from Neo-Classical to Regency and Gothic periods. Victorian designs tend to be heavily ornate, featuring floral designs, figures, scrollwork and other intricate details. These may be embellished with bronze.
Edwardian (1901-1910): While more understated stylistically than the Victorian era, the Edwardian period was also an age of revivalism. Lighter floral designs, carvings of figures and more Neo-Classical lines were more popular in this period.
Art Nouveau(1890-1910): Heavily ornate and naturalistic, Art Nouveau featured intricate scrollwork, asymmetrical floral patterns, and other curving, aesthetic details. A popular style for fireplaces, there is a great variety of Art Nouveau designs available.
Federal (1780-1830): A more subdued, American style that often incorporates Neo-Classical elements like pillars, straight lines and simple capitals.
Factors to Consider When Buying an Iron Antique Fireplace
There are some important points to consider when buying an iron antique fireplace, some of which are listed here:
Size - Look for an iron antique fireplace that has the right dimensions and proportions for a room. It's a good idea to seek the services of a professional who can install the fireplace properly.
Style - There are many styles of iron antique fireplaces to choose from. An ornate style like Rococo would be more fitting for a public room like the living room, while a simpler design may suit a bedroom or kitchen.
Function - An iron antique fireplace may be complemented with a wide range of accessories, like a decorative mantel, sized to work with the design of the fireplace. Before buying, consider what kind of function the fireplace will serve.
Typical Features of an Iron Antique Fireplace
Iron antique fireplaces can vary widely in function and appearance. However, here are some unifying elements that can usually be found on any iron antique fireplace:
Decorative Elements - As the focal point of a room, an iron antique fireplace is usually designed to look impressive. Decorative details like scrollwork, capitals, columns, figures and floral designs can often be found on an iron antique fireplace.
Markings- There will usually be maker's marks on an iron antique fireplace, indicating the date and place of production. This is a helpful guide for assessing the age and quality of an iron antique fireplace.
Finish - Cast iron can be finished in a variety of ways, which will impact the appearance and degree of care required for the fireplace itself.
How to Care for an Iron Antique Fireplace
To clean an iron antique fireplace, first remove any accessories. Brush the fireplace down with a soft-bristled brush, starting at the top and working downward. A toothbrush can be used to brush out soot from fine corners and edges. Now, use a vacuum brush to remove the debris.
Cast iron is sensitive to water, which causes rust. Any non-cast iron parts can be cleaned with a cloth dipped in hot water and wrung out until just barely damp. When the fireplace is clean, apply iron polish with a soft cloth and let dry completely. Lastly, buff with a dry cloth to a soft sheen.
Popular Iron Antique Fireplace Manufacturers
T. Helyear
Abraham Derby of Coalbrookdale
Thomas Elsley
James Bodley
Charles Portway of Halstead, Essex
Cannon Hollowware (later Cannon Industries)
Smith & Wellstood
Ouzledale Foundry
Durham Foundry
Kverner Brug, Norway (later Jøtul Company)
Accessories and Add-ons for an Iron Antique Fireplace
There are many accessories and add-ons that can be purchased for an iron antique fireplace. Here are some suggestions.
Fender
Fire irons
Grille
Fire dogs
Finding Iron Antique Fireplaces on eBay
Once you determine the type or style of iron antique fireplace you would like to purchase, visit the Antiques portal on eBay, click on Architectural Antiques, then Fireplaces and start searching item listings. The Categories list on the left-hand side of the eBay page helps to narrow the search.
Searching for Iron Antique Fireplaceson eBay
Search eBay listing titles for specific words when shopping for iron antique fireplaces. For example, to find an Edwardian iron antique fireplace, type 'Edwardian iron antique fireplace' into the search box, and then click the Advanced button to customise the results. Also visit eBay's Search Tips page for more advice on searching for an iron antique fireplace with keywords. If you can't find the exact iron antique fireplace you want, try shopping eBay Stores.
Conclusion
An iron antique fireplace is a useful, elegant addition to a living room, kitchen or bedroom. Sturdily made and often quite decorative, a traditional piece can add a historical element to a home. This guide has outlined the basic components of a traditional fireplace, several popular styles of iron antique fireplaces, and the best way to clean and care for one. Once you have collected this information, you can buy an iron antique fireplace safely and securely on eBay.