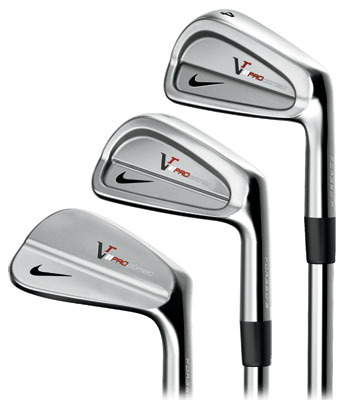 An
iron set
is a matching set of eight golf clubs – the central component in a set of golf clubs. Most iron sets are made from cast stainless steel or forged carbon steel billet, although titanium and graphite irons are also available. Clubs in an iron set are shaped so that the ball spins and have a cavity or blade shape on the clubface.
Typically, an iron set includes irons 3, 4, 5, 6, 7, 8 and 9, plus a pitching wedge (labelled PW). Clubs with a higher number have a shorter shaft; you will notice this when reviewing pictures of iron sets on eBay.
The golfer can carry additional clubs along with their iron set, up to a maximum of 14 clubs.
Buying an Affordable Iron Set on eBay
An iron set is a more affordable way to purchase golf clubs than purchasing each iron separately. Iron sets are listed within the "Golf Clubs" eBay category; review the search filters on the left hand side of the page and select the iron set checkbox.
An iron set is an investment that will serve a golfer well for many years, and eBay sellers offer a variety of iron sets made by well-known manufacturers. By using eBay's filters and search tools, you'll be able to locate an iron set that suits your budget and your style of play.
Since iron sets are heavy, you may wish to narrow down your search results to display eBay sellers that offer local pick-up, combined postage or free postage on your new iron set.
Check your seller's plans for packaging. Some clubs will be posted in their original box; some will come with a golf bag as a bundle.
Use the search filters to select women's iron sets, men's iron sets, children's iron sets or unisex iron sets.
If you are left-handed, ensure you search for a set of left handed irons on eBay.
For comfortable play, look for an iron set on eBay that has been fitted with new grips.
Features of Iron Sets
On a golf club, the clubface is the side of the head that makes contact with the golf ball. There are two different shapes in an iron set.
| | |
| --- | --- |
| Cavity Back Irons | Cavity back irons are usually cast irons. The clubheads are curved on one side to alter the weighting and balance of the club in the player's favour. Cavity back clubs are ideal for beginners since they allow for a greater margin of error during play. |
| Muscleback or Blade Irons | Muscleback or blade irons have no cavity on the back of the clubhead and are usually made from forged steel. Blade irons are most suitable for seasoned golfers since more accuracy is required. The weight is distributed more evenly through the clubhead, and as such, they require a higher skill level. |
Iron Set Shafts and Grips
Iron golf club shafts are made from varying materials. Commonly, the club's shaft is made from steel, although golf clubs with graphite composite shafts are also sold on eBay.
The material used to make the shaft can have a significant impact on the overall weight of the club, with shaft weights varying by as much as 100g per club.
A lighter club is easier to swing and carry. Heavier shafts are suitable for more experienced golfers who have more control over their swing.
Shafts are rated according to the amount of flex they offer. Beginners should opt for an 'amateur' or 'light flex' rating to compensate for a slower swing. The exact wording and stiffness rating varies from one manufacturer to another, so check the auction description for full details.
Grips are generally made from rubber and come in varying sizes, weights, colours and shapes.
Purchase new grips on eBay if your existing grips have perished or become smooth, or if you wish to experiment with a new style of grip. Grip manufacturer Lamkin recommends that golf grips are replaced every 30-50 rounds; otherwise, your swing may suffer as you over-compensate for poor grips by holding the iron too tightly.
Ribbed golf grips have a small raised strip along the inside of the grip. This ribbed area causes a small ridge on the grip and helps the golfer to align his or her hand properly during play. These grips are sometimes listed on eBay as 'reminder rib' grips.
Some golf grips are specially designed to minimise vibration. This is beneficial for golfers with joint problems.
You may also need to purchase a larger grip if your hands overlap on the club, and vice versa.
Purchase a set of 14 grips to ensure all of the irons in your iron set can be re-gripped at the same time.
Accessories for Iron Sets
Once you have selected and purchased an iron set on eBay, you will need to purchase the rest of your golf clubs and some golfing accessories.
Bags

New golfers will need to invest in a lightweight golf bag for their iron set. Trolley type bags most commonly used; choose a bag with pockets for convenient access to the rest of your golfing accessories. Beginner golfers often opt for a more affordable carry bag with a shoulder strap. Golf bags are also available specifically for use in a golf cart.

Tees

Tees are made from wood or plastic. Purchase a mixture of tees from eBay to ensure you have the right tee for each hole, plus a few spares in case your tee should snap or disappear into the earth. Tees are sold in mixed lots of different lengths and/or materials.

Balls and Accessories

Buying golf balls in bulk on eBay is a good way to ensure a constant supply during your game. Golf balls range from inexpensive, basic balls with two layers to more advanced balls with three or four layers designed for better response. Buy a bucket of driving balls from an eBay seller if you are just starting out, since you are more likely to lose a significant number until your skill level improves.

A ball marker is used to label golf balls on the green; brushes and cloths are also essential to keep the ball clean during a game. Some golfers carry ball retrievers to remove balls from the water.

Gloves

A good golf glove protects the hand against chafing. It is not necessary to purchase a glove for your dominant hand, but you may wish to purchase more than one glove for your non-dominant hand in case one gets wet during play.

Shoes

Golf shoes have rubber or steel cleats on the sole to give the golfer grip as they swing. Beginners can shop for a pair of canvas golf shoes on eBay; serious golfers will eventually want to upgrade to sturdier, waterproof shoes that offer better grip and full water resistance.

Remember to check your golf club's policies, as some do not allow metal spiked shoes on the course and will almost certainly not allow spiked shoes indoors.

Divot Tools

Golfers carry divot tools to push earth back into any indentations made during play, either from impact or swing.
How to Buy Beginner Iron Sets on eBay
Beginner golfers are advised to choose an affordable set that will serve them well as they are learning the game and improving their swing. A set of cast irons is the best option. Cast irons are included in a majority of iron sets sold on eBay.
Cast iron golf clubs can be used inconsistently while still giving good results. The drawback is a slight learning curve when you improve and switch to a forged iron set.
Beginner golfers who are looking to spend a little more should consider buying a titanium iron set on eBay. Although these irons are more expensive, they are lighter and offer better playability for golfers with high handicaps.
If you are a beginner golfer, consider purchasing a used iron set on eBay. Many of these sets have only seen light use and are perfectly usable for the occasional round of golf. Used titanium iron sets are considerably more affordable than brand new sets.
Often sellers will offer local pick-up, so you can collect your golf clubs in person. This can make the set even more affordable since there are no postage costs to cover.
Used iron sets often come with the accessories you need to get started. Look for an iron set that is bundled with a used club bag, gloves and golf balls.
How To Buy Advanced Iron Sets on eBay
Forged iron sets are ideal for golfers with experience and a higher handicap. These clubs require a better level of skill and a more consistent aim and swing. In return, the golfer benefits from better control and more accurate feedback about their playing technique. This allows the golfer to correct mistakes in their swing more readily. Forged steel is heavier and feels more solid in play.
Forged iron sets are less common than cast iron sets, but they are readily available from sellers on eBay.
Conclusion
Providing you have a general understanding of your handicap, you'll find an iron set on eBay to suit your budget improve your game. Whether you opt for affordable cast iron sets or a more advanced forged iron set, your eBay seller is there to ensure you obtain the perfect clubs to support your ability and playing style. For the best value, purchase golf club accessories from the same seller and benefit from low postage costs or local pick-up when the auction ends.