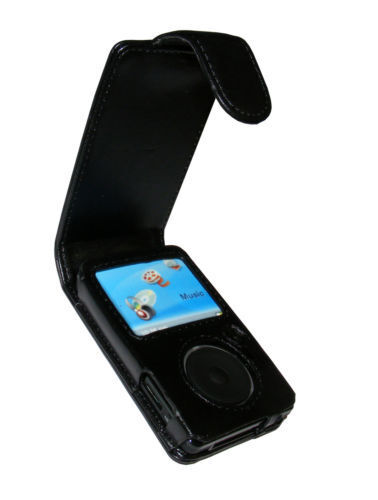 MP3 cases are one of the most important accessories needed for an mp3 player. Within time, all MP3 players become subject to the risk of abuse or damage that comes connected with the owner's day-to-day travel. The numerous materials, types and colours of mp3 cases offered coincide with the different uses associated with the accessory. MP3 player owners will search for an appealing MP3 case based on their individual style, comfort and protection needs. Ideally, an MP3 case should provide many years' worth of quality protection. Investigate different brands, materials and styles to find an MP3 case that provides adequate quality in relation to its price range.
About MP3 Cases
An MP3 Case's utility lies in its ability to protect an MP3 player from damage and light wear. As well, MP3 cases are growing as a trendy electronics accessory sometimes purchased solely based on visual or fashion appeal rather than their protective ability. Cases contain padding or a layer of material, which usually surrounds the edges and back of the MP3 player, to separate and shield the device from outside sources of wear. Depending on the type of MP3 player, accompanying cases vary in style and size. Convenient and well-designed cases will make all of the MP3 player's buttons and functions easily accessible while the case is equipped. Consumers do not want to be wrestling with their MP3 case each time they want to increase volume, change songs or browse through their device. As portability is the main attraction of MP3 players in general, it is common for consumers to prefer an MP3 case that is equally as sleek and portable as the device it carries.
Choosing an MP3 Case
An MP3 player case should be purchased based on how the consumer carries their iPod or MP3 Player. Certain music fans use their MP3 players religiously to enhance their rigorous daily physical activity routine, while others occasionally carry it on their route to work or school. MP3 player users should purchase an MP3 case appropriate to the worst anticipated conditions in which they will carry their music device in. Several other factors can be used to specify the search including material, price, design and protective quality.
Materials and Types of MP3 Cases
Mp3 cases can be made by a variety of materials and come in different types.
Polycarbonate and Plastic Hard Case
Hard cases are fastened on to the MP3 player via clip on application method. Functions are accessed with cut out locations. Thicker cases usually entail higher levels of protection. Polycarbonate is a hard and durable plastic that is shatterproof, unlike regular plastic. Both plastic and polycarbonate cases can be found in the lower price ranges, are very light and protect MP3 players against accidental drops or scratches. Both cases come in an assortment of colours, styles, prices and protection levels. Plastic cases provide the most options in customization and appearance but are not considered very durable.
Gel Silicone and Rubber Case
Silicone and rubber provides protection for an MP3 player through their higher levels of shock absorbance. Silicone and Rubber soft cases are lightweight and provide protection for an MP3 player without the risk of scratching the device (Unlike some plastic cases). Hard rubber cases offer greater protection as it contains multiple layers of shock absorbing material; however, it runs the risk of bouncing off the ground if dropped, potentially leading to an exposed touch-screen being damaged. Some of these types of cases offer additional protection in the form of water resistance and screen protection. Silicone cases prevent MP3s from sliding and provide short distance fall protection. Both types allow easy access to buttons and functions with cut out regions.
Leather Case
Leather cases are durable and long lasting; however, they have average shock absorbance. Leather cases may also come as a flip case depending on the MP3 player. Depending on the quality of the leather, leather cases can get fairly expensive. Leather cases offer a more refined, professional and luxurious look. They are more sought after for style and design rather than protection and convenience. Fitment is not usually optimal, yet leather cases are still lightweight.
Aluminium Hard Case
Aluminium cases are the heaviest cases but also provide maximum protection. These MP3 cases can stand up to falls, scratches or dents. Aluminium cases have a limited selection of styles and designs. They also lack convenience based on their heavy weight and thick lining.
Sock and Velvet Case
Both a sock and velvet case provides little protection upon impact as they have low shock absorbance capabilities. Fabric cases are mostly designed for screen and scratch protection. They are very light, cheap, can be used universally but lack convenience and efficiency by covering the MP3 player's screen, functions and buttons in a pouch.
Hybrid Case
Cases meant for optimal protection infuse hybrid technology. These cases mix the benefits of various materials for protection and convenience. Effective hybrid cases generally infuse polycarbonate shells with a thick silicone interior. Some come infused with screen protectors for MP3 players utilizing touch screen technology. The polycarbonate shell supplies a shatter-resistant frame, while the thick silicone interior offers shock and weather protection. Most are distinguishable by their rugged appearance.
Different MP3 Players and Their Cases
Some cases are designed with specific MP3 players in mind.
Samsung Galaxy Player 5.0
The Samsung Galaxy Player is one of the most popular choices in a long competitive line of mp3 players. It is very popular with consumers, as it has multiple functions and is one of the premier Android devices on the market.
Ringke Case
This is a popular case as it fits the Samsung Galaxy Player snugly, also protecting the phone from damage. The case itself is made up of a high polymer coated silicone, which provides flexibility. The absorption of impact is also increased due to the use of silicone. It provides easy button access when the case is on the device and is snug as to minimize bulk.
Black Leather Case
Made from top quality soft leather that provides style and protection, the leather case is also button friendly making it easily accessible.
Gel Case
The device will be un-hindered by leaving all ports and buttons open for typical use, yet providing a stylish new look and a layer of protection.
Rubber Case
A hybrid constructed from silicone gel and plastic. A case that provides all around protection, though the rubber material can be irritable for some as it attracts debris and is difficult to get out of a pocket.
Sony X-Series Walkman
A small, nifty device from Sony that provides multiple features such as Wi-Fi, web browsing, music search and more.
X-Series Leather Case
The X-Series Leather case provides quality, design and stylish looks. It's a slim fit as it easily fits in a pocket and protects against minimal damage such as scratches. It is also foldable and able to support the Walkman for video watching features.
Leather Wallet Case
A slim fit that provides great protection to the device, it consists of a button down front flap, which protects the screen against dust and scratches. It is also great for on the go situations as it is easy to fit into anything.
iPod Nano
Loaded with a multitude of features, the iPod Nano is one of the most versatile MP3 players on the market.
Crystal Case
The Crystal Case is a simple protective case made from plastic. It is transparent, button friendly and great for protecting an iPod against scratches and scuffs.
Snug Silicone Clip Case
The Clip Case provides a sturdy carabiner clip that can be clipped on. The body of the device is covered by a non-slip silicone material and contains access to device features.
Hand Finished Leather Case
The leather case for the iPod Nano is durable and comes in a variety of options. Colours such as black, red, tan, green and more are readily available, as well as the option of cow skin-crocodile or cow skin-ostrich styles. It has a protective flap in the front, therefore providing safety and style.
Zune HD MP3
Another top competitor in the to-go music market, the Zune HD is everything the iPod Nano isn't. Its battery life is double and so is its song capacity.
Leather Flip Pouch
The leather flip pouch is a great protector against scuffs and scratches that the screen is susceptible to. It easily fits in pockets and comes with a belt clip as well.
Find MP3 Cases on eBay
To find the right case for an MP3 player, access eBay's homepage. Use the dropdown box located on the right side of the search bar and select Sound & Vision. From there, select iPod & MP3 Player Accessories, followed by Cases, Covers & Skins. Depending on the item, try searching for the proper case by typing the MP3 player's name followed by "case" in the search bar, to locate the correct model. To find a red hard case for a Samsung Galaxy Player, type "Samsung Galaxy Player 5.0 red hard case" into the search bar, which will provide a variety of selections.
Conclusion
An MP3 case represents the individuality of its owner. Many different types of MP3 players are on the market in a limited selection of mass-produced colours and designs. In addition to protecting the device, an MP3 case can help accentuate and personalise an otherwise common MP3 player. Thoroughly research sellers, items and prices to find the best MP3 case and to make a confident purchase. An optimal case will serve as a great protector, a stylish accessory, and a long-lasting convenient tool.