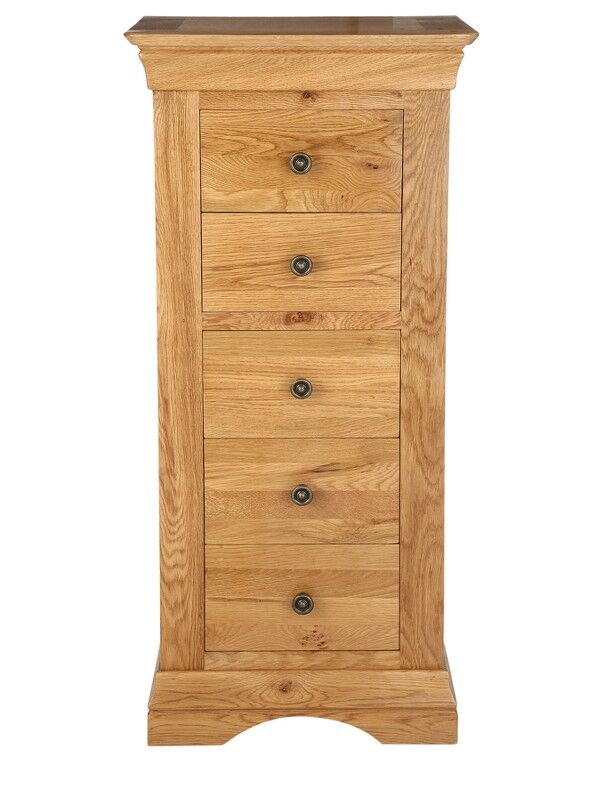 Chests of drawers are an essential piece of bedroom furniture, and can be used in many other rooms of the home. They provide storage for any number of objects, and some are designed with a top surface meant for displaying antiques, photos, flowers, and other items. Chests of drawers can be produced from several different materials, though oak is one of the most attractive, sturdy, and long-lasting. Consider the features and design of an oak chest to find the best products available, and learn about maintenance and care to prolong their usefulness.
Oak chests can be purchased from furniture stores and online retailers. Used items can often be obtained from thrift stores and flea markets, as well. Online marketplaces like eBay have a high number of listings from both private and commercial sellers, and buyers can select chests in several different conditions. The high number of items available provides buyers with many opportunities to find quality chests that will provide years of use.
Choose an Oak Chest of Drawers
Buyers shopping for an oak chest of drawers will find several options available to them. Consider the size and shape of the unit, as well as the number of drawers it contains. Decide between new and used items, and consider antique chests for a classic touch to a home decor. Begin by shopping for chests of an appropriate size.
Size
Chests of drawers are created in a wide variety of sizes. The width and depth of a chest are generally the most important dimensions to consider, though the height can also be a relevant factor. Some chests are tall and narrow, while others are low and wide. Tall chests tend to be better for rooms with limited floor space, while shorter units provide opportunities for decoration. When possible, determine the dimensions of the drawers in a chest. Lay out the clothing or other items that will be placed in the unit, and determine if they will fit in the space provided.
Measure a Room and Chest
Before committing to a purchase, take some measurements of a chest and the room it will be placed in. Use a metre stick or tape measure to determine the amount of space available in a room, and compare it with the size of a chest. The dimensions of a chest are normally listed in the description of the product. Be sure there is enough room to walk around the chest, and consider the amount of space needed to open drawers or cabinets. It is also important to consider doorways and the path to a room to be sure a chest can be carried easily into and out of its desired location.
Condition
The next step in buying a chest of drawers is choosing the item's condition. New items are sold from furniture retailers, while used items can be obtained from private sellers, thrift stores, and retailers that handle used furniture. Chests that are decades or centuries old are considered antiques, and can be purchased from antique stores. Consider the appearance, usefulness, and cost of each type of chest to find suitable products.
Condition: New
New oak chests can be expensive, though they provide peace of mind. They are generally free of damage like wear and possible pest infestation, and have not been used to store items in the past. Be sure an item is in excellent condition before agreeing to pay full price for it.
Condition: Used
Used chests of drawers can cost less, though it is important to verify their condition. If shopping in person, try opening each of the drawers or cabinets to be sure they function properly. Examine the support legs or frame at the base of the unit, and try gently rocking the chest. Avoid items that sway easily, as they have weakened joints and frames that are liable to give out over time.
Condition: Restored
Some chest have been refurbished or restored. Although these items can be in excellent condition, it is also possible for a restoration to cause new types of damage or weakness, depending on the tools, materials, and methods used. Verify that restoration work has been performed by a professional before purchasing one of these items.
Antiques
Antique chests may be more expensive than other options, though they can also feature quality craftsmanship and unique styles. Inspect antique chests in the same way as any other used item, and do some research on expensive units to determine if they are worth the asking price.
Design
The design of chests of drawers can vary greatly from one product to the next. Though most chests are designed for the bedroom, they are flexible pieces of furniture that can be used throughout a home. Consider the placement of an oak chest to find items with the best features.
Bedroom
Most chests of drawers are meant to be used in a bedroom. These units tend to be tall and narrow, and are designed with a straightforward stack of drawers. Look for a chest that contains a pair of small drawers at its top for increased storage options. Some bedroom chests can double as a dressing table, and have a mirror on top. Mirrors can also be purchased separately and added to a unit.
Dining Room
Chests of drawers designed for use in a hallway or dining room are long, and sit low to the ground. They are meant to have decorations on their top surface, and tend to have a darker finish than bedroom chests. Some of these units have cabinet doors at either end. In some cases, these have a glass front that allows interior objects to be seen. This option is ideal for storing antiques, books, or other visually appealing items.
Den or Living Room
Some chests are suitable for use in a living area. These tend to be low and wide, and may even be able to hold a television. Consider using an oak chest of drawers as a small entertainment stand.
Caring for Oak Chests of Drawers
Wooden furniture can benefit from proper care and maintenance, and a familiarity with potential types of damage can also help buyers choose quality used items. Keep the following things in mind to help an oak chest maintain its visual appeal and longevity.
Avoid Direct Sunlight
Ultraviolet rays from the sun can be harmful to wooden furniture. A cycle of heating and cooling causes wood to expand and contract, which results in warping over time, and prolonged exposure to sunlight also dries out the material and causes its natural colours to fade. Keep chests out of close proximity to heating vents, ovens, and other heat-generating devices, as well, as these can also cause distortion of the wood's shape.
Maintain Relative Humidity
Like heat and sunlight, changes in humidity cause wood to expand and contract, and this strain can eventually result in a table becoming dry and warped. Attempt to keep oak chests in stable humidity as much as possible. Humidity sensors can be used in a home, and are commonly included in atomic clocks, while humidifiers and dehumidifers are available to regulate levels.
Avoid Insects
Several types of insects are known to infest wooden furniture, including termites, carpenter ants, and powderpost beetles. Rats can also cause damage. To avoid these threats, never store food inside a wooden chest of drawers.
If buying a used chest, check the legs and base for small holes or teeth marks. Holes are a sign of insect infestation, and even if the pests are gone, the damage to a chest can already be done. Teeth marks are a sign of rats, which means a chest may contain waste products or remnants of waste from the animals. Avoid oak chests with teeth marks or holes, whenever possible.
How to Buy an Oak Chest of Drawers on eBay
Numerous types of oak chests of drawers can be purchased on eBay. An easy way to find these items is to enter search criteria from the homepage. For example, type "oak chest of drawers" into the search field to see all items tagged with those keywords. Listings can be narrowed to more specific products by introducing new keywords, or by clicking on any of the category links that appear in search results pages. Laura Ashley has a range of Oak Chest of Drawers which you can browse and buy on Ebay.
Examine item listings before committing to a purchase. Be clear on the price of the item, as well as the seller's shipping charges and shipping methods. Read the verbal description provided by the seller, and compare it with all available photos.
Review sellers and their eBay histories to ensure a positive buying experience. Click on the name of a seller in an item listing to see ratings based on past performance, as well as comments left by previous buyers. Look for users with a high positive feedback rating and numerous completed transactions to find reliable eBay sellers.
Conclusion
Chests of drawers are useful pieces of furniture for bedrooms and other parts of a home. They are designed in a range of styles and materials, and can vary greatly in their size and number of drawers. Chests made from oak are some of the most visually appealing and durable products available. Consider new, used, and antique oak chests to find ones that suit the preferences and budget of the buyer. Measure the space available for a chest before committing to a purchase, and be sure there is adequate space to move it into and out of a room. Choose chests that suit the room they will be placed in, and care for the item to ensure it provides many years of use.
Oak chests can be purchased from furniture stores, thrift stores, antique shops, and online retailers. eBay has listings for new and pre-owned chests, and it is possible to browse listings by a variety of category options. Shop around to compare prices and find the best oak chests available.