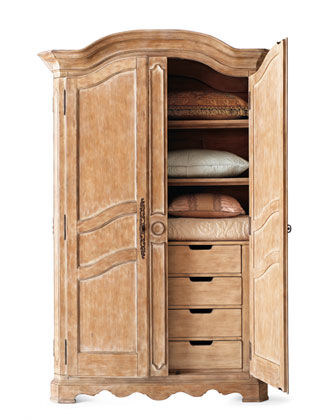 Many houses have built-in closets in larger bedrooms, but it is quite normal to have to buy a wardrobe for the smaller rooms which do not have any built-in closets. Even in rooms with a built-in closet, an oak wardrobe provides additional storage space as well as being a beautiful piece of furniture. An oak wardrobe is purchased from many different places; they are found in any high street furniture shoppes and even some larger department stores sell oak wardrobes. Potential buyers can also find an oak wardrobe in many different styles online at different furniture websites, and eBay also has a large selection of oak wardrobes to fit every style and budget.
Because of the wide variety of styles and sizes of oak wardrobes available, it is quite confusing trying to determine which is the perfect one. Shoppers have to consider the size of the bedroom which they are purchasing it for, as well as the style, colour, and size of the wardrobe. Oak is one of the more popular choices for wooden furniture, because it is a durable wood which lasts a lifetime if cared for correctly. Oak is also available in a wide variety of colours and styles.
What is Oak?
Oak is an extremely common hardwood tree which comes in two basic varieties: white and red. White oak is often more durable than red oak and is much lighter in colour. For many years, both varieties of oak have been used to make furniture including wardrobes. When buyers are comparing other wood to oak when thinking about purchasing wardrobes, they should consider these facts.
White Oak
White oak is a very strong hardwood which is resistant to wear and damage. It has a medium to coarse texture and is available in a variety of colours ranging from almost white to light grey. White oak is very easy to stain and colour, but also looks beautiful in its natural state.
Red Oak
Red oak is an extremely popular hardwood for furniture making. It has a coarse texture and is very strong and durable. Red oak is available in many colours from yellow to brown; often with a red tinge. Red oak accepts stain and colour well, or it can simply be varnished to allow the natural beauty to shine through.
Why to Buy an Oak Wardrobe
Oak is an extremely strong, durable, and heavy wood with a quality looking grain. Bedroom furniture and wardrobes built from oak are usually much stronger than those built from a different type of hardwood. This means that oak wardrobes last much longer and resist damage, even in homes with active families. Oak is the most popular hardwood for country style homes and decor, and it is also a popular choice for many other furniture styles. Shoppers looking to buy wardrobes may find that oak wardrobes fit their needs if they want wardrobes which last for a long time.
Unfinished Oak
Unfinished oak is a very popular choice amongst furniture buyers, because it can be stained to almost any colour imaginable. Or, if the wood look is preferred, it can simply be coated with a clear urethane to help preserve its natural beauty.
What to Look For When Shopping for an Oak Wardrobe
There are basically two different types of oak wardrobes available: solid oak pieces and those made out of oak veneer. Because of this, the first decision for shoppers should be which type of oak wardrobe is right for them and their situation.
Solid Oak
Solid oak is exactly what is expected. Solid pieces of oak hardwood are cut into shape and then joined together to form an oak wardrobe. Because it is made completely from oak wood, a solid oak wardrobe is often heavier and more expensive than a wardrobe made from oak veneer, but it is much more durable.
Oak Veneer
Oak veneer wood is recognised when buyers see strips or slices of oak which are glued onto another material such as a cheaper wood, plywood, or fibreboard. Oak veneer wardrobes are available in many different styles, and the veneer is even made to look old and distressed. Because oak veneer wardrobes are made from a cheaper material, they are often a lot less expensive than solid oak pieces of furniture, but they are usually much less durable.
How to Tell the Difference Between Solid and Veneer Wood
Most consumers are not wood experts and therefore find it difficult to know the difference between a solid oak wardrobe and an oak veneer wardrobe. However, there are a few questions which can be asked, and there are some tips to help educate consumers when purchasing new bedroom furniture.
If the information is not already disclosed, individuals should ask if the wardrobe is completely solid or a mixture of solid and veneer wood, or if it is completely veneer. If possible, consumers should also inspect the wardrobe prior to purchase and look for any visible signs of veneer. It is not uncommon to see a thin layer around the edges of doors and drawers, etc. They should look underneath the wardrobe and inside any of the drawers to see if the wood is the same type of wood as the outside of the wardrobe. The weight should be tested as well; a solid oak wardrobe is extremely heavy. However, a veneer wardrobe is also heavy depending on what it is made out of.
Wood Finish
When considering an oak wardrobe, shoppers should ensure that the piece is really made from oak or an oak veneer, and not an oak finish. If an oak wardrobe is advertised as having an oak finish, this means that the piece is not made from oak, instead it is made from another type of wood which is then stained and coloured to make it look like oak. If consumers are looking for a real oak wardrobe, an oak finish wardrobe is not the same thing.
Joinery
Wood joinery refers to how two pieces of wood are joined together. There are many different types of wood joints and some are much stronger than others. The type of joinery in an oak wardrobe is often an indication of the quality of the piece of furniture, because stronger joints take much longer to make and require more skill. When shopping for an oak wardrobe, buyers need to ask for information regarding the type of joinery used. Below are details on joint types and their strength.
| Type of Joint | Strength of Joint |
| --- | --- |
| Butt joint | Weak to moderately strong |
| Dado joint | Strong |
| Mortise and tenon joint | Very strong |
| Dovetail joint | Superior joint and very strong |
Drawer construction
One of the best ways to judge the quality of an oak wardrobe is to look at how the drawers are constructed and if the wardrobe even has drawers. If buyers are able to view the piece prior to purchase, it is advised that they open the drawers, look inside at the depth of the drawers, see what type of glides are used, see what the drawers themselves are made out of, and determine what type of joinery is used. Also, they should check to see if the drawers are made from solid oak or an oak veneer and if the insides are finished. Good quality drawers are made with solid wood sides, dovetail joints, and dadoed bottoms. In addition, they are completely finished on the inside. If potential shoppers are unable to view the wardrobe prior to purchase, they should ask the seller if they are willing to send detailed pictures of a drawer.
How to Buy an Oak Wardrobe on eBay
eBay has an extremely large selection of oak wardrobes available in many different sizes, styles, and colours. When looking for an oak wardrobe on eBay, begin your search on the eBay homepage. If you are looking for a particular type of oak wardrobe, you can simply type in some descriptive keywords in the search bar. For example, if you are searching for a white oak wardrobe, type "white oak wardrobe" into the search bar. You can then refine your search further by choosing material, style, features, and the condition of the piece of furniture.
However, before completing your purchase and committing to buying an oak wardrobe, you should check the seller's information for their exchange, return, and refund policies. If you cannot easily find the information, use the contact link in the seller's membership profile. Another detail you can check is the seller's location. An oak wardrobe is usually a large, heavy piece of furniture and is expensive to ship. If the seller is located fairly local to you, he or she may be willing to allow you to pick up the wardrobe rather than pay to have it shipped to you.
Conclusion
There are many different facts to take into consideration when buying an oak wardrobe, not only do you have to decide on the size and style, but also whether you want solid oak, oak veneer, or oak finish. You also need to decide whether you want a wardrobe with mirrors, drawers, and other accessories, and then you should check the joinery used in order to determine the quality of the piece of furniture. If you prefer a strong, durable piece of furniture which resists damage and lasts a lifetime, choose a solid oak wardrobe with dovetail joints. If you prefer something a little less expensive and do not need or want it to last forever, consider an oak veneer wardrobe with butt or dado joints. However, when purchasing an oak wardrobe from eBay, you also have to take into account shipping costs, unless the seller is local and allows you to pick up the wardrobe. A heavier, solid oak piece of bedroom furniture usually weighs a lot more than an oak veneer piece, and therefore costs much more to ship.
If you are looking for a traditional solid oak wardrobe or a contemporary and modern oak veneer piece, you will find that eBay has a large selection available, allowing you to find and purchase the perfect piece of furniture for your specific needs.