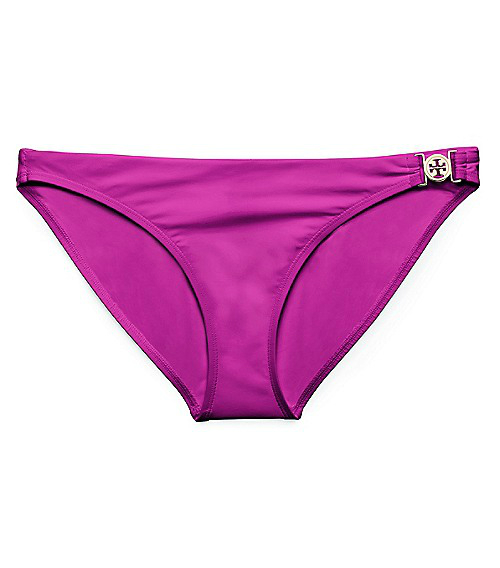 A bikini is a two-piece women's swimsuit designed to be worn in hot weather while sunbathing or swimming. The two pieces resemble a bra and knickers and are available in a wide array of styles, patterns, and colours. Some bikinis may contain added features such as padding in the bust area or underwiring which lends extra support. Bikinis vary in the amount of coverage that they provide to the wearer's body, ranging from the skimpy string bikini to the more modest tankini. Some women may base their swimsuit choice on the level of skin displayed, while others may opt for the bikini with thinner or no straps as a way to prevent tan lines. In either case, women should always take their body type into consideration when determining the best fit.
Bikinis are available from department stores and some sportswear shops, especially in the summer months. When purchasing an ultra flattering bikini at retailers such as eBay, buyers should consider the various types of bikini and how each type affects a woman's body shape. Buyers should also learn how to properly care for their bikini in order to maximise its lifespan.
Types of Bikini
There are various types of bikini that differ in style and the level of coverage that they provide. When considering the right type, women should consider their figure and the amount of skin they feel comfortable flaunting.
String Bikini
The string bikini is the most revealing type. This swimwear consists of triangular pieces of fabric which cover the breasts and pubic region; strings make up the rest. This bikini looks ultra flattering on small busted women and those with athletic body frames.
Tankini
The tankini is made up of bikini bottoms and a vest, or tank top, offering increased coverage. This style is ideal for woman who may be self-conscious about showing off their midsection. The tankini is flattering to all body types.
Halter Top Bikini
The halter top bikini is geared towards women who lead an active lifestyle. The straps fasten around the neck. This bikini provides better coverage and more support than many other styles. It is ideal for water and beach sports as the top is more secure when tied around the neck and stays in place.
Bandeau Top Bikini
The bandeau top bikini, also known as the bandini, provides increased coverage for large busted women. The top is made up of a rectangular piece of fabric and is often strapless, offering little support. The centre of the top may have a peek-a-boo hole, charms, shells, or other detailing. This bikini comes in two styles: a traditional bandeau and a bandeau that also features a spaghetti strap which ties around the neck, helping to increase support.
Ultra Flattering Bikinis for a Woman's Body Type
A woman can completely alter the way that she looks by wearing the right style bikini for her body type. The most flattering bikini will downplay a woman's flaws and emphasise her most flattering physical features. Some bikinis are designed to enhance specific areas of the wearer's figure.
Bikinis for Pear Shapes
Pear shaped women are considered bottom heavy and may have wider hips and thighs. Women with this body type should consider high cut bikini bottoms, which help to elongate the legs, while drawing attention away from the hips. In order to balance out the body, the most flattering bikini will have more fabric on the top than on the bottoms. This will help to attract attention upwards, creating definition around the bust, as will patterned tops, halter tops, and those with plunging necklines. A pear shaped woman should avoid wearing larger bottoms in an attempt to cover up her curves. It also best to stay away from boy shorts which only enhance the hips and thighs.
Bikinis for Small Busts
Small busted women often have an athletic body type or a straight, boyish figure. Women with this body type should consider an embellished or patterned bikini top. Ruffles, bows, pleating, and intricate beading add extra bulk to the chest area, helping to give the appearance of a larger bust. String bikini bottoms, or those that are revealing, help to balance out a small busted woman's body shape. Small busted women should avoid simple, block colour bikini tops as they make the chest look smaller.
Bikinis for Large Busts and Inverted Triangle Shapes
Women who are larger than a B-cup should consider bikini tops with underwires and built-in bra features. Large busted women and inverted triangles, who have a broad upper body, can balance out their larger upper half by wearing a halter top bikini with wide straps and a bottom with increased coverage. Boy shorts or swim skirts will draw the attention downward and help to make the appearance of the chest and shoulders smaller. Conversely, string bikinis enhance the appearance of the chest and make the wearer's shoulders appear broader, so should be avoided.
Bikinis for Apple Shapes
Apple shaped women are considered top heavy and tend to gain weight in their stomach area. Women with this body type should consider a tankini with ruching or a bikini top with larger bottoms that feature a fold over waistline. This waistline will help to prevent pinching at the waistline and thus, the formation of the much dreaded muffin top.
Bikinis for Hourglass Shapes
Hourglass shaped women have proportionate chest and hip measurements and a smaller waist. Women with this body type should accentuate their waistline and create the appearance of a longer torso by wearing bikini bottoms that sit low on the hips. It is best to avoid bikini bottoms that are high cut on the waist as they can make the wearer appear stocky.
Caring for a Bikini
Sweat, body oils, tanning lotions, pool chemicals, and sea salt are all leading contributors to the deterioration of a bikini's fabric. These factors are not only responsible for fading the fabric, but also for affecting the suit's elasticity. So, for a bikini to last for many holidays, it is important that they receive proper care. Wearer's should immediately rinse their bikini with clear water after leaving a pool, the sea, or any other body of water.
Laundering a Bikini
When laundering a bikini, it is always best to follow the instructions on the care label. Most bikinis, especially those with embellishments, should be hand washed in cold water with a mild detergent. This will help to preserve the delicate fabric and keep the bikini fabric from pilling. Bikinis should never be put in the dryer, as they may be damaged or their strings may get twisted. Bikinis should be laid flat to dry.
Protecting a Bikini
As a general rule, women should wear an older bikini when going in a hot tub or sauna. Heat and chemicals are harsh on bikini fabric and can cause premature fading. When sitting on the pool deck, a pebbly beach, or any other rough surface, women should place a barrier such as a towel between their bikini and the ground. This helps to prevent pilling and further damage to the bikini's fabric. Women should try to avoid long-term sun exposure as this can also cause the bikini's fabric to fade and compromise the its elasticity.
Where to Buy an Ultra Flattering Bikini
Bikinis of any type can be found at many different bricks and mortar department and sporting good stores, as well as online. The largest selection will be available during the summer holiday season, and a limited collection may be available at other times of year. An excellent option for finding all styles of bikini at good prices all year round is to shop at eBay where buyers can browse hundreds of different bikinis.
Find and Buy Bikinis on eBay
eBay provides a useful search feature to locate exact items. After determining the specific type of bikini that you want, simply type the keywords into the search field. For example, if looking for a strapless bikini, type in "bandeau bikinis" and this will take you directly to a page of listings for this product. You can filter your search by the subheadings such as size or colour.
For those who are unfamiliar with the various types of bikinis available, eBay offers an easy to navigate category search option. By following the provided category links, buyers are lead to their desired bikini. This is often the preferred way of searching as it allows buyers to see the options that they may have otherwise missed by limiting their search. Check eBay's search tips for other suggestions on the keyword search function.
Conclusion
Bikinis are an essential accessory for a holiday in the sun. Whether buying a bikini to sunbathe in or to swim in, eBay offers buyers the most unique swimsuits at competitive prices. The selection of bikinis on eBay is far larger than many other retailers offer. Choosing the right bikini is based on both personal taste and on the way that it fits a woman's body. The most flattering bikini will depend on the wearer's body shape. While small busted women benefit from an embellished bikini top, one with wide straps will provide extra support for large busted woman. Those looking for a more modest suit may opt for the tankini which provides additional coverage. Properly caring for the bikini and rinsing it after wear ensures long lasting use. With so many bikini listings to choose from, eBay can help any woman to find an ultra flattering bikini to wear while lounging on the beach.