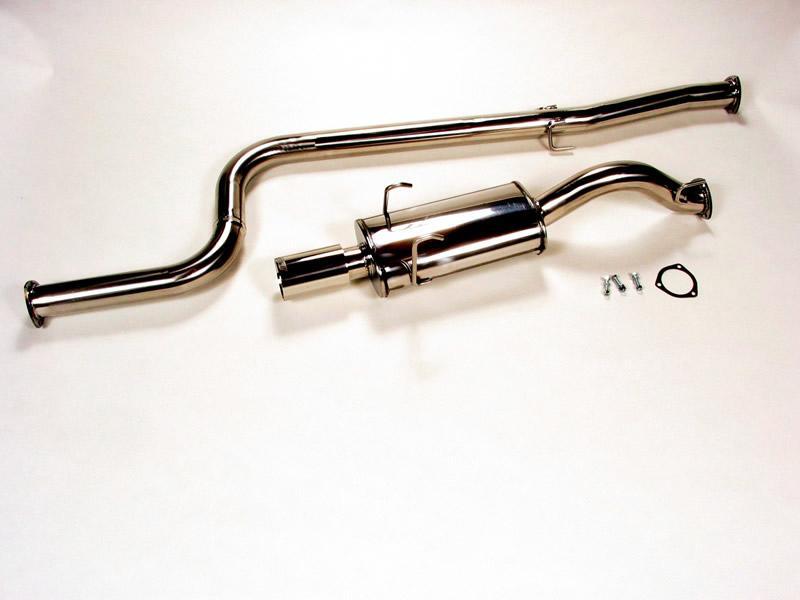 The Jaguar X-Type automobile was manufactured from 2001 to 2009 and was the smaller of the Jaguar lines. The X-Type was produced in saloon variants with four doors and estate variants with four doors and a hatchback. The cars were all front engine front wheel drive with an option for a four-wheel drive variant. The engines available on the X-Type ranged in size from 2.1 litres to 3.0 litres. The X-Type transmissions were available in five- and six-speed automatics as well as five- and six-speed manual.
The Jaguar X-Type was developed as an entry level luxury saloon to compete with BMW and Mercedes entry level platforms. The X-Type offered good performance at reasonable prices and became a popular platform. Many enthusiasts were looking to add to the output capabilities of their X-Types, so a market formed for exhaust systems to add to the performance characteristics of the brand. Those looking to purchase upgraded performance for an X-Type Jaguar can find a variety of exhaust systems at reasonable prices by shopping on eBay.
About the X-Type Exhaust System
Jaguar X-Type automobiles feature the cat-back exhaust system, which includes all the exhaust components, from the catalytic converter back towards the rear of the vehicle. There are versions that include axle-back systems, which are components that do not include the exhaust piping from the catalytic converter to the rear axle area. These systems are usually less expensive and easier to install as long as the pipes do not have to be cut at the axle and welded together. One can find these different types of exhaust systems on eBay.
Stock or Original Equipment Manufacturer
Stock or original equipment manufacturer (OEM) exhaust systems are the versions that came with the car from the factory. The Jaguar X-Type features two exhaust pipes that run from the catalytic converter to the rear of the vehicle on either side. The tips on the end of the mufflers help direct the exhaust flow of each pipe as well as create a sound that is pleasing to the driver. The stock exhaust system is known as a dual exhaust system. It is difficult to find OEM X-Type exhaust systems that are new, but there are occasions where one can find a used one on eBay. Monitoring the website can help locate that deal for the stock exhaust system that one is looking for.
Dual Aftermarket
Dual exhaust systems can be easily identified by the two distinct exhaust pipe outlets that appear at the rear of a vehicle on each side. Both pipes exit the catalytic converter at the same junction, but they are routed on opposite sides of the car until the exit at the rear. The more common type of dual exhaust systems available for the X-Type are aftermarket versions. Aftermarket exhaust systems are manufactured to original specifications of the manufacturer, but they are produced by a third party. Many aspects of aftermarket exhaust systems are designed for universal fit on different brands of automobiles, and this interchangeability is what makes aftermarket systems less expensive. Aftermarket brands are constructed with high quality components and built to tight tolerances, since it is a product that the company specialises in.
Quad Aftermarket
Quad exhaust systems are signified in two ways. Many consider a quad exhaust system as four distinct exhaust tips at the rear of the vehicle rather than only two tips. This is the common perception of what quad exhaust systems are. The dual tips on each side of the vehicle help release larger volumes of exhaust, which can improve performance.
Another version of the quad exhaust system is four distinct exhaust pipes exiting the catalytic converter, each routed separately to the rear of the vehicle. The pipes culminate on either side of the car where they feature dual tips on each side, for a total of four exhaust tips. This system is rare and found mainly on high performance vehicles. However, quad tips can be purchased on eBay and placed on the end of the dual system of the X-Type.
Considerations for Purchasing an X-Type Exhaust
Automotive enthusiasts like to add components to vehicles to improve performance and driving enjoyment. One of the easy modifications that can be added to increase a vehicle's performance is an improved X-Type exhaust system. There are advantages to adding an aftermarket exhaust system that a car owner should be aware of when making a decision about purchasing one.
Benefits
There are several important benefits that an owner can realise when installing a new exhaust system in the X-Type Jaguar. Aftermarket exhaust systems are designed to increase the output of the exhaust from the system, which has several benefits. The primary improvement is the increase in horsepower as a result of an improved exhaust system. A higher velocity of exhaust release helps to remove waste gases from the engine quicker, which increases overall performance and power. It also lends to a more efficient engine operation that results in improved fuel economy. There are also improvements to the sound of the vehicle as it accelerates, which increases overall satisfaction and driving enjoyment.
Cost vs. Performance Enhancement
The main decision a potential buyer needs to address is whether the cost of an aftermarket exhaust system is worth the added performance enhancements. This is a subjective decision, but the driver should take into account that the added fuel economy can help pay for a portion of the expense over time. Another factor to consider is the enjoyment resulting from the added sound and performance characteristics of the vehicle.
Shopping for Exhaust Components
Purchasing an X-Type exhaust system on eBay can help to add performance and style to a car. There are items that can be purchased along with a new exhaust system to improve performance. These items can be purchased as part of an entire system or purchased separately on eBay to replace broken pieces or items that are in need of updating.
| Accessory | Description |
| --- | --- |
| Tips | Exhaust tips are bolt-on units that can be added to existing muffler ends; can be in single and dual set-ups; helps increase exhaust flow for extra performance; improves sound characteristics of vehicle |
| Hangers | Hanger keep exhaust system pipes and mufflers in place; rusted or damaged hangers can result in a damaged exhaust system; should be periodically inspected for replacement |
| | Gaskets are used in areas where pipes and mufflers are bolted together; prevent exhaust gasses from leaking at joints; break down over time and should be replaced periodically |
| | Clamps serve to secure exhaust system piping to the underside of the vehicle; should be inspected periodically and replaced when damage or wear is present |
| | Mufflers are the final portion of the exhaust system prior to the gases being passed to the tips; mufflers circulate the gases and reduce sound output of engine |
Each of these items serves as an integral component within an exhaust system. While many of these come with a complete exhaust unit, they can be purchased separately on eBay if needed, and this makes repairing an exhaust system less expensive.
How to Buy an X-Type Exhaust on eBay
Adding an aftermarket exhaust system to your Jaguar X-Type automobile is a great way to improve its performance and efficiency. After you have made to decision to find the right exhaust system for your vehicle, the next step is to utilise the powerful search tools available on eBay to find the exact system you need. Begin at the eBay home page by entering a keyword such as "X-Type exhaust" into the search box. A list of various systems is displayed that you can browse through until you find the right system for your car. If there are options available for different types of systems, they appear as subcategories that you can click on in order to refine the search to narrow your results.
After you have found an exhaust system or component that you want to purchase, take a moment to review the seller's feedback rating and comments prior to committing to the transaction. Sellers are rated by customers based on how they perform on each transaction. Sellers with positive scores and high ratings have demonstrated that they are committed to satisfying customers' needs.
Conclusion
Installing a new exhaust system on a Jaguar X-Type is a great way for individuals to realise more potential from the vehicle. Improved performance and fuel efficiency are just a few of the benefits that can be realised, not to mention the great sound characteristics a new exhaust delivers to the car. All this serves to create a more pleasurable driving experience for the owner and generate a new buzz around vehicles that are no longer new.
When searching for a new exhaust system, owners should consider the many options available to them. For many, simply replacing the mufflers and tips is a good way to realise potential improvements in a vehicle. For others, replacing a complete exhaust can have a dramatic impact on how the car runs, and that is the idea. Whichever route an owner chooses, there is a ready supply of exhaust systems and components available at great prices on eBay. Shoppers can simply log onto eBay and utilise the website's advanced search tools to find what they need.