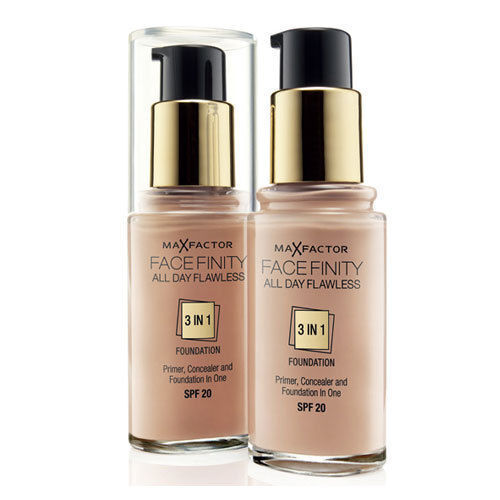 Sometimes it is difficult to find the perfect foundation, and buyers waste lots of money buying foundations that seem like they match the user's skin tone, but which end up being all wrong. Buyers can avoid this headache by determining their skin tone and type before purchasing. There are some easy, at-home tests buyers can conduct to get a good idea of what skin tone they have. Once the right colouring is found, other factors must also be considered. Skin types vary from oily to dry; some people have skin that is a combination of both. Others' skin is maturing, and requires different care. For each type of skin, various ingredients must be incorporated so the foundation does not irritate skin. Also, different foundations provide different amounts of coverage, so users should be sure the foundation they choose is suitable for the amount of coverage needed.
Different foundations are applied in different ways and with different tools. Be sure that the appropriate tools are used to apply the type of foundation purchased.
Foundation can be found in department stores, as well as other brick and mortar stores. Foundation is also available online. eBay has a large selection of different foundation brands available for lots of skin types.
Steps to Finding the Correct Foundation
Buyers should take certain steps before purchasing foundation to make sure they buy the correct colour and type for their skin. It is important to determine the proper skin undertone, decide on the amount of coverage needed, and to make sure that the makeup has all the extras that are beneficial to the user's skin.
Determine Skin's Undertone
The first step is to determine whether the user has a cool or warm skin tone. This is a simple test; simply look at the veins of the user's arm skin. Blue veins indicate the individual has a cool skin tone, while green veins mean the individual has a yellow (and thus a warmer) skin tone. People with cool skin tones generally have pink, red, or bluish undertones. Those with warmer tones have yellow or golden undertones. Neutral skin tones include a mix of both cool and warm colouring. If you are unsure whether the veins appear green or blue, the individual in question may have a neutral skin tone.
Another test to determine skin tone is to cleanse the face, and place a white towel around the shoulder, covering any clothes. This should make it fairly apparent whether the face is more yellow or more blue, and should help determine whether the skin tone is warm or cool.
Manufacturers list information on undertones, so after determining the user's undertones, be sure to match the foundation undertone with the user's skin.
Decide on the Amount of Coverage
Foundation coverage ranges from light to medium. Light coverage is best for smooth, even skin, with few blemishes. Medium coverage is suitable for uneven skin with more blemishes. The amount of coverage required may vary from day to day. Therefore, it is a good idea to own a few different foundations that provide different amounts of coverage.
Match Foundation with Skin Type
Buyers should make sure the foundation is compatible with the skin and does not cause breakouts or pimples. If the user has an oily face, the foundation should be oil-free or mattifying, or should provide oil-control. If the skin type is dry, buyers should choose foundation that is moisturising and offers the correct amount of coverage. Mature skin has different needs, so special foundations are available that contain anti-aging and age-defying properties.
Try Out the Foundation
Once buyers know what their skin type and tone are, they should visit a department store that allows individuals to test out makeup. A quick, effective test is to simply apply three different types that match the skin type onto the jaw line. The jaw line is the best place to test out makeup, as it matches both the face and neck. Users should test the makeup under the store lights as well as in natural light to determine how it looks under all circumstances. Buyers should wear white when trying on foundation so that the colour of the clothing does not blend with the colouring of the face and change its appearance.
Foundation Formulas Available
Several different foundation formulas are available. These include liquid, powder, mousse, cream-to-powder, and spray. Foundation formulas each have different pros and cons, but some match different skin types better. For example, a powder foundation is better for oily skin, since it does not leave the skin feeling heavy or greasy. Cream and liquid based foundations are best for women with dry skin, since they moisturise the skin. Liquid based foundations are the most versatile, and are suitable for all skin types. For more mature skin, cream-to-powder foundation is a good choice, since it provides texture and covers up wrinkles. Mousse and spray foundations provide light coverage, and are suitable for all skin types. They are smooth to the touch, which is one reason they are very popular.
Foundation Extras
Manufacturers often advertise different features of their products that supposedly benefit certain skin types. These may be useful if the user has skin concerns. Lots of different extras are available, so buyers should read the labelling when purchasing foundation to make sure it has the features the user seeks.
Anti-Aging Foundation
Anti-aging foundations include ingredients designed to cover up age blemishes. They also include beneficial ingredients designed to help the wearer's face remain youthful-looking, whether the makeup is being worn or not.
Long-Lasting Foundation
Long-lasting foundation is a suitable option for busy women who are unable to touch up their makeup throughout the day. Such foundations have ingredients specifically designed to stay on the face and provide coverage over the entire day.
Minerals
Some foundations are made with minerals that provide different benefits for the skin, or which are simply better for skin than other foundation ingredients. Some people think that if a foundation is mineral based, that it is also has other benefits, like not being tested on animals or being organic. This is not necessarily true. Therefore, if those other features are important, wearers should make sure to read the label to see if the makeup meets their needs.
Anti-Blemish
Some foundations specifically have ingredients designed for blemish-prone skin. Zinc and salicylic acid, among others are often found to be beneficial for pimples. Some makeups may irritate sensitive or blemish-prone skin, so look specifically for makeup and foundation that does not irritate the skin.
How to Apply Foundation
Users should always wash their face before applying foundation, and then rinse with cold water to avoid clogging pores. It is better to dab than to rub the face with a towel. Rubbing the face can irritate and damage the skin. When the skin is dry, apply some moisturiser or primer to the face to prepare it for the foundation. If applying a liquid foundation, dab the face in multiple spots; then take a makeup pad and direct the makeup from the nose to the ears. Be sure to blend well. If applying powder, dip the brush into the foundation, and spread it evenly on the face. If powder gets bunched up in one area, use a tissue to gently distribute the powder over the face.
How to Buy the Right Foundation on eBay
Begin your search for foundation on eBay by typing "makeup foundation" into the search box on any eBay page. You can narrow down the search results by typing in a brand name, special features, skin type, or undertone. Once you have found a foundation you like, be sure to read the detailed item description to make sure it meets all your needs. Check whether it provides enough coverage, matches your skin colour, and is suitable for any skin needs you have. Message the seller with any questions you may have about the foundation. Also check the seller's other item listings to see if they have other products that you may be looking for. Read the seller's feedback from previous buyers to see how well they have satisfied other customers. Type the postal code into the distance calculator to find sellers located near you. This may reduce postage costs.
Conclusion
It is so disheartening to buy a foundation, thinking that it is the correct shade, only to discover that it does not match at all. Incorrectly toned foundation makes makeup appear odd and out of place. Follow a few simple steps to make sure you purchase the correct shade of foundation. First, determine the skin's undertone by examining skin colour or veins. Then decide on the amount of coverage needed. Determine whether the skin is oily, dry, or a combination, and whether the skin has any other special needs; then match the skin type to an appropriate foundation formula. If possible, test the foundation out before purchasing. Once the correct shade and brand are found, it can be purchased in department stores, some clothing stores, and through online retailers. eBay has a large selection of foundations available.
Applying the foundation varies from type to type, but it is always important that skin be clean and prepped. Liquid foundation is dabbed on and then spread on the face from the nose to the ears. Powder foundation is spread evenly on the face with a makeup brush. Then the process is complete.