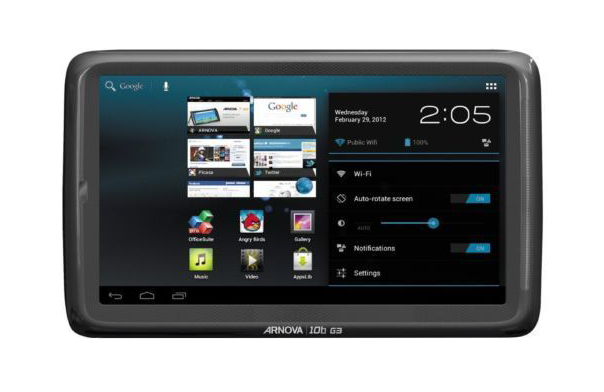 More portable than laptops and more powerful than smartphones, iPads and tablets have significantly changed the technology market. Their more specialised counterpart, the ebook reader , has also become much more versatile, making it yet another competitor for those seeking a lightweight, compact device with a range of applications.
eBay features an extensive selection of new, used, and refurbished iPads, tablets, and ebook readers on its website. Before getting started, buyers should establish what kind of device they want, and what set of specifications meets their portability and usage requirements, be they gaming, watching films, Internet browsing, or primarily reading. In addition, they should keep a budget in mind, since prices can vary significantly from one device to the next. Once they have narrowed down their options, searching for and purchasing iPads, tablets, and ebook readers on eBay is a simple, straightforward process. In just a few short steps, buyers can find a device to keep them entertained and informed, whether at home or out and about.
Decide on the Right Device
There are several considerations before setting out to buy an iPad, tablet, or ebook reader on eBay. The first of these is which kind of device to purchase. While choosing between an iPad and a tablet has more to do with various specifications and price, the choice of whether or not to buy an ereader really depends on what the intended use is. While tablets and iPads are designed as easy, portable ways to enjoy films, music, Internet, and a vast spectrum of applications, ebook readers are optimised for reading, both in terms of hardware and software. Much depends on how the consumer plans to use the device.
Advantages of Tablets and iPads
Whilst a large part of the attraction of tablets and iPads is that they occupy a middle ground between laptops and smartphones, this also makes them rather nebulous in terms of functional advantages. The major reason to opt for a tablet or iPad is that they offer media consumption that is more portable than a laptop, with a larger screen than a smartphone. So, for consumers looking for a more compact device that allows them to browse the Internet, check email, video chat, watch films, play games, listen to music, and more, a tablet or iPad is an excellent solution. Plus, as technology increases, operating systems approach laptop-level performance, and additional hardware, such as keyboards, expand the tablet's possibilities.
Advantages of eBook Readers
While tablets and iPads seem to dominate the market, ebook readers offer several advantages for consumers who primarily want to use their portable device for reading. They feature retina screens and e-Ink that are much easier on the eyes than the typical LCD display on a tablet. Furthermore, ebook-reader screens have reduced glare for reading in sunlight, and many feature a soft, self-contained light for reading in the dark.
Some ebook readers are wi-fi capable, which can be used to access e-books online, as well as for a range of other applications. Although they have access to significantly fewer applications than other tablets, this may be a welcome elimination of distractions whilst reading. Finally, whereas tablet technology is constantly evolving to meet the demands of increasingly sophisticated applications, ebook readers, with their simpler platform and purpose, are less prone to obsolescence. A final plus is that they are often more affordable that their tablet counterparts.
Understanding Product Specifications
There are several product specifications that can help buyers decide which tablet, iPad, or ebook reader is right for them. In many cases, eBay lets shoppers narrow their search results according to these specifications.
Operating Systems
For consumers looking for a tablet, they are faced with a few choices of operating system (OS): Apple's iOS, Google's Android, and Microsoft's Windows RT. These operating systems differ in terms of applications, interface, and price.
Apple's iOS has held the lead in sheer quantity of applications, numbering in the hundreds of thousands, which are nearly all uniformly functional on any iPad or iPad mini. Furthermore, Apple vets every application available from the Apple Store, so the risk of downloading malware is slim-to-none. The iOS interface is clean and intuitive, but does not allow the range of customising options that Android does, as discussed below. Furthermore, the price point for iPads and iPad minis is higher than for an Android tablet.
Apple's main tablet OS competitor is Google's Android , which is used tablets by many major manufacturers, including ASUS , Samsung, and, in a modified version, Amazon. Although the application catalogue is not as deep as Apple's, Android has the advantage of a customisable interface and lower price point.
Windows RT comes closest to a desktop interface, with a split-screen function that improves multifunctionality. It comes with Microsoft Office, but has far fewer apps than iOS and Android, making it perhaps a more suitable choice for work-related tasks.
Screen Size
The size of tablets, iPads, and eBook readers is generally expressed as the screen size measured diagonally across, in inches. Manufacturers may have different ranges, from tiny, 5.5-inch phone/tablet hybrids to large-screen 10-inch models. Choosing a size is a major consideration, since it is connected to portability, ease-of-use, and performance. The following chart outlines the advantages and disadvantages of small, medium, and large devices.
| | | |
| --- | --- | --- |
| Screen Size | Advantages | Disadvantages |
| | More affordably priced; fits in purses, small bags, and even some pockets; better choice for reading at long stretches since it is easily held in one hand | Less powerful; less suited for work applications such as word processing due to cramped screen space and touch keyboard |
| | Larger screen, better resolutions, and faster processors make these better for watching films and playing games | More expensive than smaller screens; less convenient for reading; not easily held in one hand |
| | Combine portability and touch screen with PC-compatibility and processing power | Higher cost; reduced portability |
Selecting a screen size, buyers should carefully consider how and where they expect to use their tablet or ebook reader, as well as their budget. While screen size is an important factor, there are still others to consider when assessing how suitable a certain tablet is for one's individual use.
Screen Resolution and Display
Since tablet use is usually focussed on visual content, such as films, games, and reading material, display quality is another important factor. Screen resolution, which expresses how many vertical and horizontal lines can be displayed on the screen at one time, determines picture sharpness. The higher the resolution, the sharper the image.
Panel type is another important aspect of display quality, affecting screen brightness, colour vibrancy and accuracy, and how well images can be seen from off-angles. Look for In-Plane Switching (IPS) or Plane-Line Switching (PLS) screens for maximum quality.
Processor (CPU)
A tablet's central processing unit (CPU), also simply referred to as a processor, is responsible for carrying out arithmetical, logical, and input/output tasks as assigned by a program in order to run it. Therefore, CPUs have a large effect on overall performance, and a tablet's ability to run data-intensive programs such as games and movies. Processor technology is always evolving, so buyers should research reviews of tablets they are interested in so that they can see how their CPUs measure up.
Storage
Since content, be it applications, films, games, music, or books, is central to the tablet-using experience, the device needs to offer adequate storage in order to hold all that data. Online cloud storage is available with several devices, including iCloud for the iPad, Amazon Cloud Storage for the Kindle Fires, and SkyDrive for the Microsoft Surface tablet. That said, storage capacity in the device itself is also important, and can range from 8GB to upwards of 64GB, with increased storage reflected in the price. Memory-card slots on some models give users the option to expand memory capacity in a more affordable way.
Wi-Fi Connectivity, 3G, and 4G
All tablets and iPads, and many eBook readers, have wireless capability, meaning that they can connect to the Internet wherever a wi-fi connection is available. For many users, this is adequate to meet their needs. However, for those who wish to have more constant Internet access, many tablets come with 3G or 4G service option. 3G (third-generation) and 4G (fourth-generation) mobile technology enables broadband access on portable devices. Whilst 3G is more widely available, 4G service, with its faster Internet connection, is on the rise.
Devices with 3G or 4G capability are costlier than those that are wi-fi-capable only. Furthermore, they require subscription to a monthly data plan, in many cases a one- or two-year contract. Buyers should also factor in these additional fees when deciding what kind of connectivity they need.
A less costly alternative is to opt for the wi-fi-only tablet and use one's 3G or 4G smartphone as a wireless hotspot. This method does not work for all device combinations, however, so shoppers must verify compatibility before purchasing.
New, Used, or Refurbished?
One advantage of buying an iPad, tablet, or eBook reader on eBay is that consumers can choose between new , used , and seller- or manufacturer-refurbished devices. Opting for used or refurbished devices can yield considerable savings; however, there are some caveats. First, tablets that are even a few years old may have compatibility issues with the latest apps; furthermore, there may be reliability and security problems. Manufacturer-refurbished devices have been inspected for defects and usually have a new battery. If buying a used tablet, shoppers should get as much information as they can from the seller, including whether there are any cosmetic or hardware defects, whether it has ever been dropped or sustained physical shock, how long it has been used, and the reason for selling. Sellers should post close-up pictures of the item itself, rather than stock images.
How to Search for an iPad, Tablet, or eBook Reader on eBay
eBay combines an extensive selection of iPads, tablets, and ebook readers with user-friendly search tools, making it easy to find just the device you've been looking for. To get started, go to eBay's home page and enter keywords, such as "4G iPad", into the search bar. When you have your original search results, you can then further refine them according to your price range, certain specifications, manufacturer, seller location, and more. For additional hints on making your search efficient, visit eBay's Search Tips page.
Check Item and Seller Information
It is very important to read the full listing for an item you're interested in, as well as to research the seller a bit. First, look at the item description closely: it should have details about product specifications and item condition. Check the postage and payment information, as well, to see about things like additional fees and payment requirements. You can contact the seller through eBay should you have any questions.
Finally, look at the seller's feedback score and comments left by past buyers: if it is generally positive, this is a good indication that the seller is reliable and knowledgeable. Once you've completed your transaction, you can leave your own constructive feedback for the seller.
Conclusion
Valued for their portability and versatility, tablets, iPads, and ebook readers have become increasingly popular. They combine a wide range of applications and Internet connectivity in a compact, lightweight device that can often slip in a purse or small bag. eBay has a wide selection of iPads, tablets, and ebook readers on its website. Buyers should research their choices in advance to help them find the right device for their needs.
The first step is identifying their intended use, as well as a target budget. This can help narrow the list of choices, and gets buyers focussed on the product specifications that meet their requirements. Among the specifications to pay attention to are operating systems, screen size, display quality, processor, storage, and wireless connectivity. Once they have established what they want to look for, with just a few simple steps buyers can find the right iPad, tablet, or ebook reader for them on eBay.