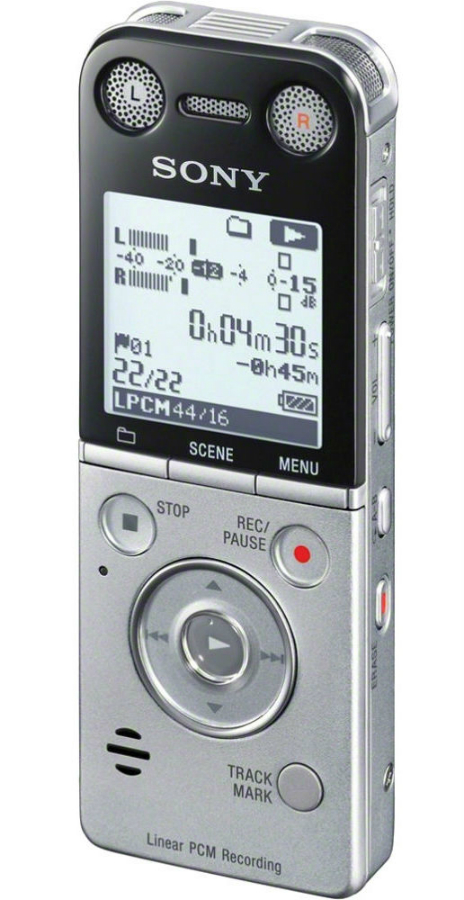 Digital voice recorders are small portable devices that are used for recording the voice. They have many uses, including recording lectures, study notes, and interviews, and many people use them to make audio memos for themselves. For example, authors or lyricists can capture inspirational ideas when on the move and scribble them down later. Digital voice recorders differ from their analogue counterparts, such as field tape recorders, by the signal type that they use. Digital signals can be transferred easily to computers where they can be played back and edited, if necessary. Finding the best digital voice recorder depends on the requirements of the buyer. Factors to consider include the features of the digital voice recorder that are most useful, the frequency of use, and whether the recordings will be edited. Digital voice recorders are available from electronics shops and department stores, as well as online at auction sites, such as eBay.
Types of Digital Voice Recorder
Digital voice recorders can be divided into three types: dictaphones, all-in-one, and field voice recorders. Dictaphones are the simplest type, all-in-one voice recorders are in the middle of the range, and field voice recorders are the most complex. The complexity is reflected in their price with dictaphones being less expensive than field recorders.
Digital Dictaphones
Digital dictaphones are designed for basic handheld voice recording and their main focus is capturing audio. They usually have built-in microphones, long play recording modes, and simple user interfaces. Digital dictaphones are the simplest voice recorders to use and they suit most people's daily recording requirements. However, they are not suitable for critical audio work where high quality recordings are desired because their features are limited. Moreover, not all digital dictaphones offer easy file transfer, so copying the files to a computer may be complicated.
Digital All-in-One Voice Recorders
Digital all-in-one voice recorders belong to the middle of the range of digital voice recorders. They offer higher sound quality and higher recording resolutions than dictaphones, as they come with built-in stereo microphones. They have slightly more features than dictaphones and are good for recording audio in stereo out on location. Some all-in-one voice recorders are also able to capturing surrounding sounds.
Digital Field Voice Recorders
Digital field voice recorders are suitable for use by professionals who need a recording with broadcast quality. These recordings can be used later in radio or television programmes when they are coupled with high quality video. Field recorders usually do not have built-in microphones. Instead, they come equipped with inputs for external microphones. So, the user can choose the best microphone according to the audio and the location. Field recorders are quite large and robust and have professional accessories, high sound quality, and advanced features, such as multi-track recording.
Features of Digital Voice Recorders
All digital voice recorders have some general features in common. They can be characterised by their audio inputs and outputs, the way that they store a recording, the file formats that they use, and their data connection. The buyer should be aware that some voice recorders may use rare formats and generate files that cannot be used by other programs.
Audio Inputs for Digital Voice Recorders
The audio input of a digital voice recorder is a microphone. Compact voice recorders have a built-in microphone that can be either mono or stereo. The microphone's dynamic and frequency responses, its sound quality, and pickup patterns are largely influenced by its build and design. Professional voice recorders have external microphones, so they have input jacks, usually a standard 3.5 mm stereo TRS mini jack.
Audio Outputs for Digital Voice Recorders
The audio outputs of a digital voice recorder refer to its ability to be used with headphones, external amplifiers, or speakers. These devices enable the listener to monitor recordings and hear the end result. Some voice recorders also have built-in speakers for playback.
Storage Media for Digital Voice Recorders
The recorded media for a digital voice recorder can be stored on different mediums including removable memory cards and integrated hard disks. The storage capacity varies a great deal and can be measured either in megabytes (MB) or in gigabytes (GB), when the capacity is high. The capacity determines the number and length of recordings that can be stored in the digital voice recorder.
Supported File Formats for Digital Voice Recorders
Digital voice recorders usually support an array of file formats that are compatible with most audio editing software. When choosing a digital voice recorder, it is essential to check whether the supported file formats are compatible with the software that is used later for editing or playing the recordings. Large files have a higher quality of sound because they are uncompressed. The most common uncompressed file types are WAV and BWF. For the best results, it is wise to record the files in an uncompressed state and compress them in the final stages of editing in order to preserve the sound quality. MP3 is a compressed file type that is compatible with most computers and can be edited easily. MP3 recordings require less memory, but can experience some distortion, especially if their bit rates are low, below 128 kbps. The bit rate refers to the number of bits that can be sent over a digital network. The higher the number, the higher the quality of the file.
Data Connection for Digital Voice Recorders
The audio from a digital voice recorder can be imported to a computer by various means. Voice recorders usually have a USB interface, but if the storage medium is a memory card, the data can be transferred by inserting the card into a special reader.. Some voice recorders also use Wi-Fi or Bluetooth and can transfer the data wirelessly. Wireless is typically used by smartphones that have voice recording applications installed.
Alternatives to Digital Voice Recorders
Smartphone users who have a good microphone included with their phone do not necessarily need to buy a separate digital voice recorder. They can opt for special downloadable applications that perform the same task as digital voice recorders. These applications are usually sufficient when recording one-on-one interviews or conversations in a small group. Conferences, large meetings, and lectures can be recorded with smartphones if their audio is very clear and loud. Standalone digital voice recorders work best for conversations that take place in large rooms or that involve many people. However, smartphones can benefit from call recording applications that record phone calls fully by capturing the audio on both the caller's and the respondent's side. Whenever making audio recordings, permission must be obtained from the participants.
Summary of Digital Voice Recorders
When looking to purchase the best digital voice recorder, the buyer should consider its primary usage and features. The following chart summarises the main characteristics of digital voice recorders.
Type of Digital Voice Recorder

Usage

Main Characteristics

Dictaphone

Everyday recording

Simple interface

Built-in mono microphone

All-in-one

For recording good quality audio that needs editing

Built-in stereo microphone

Higher sound quality than a dictaphone

Field

Professional usage

Radio and TV broadcasting

Advanced recorder

External microphone

Large and robust

Smartphone

One-on-one interviews

Conversations in small groups

Phone calls

Simple, but does not offer superior audio quality

Easy file transfer
Digital voice recorders are available in four main types. Understanding the main characteristics of each type helps the buyer to identify the best digital voice recorder for their requirements.
Editing the Recordings
Most digital voice recorders are simple to use, but the files have to transferred to a computer where they are edited with special software. Freeware programs, such as Audacity, can perform the simplest editing functions, so it is not necessary to purchase expensive software. Some common editing functions include mixing different tracks, changing the speed or pitch, fading the volume, and cutting the audio clips. Often the recorded clips do not require much editing. However, normalisation can be done in order to improve the sound quality. This process analyses the recording and sets the loudest signal peak to 0 decibels (dB). This guarantees the maximum volume level for the playback without any distortion. Normalisation balances recordings that are too quiet, although the background noise is also amplified in the process. Normalisation is available in most audio editing software.
Conclusion
Digital voice recorders are designed to capture audio in different settings, such as lectures, interviews, and creative musings on the move. In general, they are easy to use because the captured audio can be transferred to a computer for editing and sharing. Digital voice recorders can be simple dictaphones, more advanced all-in-one recorders, or professional field recorders. It is also possible to use smartphones that have voice recording applications installed. The best digital voice recorder is the one that best suits the buyer's recording requirements.
Digital voice recorders have an audio input, usually in the form of a built-in or external microphone. Their audio outputs allow them to be connected to amplifiers, speakers, and headphones. When buying a voice recorder, it is important to note its file type, so that it is compatible with the chosen audio editing software. The files can be stored on an internal hard disk or on a memory card, and can be transferred to a computer with a USB cable, memory card reader, or even wirelessly. An array of digital voice recorders can be bought online from eBay.