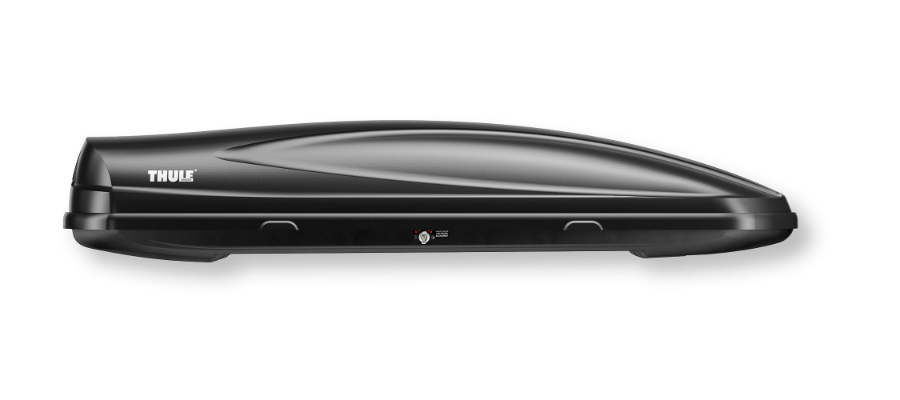 Roof boxes are hardshell cases that are mounted to the roof of a car. These boxes are used to safely and securely store luggage while travelling and are a great way to free space within the car or to increase the vehicle's capacity. They are also ideal for carrying damp or dirty objects that would otherwise soil the car's clean interior. Roof boxes are designed to be lightweight, and can be added or removed to the car as deemed necessary.
In order to secure a roof box to the car roof properly, buyers must also invest in a roof rack. This prevents the roof box from becoming detached from the car while in motion. Roof boxes are made from various types of durable plastics, most popularly UV protected ABS. They come in a wide array of sizes and shapes. However, the front of the box is usually tapered. This aerodynamic design helps to reduce wind resistance. The back may also be tapered in some models, but this limits the storage space. When purchasing the best roof box for your car on eBay, consider the various factors that determine what is the best product and familiarise yourself with the features that roof boxes have to offer.
Factors to Consider when Buying Roof Boxes for Your Car
There are many factors to consider when buying roof boxes. The shape and height of the boxes as well as their quality all impact their usefulness.
Shape of Roof Boxes
Roof boxes are available in various shapes, tailored to fit the requirements of the motorist. If travelling with other items that may also need to fit on the roof, such as sporting equipment or bicycle carriers, buyers should consider a long and narrow roof box with extra height. Alternatively, for the maximum capacity, a wider roof box may better suit a buyer's requirements. The shape of the roof box should reflect the profile of the car. If the roof box does not match the design and model of the car, it may be aesthetically unpleasing and effect the movement of the vehicle.
Height of Roof Boxes
Buyers should consider the height of roof boxes. While a few extra centimetres of height may create extra storage space, it also heightens the effects of the wind. Lower boxes tend to be more wind resistant.
Quality of Roof Boxes
The quality of the material used to make roof boxes is important. High quality roof boxes are usually made of thicker plastic. As roof boxes are strapped to the top of the car, they may be subjected to low hanging tree branches and other obstacles. This rough treatment may take its toll on low quality roof boxes. Lower quality roof boxes may also begin to rattle at high speeds due to huge forces. Therefore, it is important to invest in high quality materials that can handle wear and tear.
Features of Roof Boxes
Roof boxes come equipped with various features. For easy usage, buyers should consider roof boxes that have dual side opening, hinges, and locks.
Dual Side Opening Roof Boxes
When searching for the best roof box for your car, consider dual side opening. Dual side opening allows buyers to open the roof box from either side of the car. This increases the level of convenience. On the other hand, some roof boxes are single side opening, which means that buyers can only access their luggage from one side.
Hinged Roof Boxes
When searching for the best roof box, buyers should consider a hinged model. Hinged roof boxes allow for easy access to the inside of the box as they stay in an open position without being held.
Locks for Roof Boxes
Many roof boxes have a lock and key mechanism. This allows buyers to secure their belongings safely during travel and when the car is left unattended.
Registering on eBay
When searching for the best roof boxes for your car, it is possible to browse the eBay website without having to buy immediately. However, in order to make a purchase, buyers must complete the eBay registration process. Registering allows buyers to interact with other eBay members. Buyers can save their searches and receive notification whenever items they are looking for become available.
Searching for the Best Roof Boxes for Your Car on eBay
Buyers looking to purchase roof boxes should begin their search on the eBay home page. From here, buyers can enter any search term such as, "roof box" into the search bar. This provides a wide range of listings. To narrow down these results, buyers can use more specific key terms. Buyers can also use eBay's advanced search feature to search by certain criteria such as price or condition. This feature also allows eBayer's to find items for sale by a specific seller.
Search by Brand
Buyers may choose to search for roof boxes by including a brand with their search terms. This is ideal for buyers who know exactly what brand of roof box they want. For example, Halfords offers roof boxes in a wide variety of capacities as seen in the table below.
| Roof Box Size | Capacity (in litres) |
| --- | --- |
| Small | Around 250 |
| Medium | Around 340 |
| Large | Around 470 |
| X-Large | Around 580 |
These roof boxes are also manufactured in various widths. Half width roof boxes leave room for other roof top items, such as skis; three-quarter width roof boxes have a higher capacity, but still leave space for one bicycle on the roof; and full width roof boxes offer travellers the maximum capacity. Halfords also offers various bolting systems for their roof boxes. Some bolting systems require two people to install them, and so take longer to fit, while others only require one person.
Search by Condition
Searching by condition is a great option for buyers who have a general sense of whether they are looking for new or used roof boxes. Buying used roof boxes is a good option because these car accessories may have been used infrequently and therefore, may be found in like new conditions. If buyers want to purchase a high quality roof box, but find that the price is outside of their budget, then searching for used items is a great solution.
Search by Seller
Searching by seller can help buyers to feel more secure throughout the purchasing process. Buyers can narrow down the listings based on eBay's Top-rated sellers. Top-rated sellers are recognised by the eBay community for providing excellent levels of customer service and consistently receiving high ratings from past buyers. They are known for dispatching items quickly and providing accurate descriptions. These sellers undergo regular reviews to ensure that they adhere to eBay's standards. Buyers can also search by a specific seller. This is ideal for buyers who have had transactions with particular sellers in the past and have established a close business relationship with them.
Reviewing Item Descriptions
Before finalising the purchase of roof boxes for your car, review the item description carefully. Many buyers are so keen to take up a good deal that they do not look at all of the details that an item description can provide to give a clear view of the product. The description should always refer to the condition and size of the roof box along with other relevant information. If buyers still have questions, then they should use the "Ask a question" feature on the listing page to contact the seller directly. Good sellers are more than happy to answer any questions to promote a positive transaction.
Postage and Packaging Fees
While some sellers may include postage and packaging fees in the listing price, others require buyers to pay an additional fee for this service. Before finalising a purchase, buyers should always consider whether postage and packaging fees are included as this can affect the final price of the roof box. If the roof box is large and heavy, then buyers may consider finding a local seller and collecting the item to diminish the associated postage and packaging fees.
Conclusion
Roof boxes are designed to increase the total storage capacity of a car, allowing travellers to safely and securely store items that would otherwise not fit in the vehicle. Searching for the best roof boxes for your car on eBay is easy as there are a large number of items available. After learning how to narrow the search effectively, buyers find that the shopping process is relatively straightforward. When buying a roof box on eBay, buyers should consider the shape, height, and quality of the box. These factors help to ensure a fully functional box that lasts for a long time.
Buyers should also bear in mind the various features that the roof box has to offer. A high quality locking mechanism ensures safe storage while the car is parked, while hinges ease the loading and unloading process. With so many roof box listings to choose from, eBay can help every motorist to find the perfect storage for their travels.