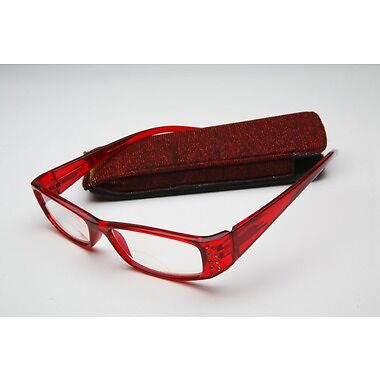 Glasses are no longer seen as undesirable and unfashionable, and now designer frames are affordable and come in every style from vintage to sleek and modern. Glasses can be as individual as the person who wears them, but like clothes and body shape, the right pair of glasses should compliment their look and personality.
This guide aims to help the buyer find the style of frame will work well with their face shape and how to purchase glasses on eBay.
The Most Common Face Shapes
Every human face is unique, but there are several main face types that are most common. The shape of the face can be determined by the width and height of the face and what shape it is when looked at from a distance.
| Face shape | Description |
| --- | --- |
| Oval | High cheekbones, softly rounded jaw line. |
| Round | Short face length with a wide forehead, rounded chin. |
| Square | Broad face width, deep forehead, wide jaw, square chin. |
| Heart | Wide forehead, tapering down to a neat, rounded chin |
| Long | High cheekbones, deep forehead. |
| Triangle | Narrow forehead and eye line, face then broadening to the jaw. |
Tips to Figuring Out your Face Shape
Take a passport style photograph; ensure that any hair is pulled away from the face in the picture and that the buyer is looking straight at the camera with a neutral expression. Take a pen and sketch the rough shape of the face. It can be difficult to see at first but using the table above as guidance a rough face shape can be found.
Another method is to pull the hair away from the face, sit down and looking into a mirror, have another person draw the outline of the face with an erasable marker pen. Having someone else do this can help as they are better able to see the face shape, and not what the buyer believes their face shape to be.
One more method is to use a webcam on a laptop, and then using a basic art programme to draw the face shape on the picture taken with the webcam.
What Frames Suit and Which Don't
Selecting a pair of glasses is as personal as selecting clothes and jewellery. Buyers will want something that compliments their face shape as well as personal style and personality, all of which make finding the perfect fair of glasses seem a difficult task. The following table helps break down which style of glasses will flatter certain face shapes:

| Face shape | Frame shapes to try | Frame shapes to avoid |
| --- | --- | --- |
| Oval | Most frame shapes will flatter this face shape. Good shapes to try include: square, rectangular and strong shapes that add some definition to soft curves on an oval face. | Try to avoid frames that are larger than your facial features. For example oversized glasses may not flatter an oval face shape. |
| Round | Square or geometric shaped frames, or upswept frames will flatter a round face. | Frames that are too small and will make the face look rounder. |
| Square | Oval and round frames with wide sets at the top of the frames. Butterfly shaped glasses also suit this face shape. | Geometric or square shaped glasses that bring attention to sharp angles of the face. |
| Heart | Narrow, round frames and frames that are bottom heavy to balance the lower face with the forehead. | Top-heavy styles which draw attention to upper area of the face. Glasses with decorative temples that make the face look broader may not flatter heart shaped faces. |
| Triangular | Top-heavy styles to balance the jaw. Frames which also angle upwards are good | Narrow frames and low step temple glasses that make the jaw look wider. |
| Long | Wider frames with a good top line and square shaped frames are flattering for long face shapes. | Small square shaped frames will make the features look unbalanced. |
A good tip is to try some different style glasses where possible. The above table is only meant as a rough guideline, and much of the selection process will be down to personal taste. When trying on glasses trying looking at the face from different angles, distances and also try several hairstyles to ensure the glasses will suit different looks.

Selecting frames is not just based on face shape but skin and hair colour as well. Going for neutral coloured frames such as black, gold or silver will suit any skin colour and hair colour, but some brighter coloured glasses like red may suit darker complexes. Eye colour should also be taken into account when selecting glasses.
The Different Styles of Glasses Available
Glasses come in a range of materials, colours and sizes. There are two main types of glasses available on eBay, these are reading glasses which are purchased without an exact prescription, and then listings for glasses with prescription lenses. What many buyers may be aiming do to is buy frames they like and then have the lenses changed to their own prescription.
One aspect a buyer will need to consider if buying used glasses with a prescription is their own prescription lenses may be too thick for the glasses frames they are looking to purchase.

Before the buyer aims to purchase a pair of glasses they may wish to consider a few aspects first.
What gender are the glasses for? Glasses can be gender specific or there is a wide range of unisex glasses available that will flatter both gender and a range of face shapes.
Brand may be an important aspect for some buyers, and on eBay it is easy to find a wide range of branded glasses, from Ralph Lauren to Diesel.
Vintage glasses are a popular option for buyers; they are increasingly sort after, and can really add to a vintage look.
Purchasing on eBay With Confidence
PayPal is the most secure and simple way to pay for items on eBay. PayPal offers protection for the buyer should something unexpected happens. The buyer may also wish to look at how much the postage is, and factor this into the overall cost of the purchase. Buyers can also leave feedback based on how well their transaction went, as well as also how satisfied they were with the item they purchased.
If the buyer is unhappy with anything in the process they can contact the customer support to resolve any issues.
Tips for Looking After Glasses
Glasses are often an essential but expensive item, so it is important to make sure they stay in good condition. The classic way to clean glasses is breathe slowly but steadily onto the lens and then quickly wipe the lens with a cotton cloth. This might seem handy but it is best to use a microfibre cloth and a specially formulated lens cleaner.
Follow these steps to ensure glasses stay clear and scratch free for years to come:
Remove any obvious grime or dust with a microfibre cloth, and then spray the cleaning solution onto the surface of the lens.
Take the cloth again and rub in small, circular motions until the cleaner has evaporated.
Store glasses in a hard glasses case to protect them when not being used.
Avoid doing the following with glasses:
Don't touch with fingers, as oil will damage the surface of the glasses.
Avoid cleaning with strong cleaners as this may strip the special coatings on the glasses.
Conclusion
Glasses are now as much accessories as they are an aid for sight. More and more styles are available, from 1950s glamour to the modern day look. Designer Frames are especially sought after, but easy to find on eBay.
Every face shape can be catered to, by using with specific search terms, especially after understanding how to flatter a face with certain shaped glasses. A buyer can now find what they want on eBay with the advice given in this guide.