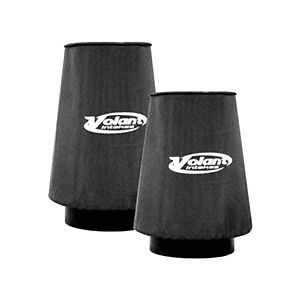 Air intake and fuel sensors are ideal for buyers who want to monitor and increase their car's fuel efficiency. By upgrading the air intake, buyers are able to improve their car's performance and power levels. These systems provide the engine with the air required for combustion. They have an air filter at one end and are connected to the engine at the other end. Air intake systems vary in length, but they are usually tube shaped.
A mass airflow sensor measures the mass in fuel injection engines. These sensors are placed on the air intakes to determine either the amount of fuel that should be delivered to the combustion chambers or the best air to fuel ratio for combustion. When purchasing air intake and fuel sensors for a car on eBay,, buyers should consider the various types of systems, learn how to choose the right system for their vehicle, familiarise themselves with the benefits of various systems, and consider the two types of fuel sensors.
Types of Air Intake Systems
There are various types of air intake systems,, including standard performance, short ram, and cold. The table below lists the different types and their benefits.
Type of Air Intake System

Benefits

Standard performance

Compact and easy to install

Enhances the engine's airflow

Replaces the restrictive factory inlet tube with a larger diameter, mandrel bend tube

Often includes a new air box and performance air filter

Short ram

Utilises a much shorter intake tube than standard performance models

Forces more air directly into the engine, with minimal bends for constant airflow

Inlet is located near to the engine, causing it to draw in cold air

Draws in huge volumes of air

Cold

Utilises a longer intake tube

Air box is located outside of the engine compartment, allowing the intake to pull in cooler air

Cool air provides more oxygen to the engine

Often located above the tyre in a front wheel well

High volumes of water can damage the engine
Short ram air intakes are better suited for cars with bigger V8 engines as they provide more horsepower and torque in the lower to middle range revolutions per minute (rpm). If the engine often uses a turbocharger or supercharger, then it may need help to stay cool. On the other hand, cold air intakes are best suited for use with smaller engines that create more heat because of a turbocharger. The cold air intake cools the engine successfully, while helping to promote fuel efficiency. The fuel to air ratio of cold air intakes makes them the preferred choice of many racing car drivers. The majority of non-performance cars have standard performance air intakes.
Choosing the Correct Air Intake for Your Car
When choosing an air intake system for your car, consider the type of car and your budget, as well as your personal taste. Buyers who drive compact performance sports cars should consider a AEM air intake,, while those who drive sports utility vehicles (SUVs) or trucks may benefit more from a Banks air intake, which is specifically designed for the high torque and power required for heavy vehicles.
If looking for an inexpensive air intake system, buyers should consider the Pontiac Grand Am air intake.. This system uses less expensive materials in the manufacturing process, thereby creating a more affordable option. Alternatively, for the ultimate in performance and style, buyers may prefer an air intake system with a painted or polished metal tube.
Benefits of Air Intake Systems
There are many benefits to air intake systems.. These systems improve combustion, thereby increasing power and throttle resistance, and boosting fuel economy. The cool, dense air created by air intake systems allows car engines to make better use of fuel and pull more power out of every cylinder stroke. When using an air intake system, buyers should see a noticeable increase in their engine's horsepower and torque.
Air intake systems increase throttle resistance, causing the car to accelerate faster and be more responsive when the accelerator pedal is pushed. In addition, they help to boost fuel economy by improving the engine's combustion. Air intake systems are quick and easy to install for a motorist.
Types of Fuel Sensors
There are two types of fuel sensors: vane meter and hot wire. Choosing the correct type is often a matter of the motorist's personal preference.
Vane Meter Sensor
Vane meter sensors, also referred to as VAF sensors, measure the airflow into the engine using a spring loaded air flap that is attached the potentiometer. The vane moves in proportion to the airflow, regulating the amount of fuel injected.
Hot Wire Sensor
A hot wire sensor measures the mass of airflow into the engine's air intake system by heating a wire with an electric current that is extended into the engine's air stream. As the wire's temperature increases, its electrical resistance also increases, limiting the electrical current throughout the circuit. The airflow then cools the wire, decreasing its resistance. As more current flows, the wire's temperature is again increased and this cycle is repeated. Hot wire sensors are more accurate than their vane meter counterpart. However, they are fragile and must be well maintained. Dirt, oil, and other debris can affect the wiring and cause an inaccurate reading.
Registering for an Account on eBay
Buyers are free to browse the eBay website as a guest, but to buy items, registration is required. There are many advantages to being a registered member of the eBay community. By registering for an account, buyers can manage their shopping activity successfully, create reviews, and post messages on eBay's community boards.
Conclusion
Buyers looking to increase their fuel efficiency or the horsepower of their car should consider investing in air intake and fuel sensors. Air intake and fuel sensors are widely available for purchase on the eBay website. Many buyers choose to shop on eBay because of the wide selection of products. In addition, many air intake and fuel sensors can be purchased for less than their normal retail price. When searching for these items, buyers should bear in mind the make and model of their car: some air intake and fuel sensors are better suited for specific vehicles. Drivers with a V8 engine should choose a short ram air intake, while a cold air intake better suits cars with a smaller engine.
In addition to air intake systems, buyers should consider the two basic types of fuel sensors: vane meter and hot wire. These sensors determine the mass of the air entering a fuel injection engine. Using this information, the sensor is able to provide the correct amount of fuel. With so many listings to choose from, eBay can help every motorist to find the perfect air intake and fuel sensors for their car.