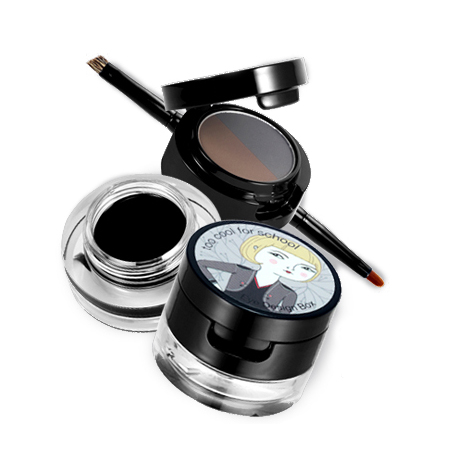 An important part of getting ready is having perfectly applied make-up that complements and enhances the wearer's features. However, even with the most professional-quality make-up products, such as brand-name
lipstick
,
blusher
,
foundation
and
eye shadow
, it can be difficult to get that perfect, flawless result advertised in the pictures and commercials.
One way of helping achieve that professional make-up look is by buying the perfect brushes for the product at hand, as it often gives better results than sponge applicators and cotton buds. This guide will look at how to buy the perfect eye shadow brush on eBay.
What are Eye Shadow Brushes?
When applying make-up, it's always best to use the correct tool for the job to get the best results. As such, manufacturers make distinct brushes specifically for applying eye shadow, and distinct brushes specifically for the various stages of eye shadow application.
Eye shadow brushes consist of a long handle that is slightly thicker on one end, where it meets a metal ferrule which holds together the bristles. Ferrules are usually made from aluminium, brass or other thin metal, with aluminium sometimes painted in bold colours, or even coated in a thin layer of gold in high end models.
Handles
Handles are usually made with a type of wood, such as birch. The wood is usually painted and polished to make it aesthetically pleasing and smooth. Plastics and rubber are also used for cheaper handles. Some high end brands may use ebony handles which can be expensive, and some environmentally-conscious companies make compostable handles.
Most handle lengths typically range from 10 cm to 20 cm, which is long enough to be held like a pencil during application. Many manufacturers also make smaller, travel size varieties for convenience, but they may not offer the same control, flexibility and ease of use offered by longer handles. For users who are short sighted, it may be more practical to buy brushes with short handles, as it may be difficult to use long-handled brushes close-up against mirrors.
Bristles
Bristles can be made from natural or synthetic fibres, with the best quality eye shadow brushes being made from animal hair. Badger hair is typically used for bigger brushes, sable for smaller brushes, and squirrel, pony and goat for the more expensive varieties.
Synthetic fibres include nylon and taklon. Natural bristled brushes are often more suited to dry powder application, whilst synthetic bristled brushes are better for cream or liquid application. Some brushes may have a blend of natural and synthetic bristles which can be less expensive than 'non-blended' brushes.
Types of Eye Shadow Brushes
The following table is a list of the basic eye shadow brushes that are usually used during the application of beauty products like eye shadow, including their characteristics and their recommended uses:
Conclusion
Owning the perfect eye shadow brushes can be paramount to achieving flawless eye make-up that looks professionally applied. With eBay's range of great quality eye shadow brushes and brush sets, having fabulously applied eye shadow can be just a few clicks away.
Buying smart by testing the products in a brick-and-mortar shop first to ensure their quality, and then shopping around on eBay for the best brushes with the best deals by the best seller's means the perfect eye shadow brush can be yours.