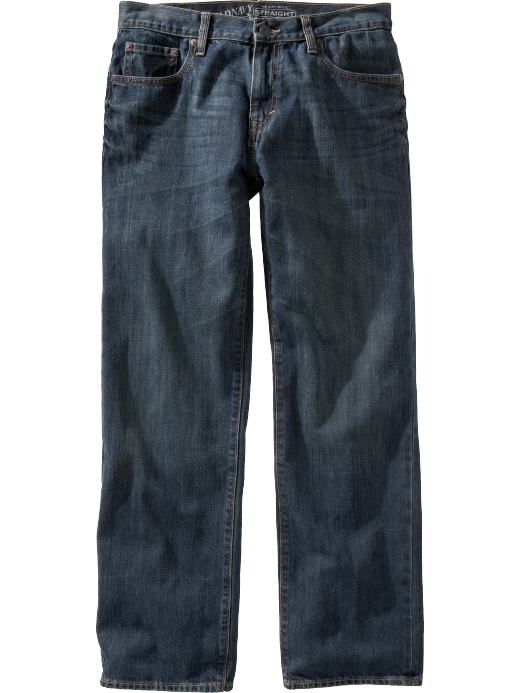 Myth and legend states that the origin of what are today called blue jeans lies in the American West, where a young shopkeeper named Levi Strauss joined his brother for a business enterprise in 19th century San Francisco and wound up inventing durable work pants that were popular among cowboys and gold miners. Jeans took their name from an older style of trousers created in Genoa, Italy, and were made from denim, a fabric from Nimes, France. Regardless of the origins, the pants once used mainly by American cowboys have become an international fashion staple.
Men's jeans can be found in most clothing stores, as well as online on many websites, including eBay. For many men, buying jeans can be a fairly bewildering experience as there are many different styles, cuts, and types of denim to choose from. When making a jeans purchase, it is important to evaluate these features as well as be aware of how they will fit and what has been done to them previously in terms of washing or other treatments.
Ensuring a Good Fit
Before buying a pair of jeans, regardless of whether or not they are to be purchased on eBay or in a store, it is a good idea to take an existing pair of jeans and see how they fit. If the legs are too tight, this may be indicative that a different cut should be used. If there is not enough room in the seat, skinny jeans may be a problem. It is also important to evaluate how well it fits in the crotch as a lack of room in this area can be extremely uncomfortable for men, especially if the jeans are worn for an extended period of time. If jeans are usually worn with a belt, it can be helpful to look for a pair that has sturdy belt loops. If a man often keeps a wallet, keys or a cell phone in his pockets, establishing the need for multiple pockets is a good way to begin searching for the perfect pair of jeans.
Cuts of Men's Jeans
While jeans more or less have the same basic design, there have been several distinct styles created over the years that differ in terms of fit and appearance. Jean styles can also be referred to as cuts, these different labels indicate how the jeans are cut to fit over the shoe as well as how much room is offered in the leg and crotch areas. This often overlooked aspect of purchasing jeans is almost as important as the fabric of the jeans.
Straight Cut Jeans
Straight cut jeans are some of the most conservative as well as the most enduring style of jeans. They feature a basic design consisting of a straight line from top to bottom. These jeans can be worn by anyone, although larger men may want a cut with more room in the leg area or even a cut allowing for a more spacious seat. Straight cut jeans are perhaps the most formal cut of jeans and are the kind most likely to be accepted in the workplace or in other situations where a casual look is not appropriate.
Skinny Jeans
Skinny jeans are currently very popular, and feature very narrow legs that tend to be very tight. Skinny Jeans are often worn with vintage clothing with wearers. These people often prefer to purchase them with longer legs than they would for other jeans. These jeans will also often come with much more fabric around the ankles to drape over the shoes being worn. Skinny jeans are usually only a feasible choice for men who are naturally skinny or tall. Men with more musculature or a few extra pounds may wish to avoid the skinny jeans and find a more comfortable cut.
Relaxed Fit Jeans
Relaxed fit jeans offer much more room than normal jeans, both in the legs and in the crotch and seat area. That makes these jeans a common choice for larger men, although they may look far too casual for many events, depending on the pair of jeans purchased. Skinnier men in particular may find this to be a problem with relaxed fit jeans because the jeans will hang loosely and may even inadvertently reveal a man's underwear. If this in an intentional fashion statement then these jeans may be a good choice after all. Relaxed fit jeans may also be a good choice for men with highly developed leg muscles since the wider legs offer more room.
Boot Cut Jeans
Boot cut jeans are designed to be worn with cowboy boots and for this reason, the legs flare out slightly towards the bottom. Of course, this does not mean that they can only be worn with boots and are in fact popular with men from all walks of life who wear them with or without boots. In terms of fit, boot cut jeans have a leg width roughly compatible with that of straight cut jeans. This means that average sized man will usually be comfortable in a pair of boot cut jeans.
Rises of Men's Jeans
The rise in a pair of men's jeans refers to the distance between the crotch and the waist. Older styles of jeans usually had just one kind of rise associated with them. Not long after, current fashion trends triggered the development of at least three different rises, each with different strengths and potential drawbacks. Evaluating one's body type is usually a good way to determine which rise may be the best fit for a given man.
Low Rise Jeans
As the name indicates, low rise jeans have the shortest space between crotch and waist. This is an ideal fit for some men, but those with larger frames may find that their midsection is not supported as well as it could be and that they are not comfortable in this kind of jeans. With a lower waist, low rise jeans require longer shirts to be worn in order to avoid exposing one's underwear or even a belly. However, if this is a desirable fashion statement, a shorter shirt can be worn.
Mid Rise Jeans
Mid rise jeans are the most common choice for jeans and are quite popular as they offer comfort with a small degree of support for an ample midsection. Overweight men may still find these jeans uncomfortable, but for the most part, these jeans are considered ideal.
High Rise Jeans
Jeans with a lot of distance between crotch and waist are fairly uncommon, but they do exist. High rise jeans are often times a good fit for men who want to avoid revealing their midsection. These types of jeans are also intended for men who need to wear jeans that offer a more slender appearance by supporting the belly more.
Types of Denim For Men's Jeans
While all jeans are indeed made of denim and are usually all coloured blue, there are many differences in the kinds of denim that can go into a pair of jeans. There are different ways to treat denim in order to create a desired look, as well as a distressing process that can make a new pair of jeans look like an old worn pair. When buying jeans, understanding these differences can help a buyer to decide which pair is in fact the best fit for them.
Raw Denim
Raw denim is denim that has not been washed since it was placed in the dyeing vats at the manufacturing location. For this reason, the colour is very strong. Buyers who purchase jeans made from raw denim can find that the dye may come off if they are not washed, but it also allows people to wash their jeans or create a unique look by wearing them for a period of time before washing them. In order to create creases and other things that may cause the dye to wash out in different ways, one might turn to the advice of a dry cleaner.
Washed Denim
Most jeans are made from washed denim.. Washing denim will not have colours that are as strong or as bold as those that are made from raw denim, but there is no risk of the dye coming off and getting all over other clothing or any other surfaces. While the colours in washed denim will fade over time, the change will not be as drastic as it would be with raw denim.
Distressed Denim
Distressed denim is denim that has been subjected to a process designed to make the jeans look as if they have been worn or have been used for quite some time. There are several kinds of distressing processes, each varying in terms of popularity and potential cost.
Acid Washed/Stone Washed Jeans
Acid washed and stone washed jeans each use a chemical process to create a unique look. While the heyday of acid washed jeans was in the 1980's, they still exist and have a certain cult appeal. Stone washed jeans are designed to appear is if they have been washed with stones, which would distress the denim in a very unique way. Stonewashed jeans are much more common in contemporary fashion than acid washed jeans and are therefore more common today.
Vintage Wash
Those who really want to look like their new jeans are in fact secondhand jeans, may opt for those that have gone through a vintage wash cycle. This process makes the jeans look as if they have been worn for years. Some vintage washing is combined with artificial holes and worn spots that further increase the illusion.
Dirty Wash
Dirty washed denim is a good choice for those who wish to look as if they work or live in an area festooned with gasoline as the process of dirty washing adds a yellow or greenish colour to the denim making it appear as if they have been exposed to unpleasant conditions.
Before Buying a Pair of Jeans
After deciding which cut, rise, and fabric will be the best fit for an individual's sense of style and body type, there are a few more things to consider before pulling the trigger. First off, jeans that have not been pre-shrunk will shrink when washed and dried, which may drastically change the way they fit. Secondly, jeans are not designed to be used in a regular clothes dryer, and experts recommend that they be left to dry on a clothesline or draped over a piece of furniture. With this in mind, buying jeans can be an efficient experience and will allow men to find the right pair that can complement a pair of shoes or a favourite shirt.
Buying Men's Jeans on eBay
Jeans are one of the most common items of clothing and are available in nearly all men's clothing stores. Men's jeans are also available online, and eBay in particular may offer some advantages over purchasing in a store. While the jeans offered in a store may be all from one manufacturer, those found on eBay can come in all varieties from any manufacturer. This means that there is a much greater selection of jeans available. At the same time, prices on eBay may be lower than those in a store, even when shipping is factored in.
Finding the perfect pair of jeans on eBay is easy and simply requires a simple search using the search bar on the home page. Entering a term like "men's jeans" will provide many examples of items for sale. Modifying the search term to include things like cut or rise can narrow the results and allow a buyer to find exactly what they are looking for. Modifiers can, of course be combined and users can even look for jeans made by a specific designer in a specific style.
Conclusion
Finding the perfect pair of jeans usually means filling a substantial gap in a man's wardrobe, which can be a very satisfying experience. The right pair of jeans can be worn when performing hard physical labour as well as in an office setting or even when playing casual sports with friends and family. Selecting the right pair of jeans means first determining what kind of jeans fit best for a buyer's body type and then using an existing pair of jeans to determine if a new style is needed. Then, a buyer can evaluate and decide between many different cuts, all of which are designed to fit different body types. Along with this, a buyer can determine what kind of rise they want in their jeans and whether or not they want to purchase jeans that are distressed or are made from washed or raw denim. Once this evaluation process is finished, buying jeans on eBay is a quick and simple matter and can allow men to explore jeans made by a number of different designers.