Quick splash or luxurious, sing-along scrub in the bath? However you like to shower, enjoy the instant benefits of a steam system in your own home. Here's how to choose.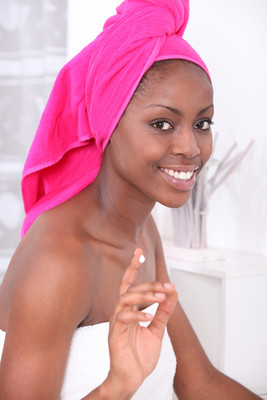 What to consider before buying
Most self-contained showers should work just fine with any standard water system – usually work is confined to fitting the shower itself and wiring for any electrical features. However, make sure you look out for any special requirements such as a 1.5-bar water pressure or a water flow of a certain number of litres per minute. For excellent ideas check out
Victoria Plum
!
What's the difference?
Replacing your regular shower with a steam unit has numerous benefits. Many doctors suggest that perspiring in a steam shower is more effective than exercise in ridding the body of toxins accumulated from diet and lifestyle. Steam helps to cleanse your skin by gently removing harmful chemicals and expanding the blood vessels to boost blood flow around your body. You'll step out of the shower with skin that feels revitalised and moisturised.
Improved blood circulation also relaxes your muscles to remove the tension of a hard day, and may even help to reduce the pain caused by conditions such as rheumatoid arthritis. You could also find you sleep better after a steam shower thanks to the clearing effect steam has on the airways and lungs.
Show me the showers
From relatively simple units you can install yourself to feature-packed
shower cabins
that require an expert's input to set up, there's a shower to suit your needs.
Self-contained shower
What this means: Much like a standard shower with added jet nozzles, this is straightforward to install and operate, requiring minimal remodelling. This is a great option if you want to quickly upgrade your current system without extensive mess.
Typical features: As a free-standing unit there's no need to retile or rewire. You'll usually find back massage jets, a deluge or monsoon-effect shower head and a built-in seat.
Also known as: A hydro-shower or shower pod.
Shower cabin
What this means: As the next step up from a self-contained shower unit, a shower cabin features more extras, making it perfect if you prefer to languish longer under the water. You can pick a model with an integrated radio, MP3 player and even a telephone.
Typical features: Bluetooth or wireless MP3 streaming technology, a telephone, a speaker, a fan, a digital control panel and LED lighting to enhance ambience can all be included, although that does mean you'll need to build in a 13-amp power supply to the cabin.
Also known as: A shower cubicle or cabinet.
Steam pod
What this means: All the gadgets and gizmos of a shower cabin, with the addition of a steam generator. You'll get the health benefits mentioned above, as well as an enclosed space in which to experiment with aromatherapy and essential oils.
Typical features: Possibly the most important element needed here is a fan to whisk away all that healthy steam. That means a power supply is required.
Also known as: A steam cabinet, steam room or steam shower cabin.
Whirlpool steam shower
What this means: These can range from corner units for two people to larger systems intended to replace your existing bath. The largest type of home steam shower available, whirlpool steam showers are significant projects that will need a qualified professional to install.
Typical features: Padded pillows and seating so you can completely relax. These units also come with bubble generators to make it feel like you are sitting in a soothing vortex of hot water and steam, while your weary muscles are massaged by the current.
Also known as: A steam/whirlpool combo.

Selecting reliable frames
Since many steam showers are free-standing units, the right frame is essential to ensure they remain safe and reliable. A steam shower unit is essentially a self-contained mini-room, and precautions must be taken to make sure that it doesn't end up leaning, listing or warping. Thick, sturdy aluminium or stainless steel frames on free-standing cubicles are a must. Thin plastic framework could lead to gaps in your bathroom for moisture to collect in, causing a damp problem.
Similarly,
silicone sealant
used on water-facing surfaces could lead to mould patches forming over time, so it is best to look for a shower cubicle that features minimal silicone use. Even then, it should only ever be used along exterior joins, where there is little danger of water pooling.
Glass or acrylic?
An acrylic shower system usually means the whole unit is moulded as one piece of white plastic. The advantage of this is it is easier to keep clean, as there are few gaps and edges for dirt and residue to collect in. Downside? You'll likely only ever be able to buy an acrylic shower unit in white. Luckily, you'll find the natural build-up of limescale harder to spot against a white background.
A
glass unit
will give you far greater flexibility when it comes to choosing a colour scheme to suit your bathroom, with a range of finishes available, including mirrored glass. It means you can add individual fixtures, such as seats and shelves for toiletries. Glass also makes for a much sturdier feeling enclosure, although acrylic is perfectly safe as a free-standing option.
Shower power
Shower type
Power needed
Approximate cost
Shower cabin
This use very little power. Depending on the features you choose to fit your cabin with, you might need the following:

Ceiling light: AC 12V, 32W
Fan: DC 12V
LED lights: 12V, 10W
Speaker: 10W
Negligible. Approximately 2p to 5p per hour
Steam pod
This has broadly the same requirements as a shower cabin, with the added consumption of the steam generator.

Steam generator: 3kW
Roughly 30p to 45p per hour
Whirlpool shower
Similar consumption to a steam pod, with the extra power required by a 750W whirlpool generator.
Around 40p to 55p per hour