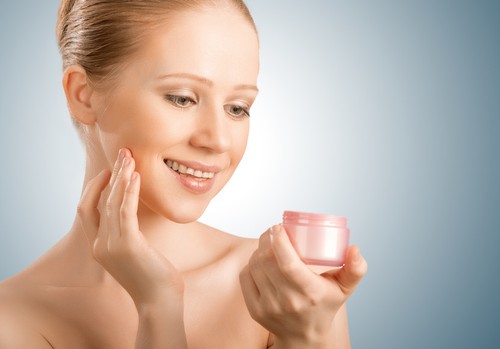 A woman's complexion is one of the bases of her beauty. A healthy lifestyle and good skin care habits go a long way towards keeping skin clear, soft, and youthful-looking; however, genetics, environmental damage, and simply life itself add up over time to create complexion flaws. Broken capillaries, freckles, spots, ruddiness, and other blemishes are easily covered with a high-quality foundation to create the look of perfect skin. Good make-up can even camouflage fine lines and age spots to help roll back the years. Going one step further, an anti-ageing foundation not only helps to disguise wrinkles and brown discolourations; it can actually deliver skin care ingredients that prevent and even reverse the signs of ageing. The benefits of anti-ageing foundation may last even after the make-up is removed.
Anti-ageing skin care products and cosmetics are big business, and the options are numerous. Selecting regular foundation can be tricky enough: You must get the right colour, formula and finish; knowing what to look for in an anti-ageing make-up adds another challenge. By learning about anti-ageing ingredients and learning how to make other important choices, you can easily find the right anti-ageing foundation.
History of Foundation make-up
Foundation, like eye make-up, dates back to Ancient Egypt. Other ancient civilisations, such as those of the Greeks and Romans, used face make-up as well. While the primary purpose of foundation is to even out one's natural skin tone, trends throughout the years have led people to either lighten or darken their skin with cosmetics. Many whitening formulas were deadly and contained lead, mercury, or arsenic.
Safer modern foundations evolved out of the greasepaint used as theatrical make-up. Legendary make-up artist and American immigrant Max Factor was one of the pioneers of stage make-up, and the line of cosmetics bearing his name remains popular and inventive to this day. (Ironically, the brand was discontinued in the United States in 2010.) The success of Factor's theatrical face make-up led to his creation in 1937 of the first commercial foundation product, Pan-Cake, one of the most successful cosmetic products in history.
Earlier "anti-ageing" make-up bases simply contained higher levels of moisturisers, such as the older Maybelline Moisture Whip line and Cover Girl Replenishing make-up. Now, the ingredients found in anti-ageing face creams and night treatments are included in foundations to create truly anti-ageing make-up that benefits the skin with consistent use over time.
What "Anti-Ageing" Means
The descriptor "anti-ageing" is not a scientific term but a marketing term that means different things to different people. One manufacturer might consider any product that contains sunscreen to be anti-ageing because it prevents sun damage and premature photoageing. Another company may only label a cosmetic "anti-ageing" if the product reverses existing signs of ageing, such as brown spots and wrinkles. A third company may classify an anti-ageing make-up according to its visible benefits, not necessarily to any permanent change to the skin. For example, a light-diffusing foundation uses reflective particles and other special technologies to create the illusion of smoother, more radiant, and more flawless skin, which may reduce the wearer's apparent age.
Anti-Ageing Ingredients
Each company offers different anti-ageing foundation formulas. The ingredients lists are usually a mystery to anyone but a chemistry major. Still, there are a few items buyers can check for on labels. Many of these are the same ingredients found in facial moisturisers and anti-ageing treatments. The table below addresses some of the most common ingredients, explains how they work, and lists an example make-up.
| Anti-Ageing Ingredient | What It Does | Examples of Products That Contain It |
| --- | --- | --- |
| Sunscreen (SPF, sunblock) | Prevents sun damage, sunburn, skin cancer, and photoageing | Any product that indicates SPF on the label |
| Retinol (retinyl palmitate, vitamin A) | Encourages collagen formation, increases rate of cell turnover | RoC Retin-Ox Illuminateur |
| Hyaluronic acid (sodium hyaluronate) | Humectant properties draw moisture into the skin and plump up wrinkles | |
| Peptides | Stimulate collagen production for plumper, firmer skin | |
| Ceramides | Strengthen and smooth skin for more youthful texture | |
| Caffeine | Reduces inflammation and redness, tightens, corrects photodamage, may help SPF work better | |
| Antioxidants (vitamin C/ascorbyl glucoside, vitamin E/tocopherol) | Combat free radicals to prevent and correct skin damage | |
Many foundations, including the ones named above, contain more than one of the anti-ageing ingredients listed in the chart. Some chemicals work synergistically; that is, they enhance each other's effects. There are plenty of other very good anti-ageing foundations on the market; take time to learn what each one can and cannot do for you, and know what your main skin concerns are as well. For example, one woman may be more concerned with dryness, a second with discolourations, a third with wrinkles and sagging, and a fourth with all of these issues. Each may want or need a different make-up.
Other Foundation Considerations
As with any type of foundation purchase, the consumer must be careful to get a good colour match. make-up that is too dark looks obviously fake and is unattractive if not ageing. Foundation that is too light gives a fragile, almost sickly appearance that does not equate to a youthful, healthy glow. Younger skin is more forgiving of slight colour variations; for example, going paler might result in a dramatic or Goth appearance on girls, but natural is almost always better on a mature person.
Finish is another factor in foundation selection. Matt finish foundation reduces shine on the skin and is the opposite of the desired moist, dewy effect; these formulas are best for young, oily skins. Lightening and brightening foundations are ideal for mature skins, as they contain ingredients that scatter light to soften the appearance of the skin, almost like using a special camera filter to create a soft-focus portrait.
Foundation formulas range from the driest powders to supermoist creams. Generally, the more moisture, the better, although there are a few women with normal to greasy skin types who also have anti-ageing concerns. These users can find oil-free anti-ageing foundations. Women with lines and creases should avoid most powders except for mineral make-ups, which are not as drying as traditional powders and reflect light naturally because of their high mineral content.
Variations on Foundation
Traditional foundations are liquid, cream, mousse, or spray-on forms of make-up that provide varying levels of coverage, even skin tone, and act as a base for further colour cosmetics. While modern foundations are quite sheer and natural-looking, some women still cannot get past the feel of foundation, or they may have difficulty applying and blending it expertly. These women do not have to forego the benefits of foundation altogether. The following products act as substitutes for foundation and may be more agreeable to some users while still creating a more even skin tone and reducing the signs of ageing.
Tinted Moisturiser
A tinted moisturiser is a great option for women who do not need a great deal of coverage. This multi-purpose product hydrates skin and evens skin tone with a sheer veil of colour. Many tinted moisturisers contain sunscreen, too, giving them triple-duty status. Check labels for other anti-ageing ingredients.
BB Cream
More than a tinted moisturiser, a BB cream is indeed a unique product. While beauty balms ("BB") do moisturise and may contain sunscreen, they go further by delivering treatment ingredients, smoothing and priming the skin's surface, and even serving as a true foundation. These are excellent options for anti-ageing make-up.
Mineral Make-up
Powdered mineral make-up might not sound like the best idea for ageing skin, but manufacturers of the top brands (including bareMinerals) claim that their products not only feel creamy but also hydrate skin and reflect light to minimise the appearance of wrinkles. While the purest mineral make-ups by nature do not contain any specific anti-ageing ingredients, they work on women with oilier skins and those who live or work in hot, humid environments.
Where to Find Anti-Ageing Foundation
Anti-ageing foundation is available wherever regular foundation make-up is sold. Most well-known brands (with the exception of those marketed towards teens) offer an anti-ageing line. You can find anti-ageing foundation at several retail shops: chemists, dollar stores, groceries, discount stores, shopping malls, department stores, and beauty boutiques. If you prefer to shop at home, you can watch shopping channels and infomercials on TV, flip through mail-order catalogues, or surf the Internet (where online auctions are a particularly good make-up resource).
How to Buy Anti-Ageing Foundation on eBay
You can find the right anti-ageing foundation on eBay by navigating through the category directory or by choosing keywords that automatically connect you to specific items. To use the directory, start at all categories (from the link on the home page) and click on successive categories until you arrive at foundations. Then, use the category filters on the page to further sort the listings so that you see only anti-ageing foundations.
A keyword search allows you to quickly jump to products that are tagged with the terms that you enter. To do this, go back to the home page and enter a word or phrase into the Search box on the page. For example, you might try a specific brand or colour, or something more general, such as "anti-ageing cream foundation". Again, category filters allow you to narrow down the results until you have a manageable group of products from which to choose.
Conclusion
The "right" anti-ageing foundation may be different for everyone. The suggestions of relatives, friends, colleagues, and magazines are helpful when sampling foundations. Ultimately, the results depend on the wearer, her general appearance, her skin type, her skin care routine, her application process, and the other make-up she wears. Even the best anti-ageing foundation on the planet cannot overcome the effects of smoking, built-up dead skin cells, a lifetime of suntanning, and general mistreatment. Heavy-handed application or too much powdering can undo the results as well.
Buyers of anti-ageing foundation should determine their primary skin concerns and then find ingredients that can help. Sunscreen, retinol, antioxidants, and caffeine all help with sun damage and discolourations. Hyaluronic acid, peptides, and ceramides generally hydrate, plump, and firm the skin to combat wrinkling and sagging. Greasier skins benefit from mineral make-up and oil-free foundation; otherwise, creamy, moisturising products are best for creating the look of younger skin. Favour products that lighten and brighten the complexion over ones that mattify.
Budget make-up works fine for eye and lip colours; however, when it comes to the face, it is worth it to take your time and spend as much money as you can for the best products. Anti-ageing foundation can truly make a long-lasting difference in your skin. As the saying goes, you may not want to be younger, only look younger. With anti-ageing foundation, you can.