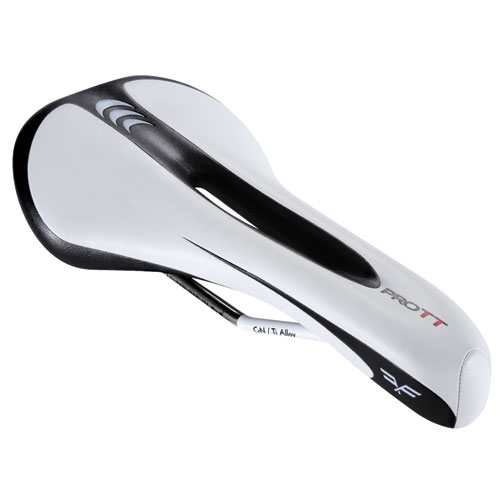 The choice of what bicycle saddle to purchase is an entirely subjective one, as there are a number of different styles and types of bicycle saddle available that accommodate a variety of cycling necessities. All of these styles can be found on auction sites similar to eBay.
The best way of ensuring that the correct bicycle saddle is purchased is by gaining a full comprehension of the way that bicycle saddles work. Another useful means of making sure that the most suitable saddle is bought is by gaining an understanding of the types of bike saddle available and the considerations that come with each of them.
This guide is written with the aim of taking prospective buyers of bicycle saddles through all of this information in order for the best deal to be found.
Components of a Bicycle Saddle
An understanding of what makes up a bicycle saddle is a good way of enabling a potential buyer to seek out a product that is best suited to their needs. It means that one is wary of things to look out for in product descriptions and also means that a bicycle saddle can be found that is tailored to the requirements of the cyclist. Here is a table determining the different components used in the assembly of a bicycle saddle:
| Component | Function |
| --- | --- |
| Rails | A bicycle saddle will have rails that will connect the saddle to the main frame of the bicycle. They run from the front of the saddle to the back and provide a basis of support for the other components of the saddle. As an industry standard, the rails of a saddle of 7 millimeters in diameter, however, there are saddle rails that are made for use on larger, custom made bicycles. The rails of a saddle can be made from a variety of different materials, such as aluminum, titanium, carbon fiber or steel. Saddle rails allow for fore and aft adjustment of the saddle, which determines how the body is balanced on the bicycle and therefore the overall comfort. |
| Shell | The shell of the saddle is the main frame upon which a cyclist will sit. The rounded front of the shell of a saddle is commonly referred to as the nose. The shell is generally the most differentiating component of a bicycle saddle in terms of style and design. There are commonly used leather saddles that do not contain the hard shell used in most modern saddles. Leather saddles are considered to be more comfortable after a certain period of usage as it adapts to the shape of the cyclist. However, more modern saddle shells tend to be made from a nylon or carbon fiber mould. |
| Cover | On top of the shell is usually a cover. This can be cushioned to make the saddle more comfortable for the rider. This is often a padding made from gel-foam or cell foam. This is then covered in a variety of different materials, ranging from leather or faux-leather to artificial rubbers. The cover can come in a variety of different colours, but most commonly they are black. |
| Suspension | A lot of saddles contain components that aid with suspension. Suspension is provided to allow for a more comfortable cycling experience and vibrations and shocks are absorbed. There are a number of suspension techniques that can be involved in a bicycle saddle, including a set of coil springs, donut-type springs, as well as foam padding. |
Type of Bicycle Saddle
As well as there being a number of components that make up bicycle saddles, there are number of different types of bike saddle that exist. By understanding the different types of bicycle saddle available and their suitability to certain riding styles, one can ensure that the correct bicycle saddle is purchased. Below is a list of the types of bicycle saddle available:
Bicycle Saddle Considerations
There are also a few considerations one should think about before purchasing a bicycle saddle. For example:
Gender: it is highly recommended that saddles be purchased in correspondence to gender. The majority of saddles designed for use by men have a longer nose and tend to be narrower, whereas those designed specifically for women are wider and provide more support for the differences in anatomy. However, whilst some saddles are designed for specific genders, the choice of saddle is entirely based on the required comfort of the rider.
Riding Style: some saddles are much better suited to certain riding styles. For example, if one wishes to ride fast and in a racing style, a racing saddle is best suited for them as they allow for a wider range of movements and do not interfere with peddling. On the other hand, if one wishes to ride in a more upright, relaxed position, then a cruiser saddle would be best suited to allow for a greater amount of comfort. In this instance, a cruiser saddle would be detrimental to those cyclists who wished to pedal fast as chafing and discomfort would occur.
Buying a Bicycle Saddle Online
There are a number of online retailers and high street bicycle specialists that sell bicycle saddles. It may be a good idea to visit these to gain an idea of the prices that should be paid for the desired bicycle saddle. By visiting a high street retailer, one can also try out the saddles to find out the most suitable design in terms of riding style and bicycle style.
It may also be an idea to visit online cycling forums that discuss the nature of different saddles and to find some brand recommendations. These discussion boards are filled with experts and beginners, so information can be required from a range of those interested in cycling. Trade secrets and insider tips feature regularly on sites like this, so do not hesitate to ask questions and get involved. This can be a great way of finding the right bicycle saddle.
Buying a Bicycle Saddle on eBay
Pay a visit to the Sporting Goods section of eBay and choose the Cycling section to view the vast number of products listed on the site that are concerned with cycling. It may then be an idea to choose the Bike Parts filter tab and narrow it down again to listings that are exclusively Saddles & Seatposts. By knowing the specific type of saddle that is required, one can then make use of the keyword search bar to specify the search even further.
There are many different buying options when using eBay, all of which can be utilised in order to find a good deal on a bicycle saddle. Visit the Buying Tips page for advice on how to contact the seller, place a bid, or to use the Buy It Now option.
Being knowledgeable on the subject of bicycle saddles enables the spotting of a good deal, as well as a correspondingly knowledgeable seller. If a product description is similar to that of an online retailer in terms of attention to detail and specifications, then it is likely that the seller has positive feedback from their previous sales. It is recommended to use sellers who have sold similar products before.
Conclusion
The buying of the right bicycle saddle can be a simple and hassle free process. The best way of spotting both a bargain and a reputable seller is by being well read on the topic of bicycle saddles.
Remember to take into account all of the things mentioned in this guide. Riding style is an extremely important factor in deciding which bicycle saddle to purchase, as the wrong type of saddle can lead to injury and painful cycling experience. Also, it is a wise idea to account for gender for much the same reason.
Take the time to work out which saddle is best for you. If you enjoy leisurely cycles then a cruiser saddle may be best. If you're more inclined to ride faster, in a racing style, then a racing saddle is most suitable. All in all, the choosing of a bicycle saddle is a subjective one.