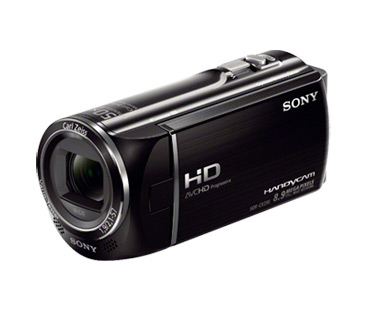 A camcorder is a great way of capturing family memories, from birthdays and Christmas to school plays and football matches. Modern camcorders are small and portable enough to take away on day trips or holidays, and are generally much more affordable than they were 10 or 15 years ago.
Camcorders are also a great way for any aspiring film makers to bring their ideas to life. Whilst home movie makers will not have the budget, equipment, or facilities of Hollywood, making a film together with friends and family can be both an enjoyable and rewarding experience for all involved.
About Camcorders
The majority of camcorders available these days are digital, and just like digital cameras, the videos can be downloaded from the camcorder onto a computer for watching or editing. Older models of camcorder will record to either a tape or DVD but can still be transferred onto a computer if required.
Choosing a Camcorder
There are many different models of camcorder available to buy, so it is important to consider the pros and cons of a selection before coming to a decision about which is the best one to purchase. The first thing to think about is what the camcorder will typically be used for as this will be a guide as to what features are required.
The recording medium is one of the most important things to consider, as are video quality, battery life, recording time, zoom, and special features.
Recording Medium for Camcorders
The four main choices are digital with built-in storage, digital with external storage, tape, and DVD. Each has its own advantages and disadvantages.
Digital – built in storage

A digital camcorder with built in storage is a great choice for anybody who wants to keep things simple. These devices are usually ready to record straight from the box. Videos can be downloaded straight onto a computer simply by plugging the camcorder in.
The disadvantage of built in storage is that once it's full, there is no way of expanding it. Whilst the video files can be removed from the camcorder once they have been downloaded onto a computer, this is of little use for anybody using the camera away from home; for example, on holiday.



Digital – external storage


Digital camcorders with external storage have many of the same advantages of those with built in storage in that videos can usually be transferred onto a computer simply by plugging the camcorder in. However, they come with the added bonus that the amount of memory available for recording is expandable through memory cards such as SD cards.
The main drawback is that while memory cards are on the whole quite reliable, they can become loose, for example if the camcorder is dropped or shaken, which can lead to the whole video being corrupted.



Tape


Many people think of tape as an old fashioned medium; however, many people still like to use it in their camcorders, which typically use MiniDV tapes that are a little smaller and fatter than audio cassette tapes. The advantage of these is that several can be carried around with the camcorder, so like a digital camcorder with external storage, a second tape can be used once it is full. It is also easy to record over tapes (which can be a disadvantage as well as an advantage, but can allow for some rough editing while out filming).
For anybody wishing to edit their video, getting a tape onto a computer can be a lengthy process, involving plugging the camcorder in and often transferring the video in real time.



DVD


Camcorders with DVD storage work very similarly to those with tape storage, with a mini-DVD being inserted into the camcorder to capture film on. The advantage that these often have over all other types of camcorders is that the DVDs can usually be put straight into a DVD player and played. There is no need to worry about plugging cables into the TV as most people already have a DVD player. Videos can be transferred onto a computer for viewing or editing using either a cable or by using the DVD.
The drawbacks of recording onto DVD include that it can be fiddly to use; for example, the disks will need finalising before they can be played back on a DVD player or computer. Whilst it is possible to record over some DVDs, others do not have this functionality which can be frustrating if the camera has accidentally been left recording.


Camcorder Video Quality
Many more recent camcorders will offer high definition filming. Older camcorders, such as those which record to tape and DVD, will not.
Even amongst camcorders that record at the same resolution, there will still be differences in the quality of film depending on factors such as the compression used for storing the video and how well the camcorder copes in different lighting situations.
Camcorder Battery Life
Camcorders are typically battery thirsty devices, so for anybody planning on doing several hours filming, battery life and whether or not spare batteries can be used are important things to consider. For most people however, a battery life of a few hours upwards will be more than enough.
Camcorder Recording Time
For camcorders using tapes or DVDs, the recording time will depend on the tape or DVD itself. For digital camcorders, the recording time will vary depending on factors such as the quality of the footage being shot. Many camcorders will offer a number of compression settings, allowing the person filming to choose a suitable compromise for themselves between the length of the video and the space it takes up. This is especially important for camcorders with built in storage as there is no way to increase it once it is used up.
Camcorder Zoom
The zoom on small pocket camcorders is usually quite small, up to around 5x. These camcorders are usually quite similar to mobile phones in appearance and are fine for recording anything nearby or fast moving, but are not so good for zooming in on a particular person or object from a distance.
Larger camcorders typically have anywhere up to 30x optical zoom, which is great for zooming in from afar; however, the camera will need to have a good stability feature for the footage to come out viewable.
Most camcorders will advertise a large digital zoom. However, it is necessary to be wary of this as picture quality will soon decrease as digital zoom level increases.
Special Features of Camcorders
There are a number of camcorders that come with special features. Many people will not need any of these and will be better off buying a simple model, which will usually be cheaper for an otherwise similar camcorder. Other people will want a camcorder specifically for its special features.
| | |
| --- | --- |
| Waterproof | Waterproof camcorders are often good for holidays where the camcorder will be used on a beach or near a pool. Some camcorders will just be resistant to water, while others can be submerged to quite some depth, making them ideal for snorkelling and diving. |
| Dustproof | Dustproof is often something that comes hand in hand with being waterproof as it will mean the camera is well sealed. For people planning to use a camera somewhere sandy or dusty, this is a must have feature, even if there is no water nearby. This is ideal for anybody wanting to take a camcorder on a safari holiday. |
| Shockproof | Shockproof camcorders are resistant to drops and knocks so are good for filming while taking part in an activity; for example, mountain biking. Shockproof cameras are also good for anybody with children who may want a turn at filming as it provides a little extra peace of mind. |
| Head mount | Camcorders with head mounts are a specialist item, often used by people who want to film themselves playing sport or doing another activity where their hands will not be free. The size of these cameras will usually limit them to digital recording only. Other similar camcorders are also available that can mount to a car or bicycle. |
Conclusion
There is a lot to think about when purchasing a camcorder, with several manufacturers making many different models of camcorder. Some of the most important considerations to make when choosing which one to buy is the medium it records onto and how easy it is to get this into the desired end format; for example, a computer file or DVD, and the quality of the video produced.