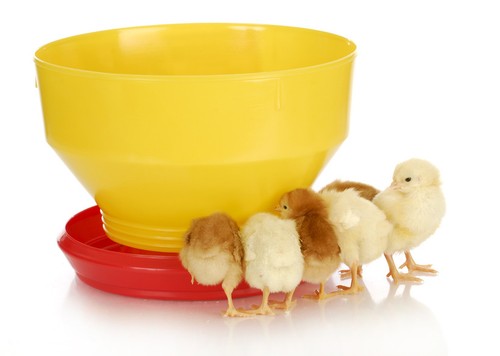 To buy the right feeders for chickens really depends on:
how many chickens are in the flock
how much time is available to feed them
what the owner wishes to feed them for; laying or eating
If they are layers, then a good laying pellet with the right amount of grit and possibly some corn might suffice. If they are eating hens and need to be fattened then a different feeding system and feed regime will be required.
It is absolutely fundamental to good poultry management to have the correct feeder and watering equipment. EBay is a great place to start your search for dishes or feeders that will carry whatever food is suitable for the birds in question.
Fair Share for All Hens
Distributing the food evenly around the dish so that the each of birds can get their fair share is another function of a good feeder. Hens will quarrel and often the smaller, younger hens will suffer from a bullying older hen.
Tip: Be prepared to have a number of different feeders for younger birds, or hens from smaller breeds, which need to be given a bit of space and keep away from the main feeder.
Keep it Clean
Hygiene is absolutely the first rule in caring for poultry and all dishes and feeders should be washed daily particularly if the flock is constantly feeding at a similar spot. A flock can be wiped out by disease if they are being kept in a small area so keeping the house, the run and all the feeders clean is absolutely crucial.
Best Material for Chicken Feeders
Feeders for the smaller poultry owner or smallholder are generally plastic. They have a couple of real disadvantages.
Firstly they are quite expensive given what they are and don't seem to last very long.
Secondly, a strong wind simply blows them away if they are empty which is very wasteful and generally they can be found right after a new feeder has been bought.
Troughs, feeders, drinkers and all the poultry feeding equipment in the past was normally made of galvanised steel:
This is quite heavy and so it doesn't easily blow away
It is smooth so it is easy to clean and very robust.
It is however, much more expensive but if more than a few hens are being kept then it may be wise to consider it.
Galvanised steel lasts for a long time and comes in a range of sizes and shapes.
The plastic feeders and drinkers are much more appropriate for the smallholder or hobby chicken owner.
Investment in galvanised steel feeders and dishes of that level may seem too great, in which case there is a huge range of very straightforward plastic models to choose from on eBay.
Right Size Chicken Feeder
Ideally you should use a relatively small feeder on a daily basis.
Chickens will, on average, eat between 100- 120 grams of food daily each.
If feeding the flock from a single big feeder every couple of days, a feeder with a capacity of about 2.5 KG will work for two to three days.
Tip: Your chicken feeder will not get blown away or knocked over by hungry hens if it is kept topped up regularly.
Locating Your Chicken Feeder
Keep the chicken feeder off the ground because if the feeder is directly in contact with the ground then hens will kick dirt into the feeder and this may cause contamination and waste.
Never mix standard layers pellets or cheap chicken food with corn in the feeder as it will almost certainly be wasteful. The hens will peck and scratch and push the layers pellets out of the feeder onto the ground to be wasted or eaten by mice and rats.
Rainwater getting into the feed is a huge area of waste. There are many designs in galvanised metal feeders and plastic models made to prevent this. Vermin like mice and rats will not be able to steal the feed if the feeders are correctly positioned and well designed.
Plastic Feeders
Plastic feeders and dishes are much the cheapest and probably best for a small home flock:
They are extremely light
Very hygienic
Easy to move around
The designs in even the cheapest feeders are pretty good. Available in two main types with various accessories plastic options are as follows.
Standard
Simply placed on the ground, some standard feeders have small legs that can be opened to raise the unit off the ground. This is much more satisfactory for the hens and also stops waste and contamination.
It has a simple twist and turn tray on the bottom of the container that serves as the feeding point. Once the main container is filled, the tray is simply placed on top and turned shut then the whole unit is turned over so that the tray sits on the ground with the container on top.
Hanging Feeders
Attached to the top of the feeder is a simple ring connector at the top so it can be suspended off the ground about a couple of inches.
Not only is this good for preventing mice from stealing the food it is also a good way of fairly distributing food as the feeder turns on its string as the hens peck at it. Sizes range between 1kg for smaller chick feeders to 2.5 kg for the largest plastic feeder.
Accessories
Rain Shield
A really important accessory that really prevents waste is a rain shield. Put a rain shield on top of all feeders as so much food gets wasted when it gets damp from rainfall. These hoods just attach to the top of hanging or standard feeders.
Troughs
Feed troughs are really just another way to keep food off the ground and distribute it equally. Normally for smaller chicks as they are relatively long and thin so the chicks can spread out and are not bunched up.
The anti-waste grid is normally included in most feeders and simply prevents the chickens from throwing all the feed onto the ground.
Medium Weight Galvanised Chicken Feeders
A great alternative to plastic but a lot more expensive than the plastic feeders they aren't however, quite as expensive as the heavyweight galvanised steel feeders.
Certain to last longer than any of the plastic feeders, they are generally sold in bigger sizes and will generally carry between 5 and 18kg which is a large amount for the amateur chicken owner or smallholder with a small flock. 2.5 kg will feed 3 hens for one week so 18kg is going to take a long time to finish off. It is much better to feed the hens so that they finish relatively quickly as large amounts of pellets tend to get damp and get wasted.
Rain shields generally come with the medium weight galvanised steel feeders with rain shields and it is worth considering anti waste grids as additional extras. Steel feeders do not come in a hanging version and so it may be an idea to buy a steel stand to put the feeder on or alternatively and more cheaply keep them off the ground with a couple of bricks.
Heavy Weight Galvanised Feeders
The heavier version of the steel feeder and most likely used for bigger flocks this feeder is much the most expensive but it will last for a very long time. Sold in bigger size ranges than the plastic feeders, the smallest available will hold 5kg up to 15, 28 and even 70 kg.
Rain shields are normally integral to the design of these feeders and there is no requirement for an anti-waste grid. They are too heavy to hang so again, to get the feeder off the ground it may be sensible to just stand them on some bricks. The feeder will last even longer if raised off the ground to keep the base of the feeder out of the wet thus preventing any corrosion.
Conclusion
Feeding hens is part of the fun of having them if the concern is not a commercial operation. Many smaller, hobby poultry keepers love to feed their hens every day. Keep a plastic dustbin and a scoop close to the hen run and simply fill up a small feeder each morning. This will keep the food in good condition and allows the owner to keep an eye on the amount of food available and get an early warning that it could be running out. Bigger operations, where there isn't the time to feed every day, will find the best option is a bigger steel feeder.
Buy feeders of the best quality that the budget will allow, as buying the cheapest ends up being wasteful as the easily break when in the elements for any amount of time.
How to Buy Chicken Feeders on eBay
Now that you know which chicken feeders you want you can find them quickly and easily on eBay. To start shopping, go to the Pet Supplies category then the Poultry/ Hatching/ Incubation portal. Click on the Dishes & Feeders sub-category portal.
While you shop, don't forget Hatching Eggs, Incubation, Chicken Houses, Grooming & Healthcare and Food.
Categories
The Categories list on the left side of each page will help you narrow down your listings by item type.
Product Finder
Use the Chicken Feeder Finder to quickly narrow down item listings by brand, model and condition (new or used).
Keyword Search
Search eBay listing titles for specific words. For example, if you want to find new chicken feeders, type the keywords "Chicken Feeders New" (without quotation marks) into the Search box. Click, "Search title and description" to expand your results. Visit eBay's Search Tips page for more tips on searching with keywords.
If you can't find exactly what you want, try browsing eBay Stores or tell the eBay Community what you're looking for by creating a post on Want It Now, or save a search on My eBay and eBay will email you when a matching item becomes available.
Buy Chicken Feeders with Confidence
Make sure that you know exactly what you're buying and understand how eBay and PayPal protect you.
Know Your Item
Read the details in the item listing carefully.
Remember to add delivery costs to your final price. If you're buying a high value item, check that the seller will insure it until it is delivered to you.
If you want more information, click the "Ask seller a question" button on the seller's profile or the "Ask a question" link at the bottom of the item listing page.
Always complete your transaction on eBay (with a bid, Buy it Now or Best Offer) otherwise you will not be covered by eBay Buyer Protection.
Never pay for your eBay item using an instant cash wire transfer service like Western Union or MoneyGram. These are not safe ways of paying someone you do not know.

Know Your Seller

Research your seller so that you feel safe and positive about every transaction.

What is the seller's Feedback rating?
How many transactions have they completed?
How many positive responses do they have?
What do buyers say in their Feedback?
Are they positive about the seller?

Most top eBay sellers operate like retail shops and have a returns policy.

Do they offer a money-back guarantee?
What are their terms and conditions?

Buyer Protection

In the very unlikely event that you do not receive your item or it is not as described, eBay Buyer Protection covers your purchase price plus original delivery cost.